With colder weather comes the desire for warm and cozy things. Add in a little seasonal themed cheer  and caffeine to the warm and cozy and you have a recipe for success! So, I had no choice but to set out in Frisco in search of the perfect winter themed latte to keep me going through the chilly weather.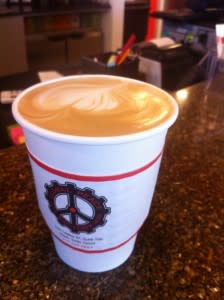 My first destination was the The Global Peace Factory off of Legacy and 121 in the Stonebriar Commons at Legacy shopping center. I've been excited to try out the one of a kind Global Peace Factory for some time now. They had a couple holiday drinks on the menu, but the Gingerbread Latte was calling my name. This was one of the prettiest lattes I've had! Not only do they brew excellence, but they specialize in latte art too. My latte was finished off with a heart made of foam on top and to my excitement, the Gingerbread latte was delicious. Sweet, warm, and of course...gingerbread-y! Not only does The Global Peace Factory have a great selection of coffee beverages and cafe snacks, but they also have made a commitment to give away at least 2% of every dollar they make towards charity. They really bring a double meaning to serving up product that makes you feel warm inside!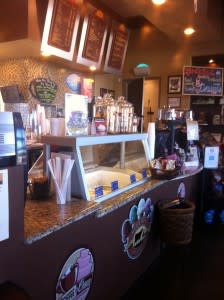 Next up on my seasonal latte adventure was Coffee-N-Cream, both a coffee shop and specialty bakery. Also, one of kind, this coffee shop had a cozy interior that was both warm and welcoming. They not only sell tasty coffee and espresso drinks, but also serve up pastries, custom cakes, cupcakes, and Blue Bell ice cream. Coffee-N-Cream had the most creative seasonal latte I've heard of yet, so special in fact that they keep the secret ingredient all to themselves! I'm talking about their Christmas Tree Latte. A hint of peppermint, both delicious and not too overwhelming, really made this drink. I'm not sure what that secret ingredient was, but it really did its job! This is one latte I'll be having again soon this winter season.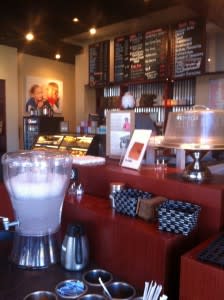 Last stop on my winter themed latte tour de Frisco, was Tootie Pie  Gourmet Cafe. Located at the Shops at StarWood off of Lebanon and the Dallas North Tollway, this charming cafe had a little bit of everything on their menu but mostly their pies are the main highlight. Nothing goes better with some homemade pie more than an equally flavorful latte. The Toasted Marshmallow Latte was my flavor of choice and it didn't do me wrong. I'm not sure how they did it, but they mastered the blend of marshmallow and coffee!
So, what was the winning latte on my winter latte adventure? While all were beverages that I will be having again soon, my top pick was the Gingerbread Latte from The Global Peace Factory! I now challenge you, Frisco, to head out and uncover your favorite wintery drink. I'd love to hear your favorite picks - drop me a note anytime!