Whether you're looking for gluten-free breakfast, lunch, or dinner, we've compiled a list of gluten-free options to try around Frisco.
Start your morning off right by catching up with friends and family for brunch at Berries & Batter. They offer a variety of sweet, savory, and delicious gluten-free menu items which won't disappoint your morning palette. Classic breakfasts include pancakes, French toast, and waffles made from gluten-free batter. For healthy options, try their avocado toast on gluten-free bread. For a hearty and filling option, try the variety of yummy skillets and eggs benedicts all with gluten-free options on the side. Make your breakfast the best moment of the day!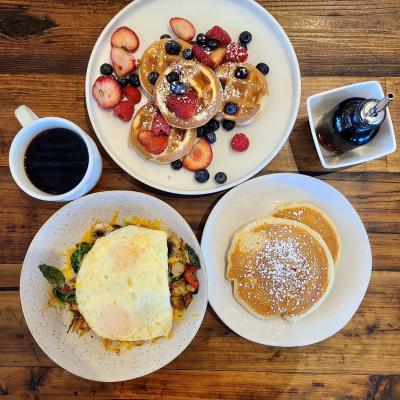 You will find delicious, authentic Greek food for lunch at Platia Greek Kouzina. This family-owned restaurant has many gluten-free options for appetizers, entrees, and dessert to choose from on the menu. Start with appetizers of Dolmades and Aegean Stuffed Pepper. The Greek salad with chicken was fresh and served with tzatziki. The Lamb Souvlaki Platter with Greek-style rice and lima beans on the side and also Yia-Yia's Kota, a Greek-style half-chicken with sides of potatoes and green beans were so good. Each of these dishes, made from family recipes, were juicy and cooked to perfection. Try the cinnamon-dusted rice pudding for a perfectly sweet ending.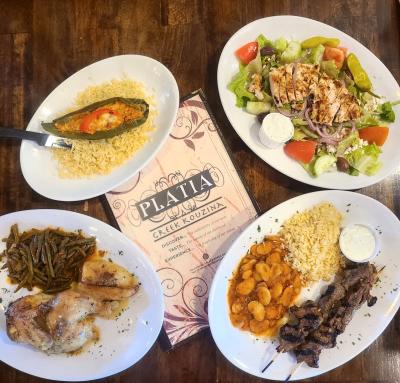 Chido Taco Lounge with its modern Mexican cuisine and craft cocktails has a great vibe and serves up tasty tacos and tequila and is perfect for a gluten free night out. Nearly everything on their menu can be made gluten free. Their chips are fried in a separate fryer to avoid cross contamination. Start with the appetizer flight consisting of housemade guac, queso, and three types of salsas - salsa mesa, salsa fresca, and salsa verde. The Tablitas are a Chido favorite, and we can see why! They were seasoned and cooked perfectly. If you're looking for a lighter meal, try the grilled cesar with charred romaine, corn, and fried blue corn masa avocado croutons, and topped with blackened shrimp - it's so good! They have a great selection of tacos including street tacos with barbacoa, chicken tinga, and brisket as well as BLT and fish tacos. Chido has extensive tequila offerings with more than 100 tequilas and has some of the best around including local Socorro Tequila from Dallas. All of their margaritas are made with agave instead of sugar, and they offer over a dozen margarita flights to enjoy.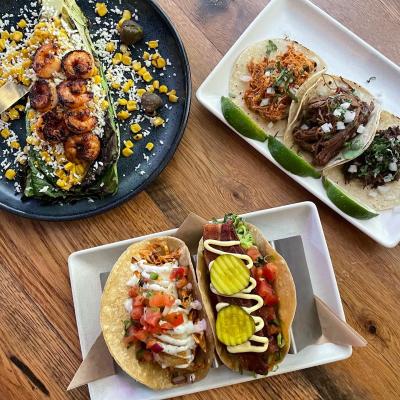 Grab a tasty dessert at Unrefined Bakery. Unrefined Bakery is a gluten-free, soy-free, and organic bakery that offers a wide array of baked goods. All of their products are made in the healthiest way possible. They cater to a host of different needs including gluten free, soy free, non-GMO, organic, unrefined sugar, paleo, keto, vegan, and are allergen free. They also have a large variety of grab-and-go snacks like muffins, cinnamon rolls, cupcakes, brownies, cookies, whoopie pies, pie slices, and cake slices. Visit their stores for kitchen staples like breads, baking mixes, pizza crusts, and muffins from the freezer. If you have any special dietary needs, Unrefined Bakery can fulfill it in the most delicious way.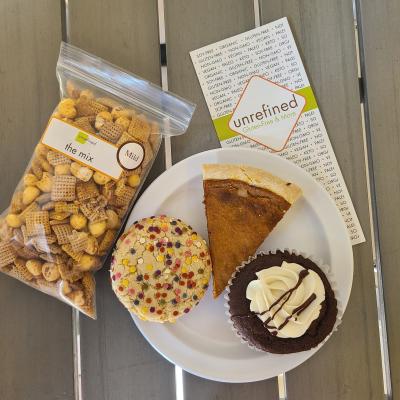 T-swirl Crepes is home of the Japanese Crepe. They have perfected the 100% gluten-free rice flour batter to "craft a crispy thin chewy layer" that embraces all the delicious toppings they carry. They have both sweet and savory crepes. Some unique sweet creations include the Matcha Chocolate Truffles, Crème Brûlée, and blueberry New York Cheesecake. Savory crepes include Smoked Salmon,Thai Chicken, and BLT. T-swirl crepes are artistically created and presented beautifully and perfect for a unique treat any time of day.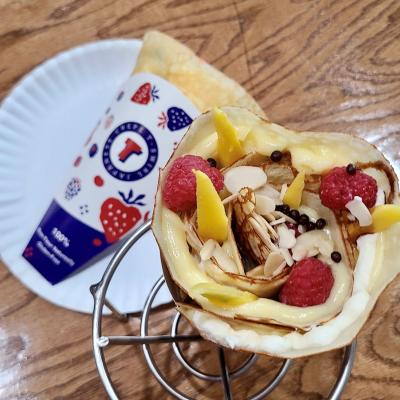 We cannot guarantee cross contamination of any of our recommendations, so please ask your waiter any questions about the menu regarding your specific diet, nevertheless we are glad our city offers these delicious gluten-free options to consider!
Hungry for more?
Check out this list of 6 Tacos in Frisco you need to try or Best Pet Friendly Patios in Frisco. To keep up to date with the most recent area news, sign up for our newsletter.