Cottonwood Creek Greenbelt trail is about two miles long, stretching from Teel Parkway to Dallas North Tollway, just south of Eldorado Parkway in Frisco. The trail is paved and features two beautiful, iron bridges which were awarded to Frisco by Denton County. The trail is made up of wetlands and ponds, and platforms for fishing and viewing wildlife.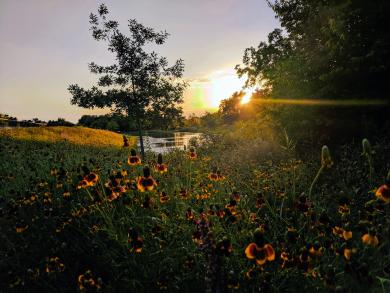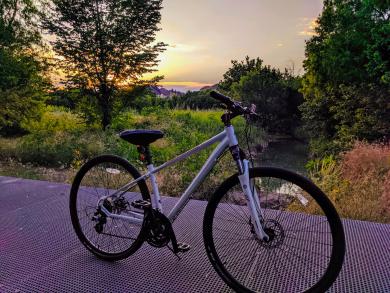 If you are interested in fishing, there are stocked ponds located along the Cottonwood Creek Greenbelt Trail. The ponds feature Red Ear, BlueGill Sunfish and Largemouth Bass. The four ponds are surrounded by gorgeous Texas wildflowers that smell just as nice as they look. Along the trail, you will see our state grass of Texas, Sideoats Grama, as an inhabitant of Cottonwood Creek Greenbelt Trail.
Cottonwood Creek Greenbelt is my favorite trail because it has become a solace in my busy life. I enjoy nature and all the beauty of Texas. The trail is the perfect way to step away from a busy day and enjoy just that. When I bike the Cottonwood Creek Greenbelt Trail, I always pack a small backpack. I fill it with a good book, a snack, and water because I like to sit at the pavilion and watch the Texas sunset.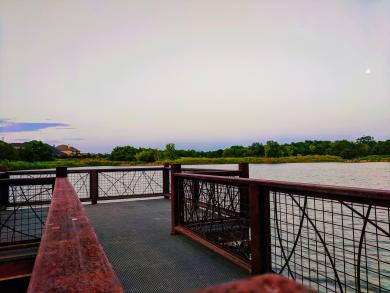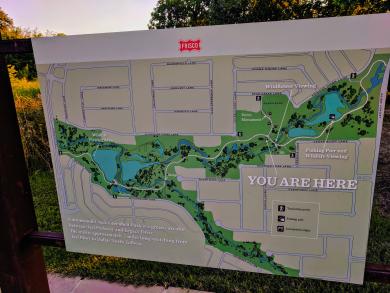 Forgot your book? No worries, there are informative plaques along the trail. The plaques are full of information regarding the Cottonwood Creek Greenbelt and all of its inhabitants. You can bike, run, walk, fish, picnic, and learn, all in one location. With maps along the route, it is easy to navigate and enjoy. If you have a furry companion, Cottonwood Creek Greenbelt also offers doggy bag stations throughout the trail. 
I highly recommend after exploring this trail, to simply sit and bask in its natural beauty.
Comment below and let me know which trail you think I should explore next in Frisco.