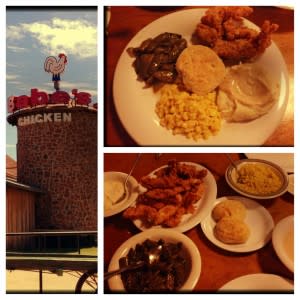 Looking for a way to feed your soul and belly at the same time? Then head down to Babe's Chicken Dinner House off of Page Street in Frisco! Located in the Frisco Heritage Center, this family owned, made from scratch dinner house is just what you'll need to set your week off right.
While Babe's history speaks for itself, Babe's food (and atmosphere!) is what truly makes this chicken house a must see in Frisco. Comprised of 4 barns that center around a patio, you'll feel right at home as you're 'welcome y'all(ed)'  into Babe's wonderful world of country fried deliciousness.
- I should note, for all you Babe's rookies out there don't be afraid of the hundreds of stuffed chickens that you'll be surrounded by once inside! -
As soon as you're seated, buckle up and get ready as your dreams of chicken fried gloriousness are about to come true. Meals at Babe's are served family style and come with sides that make even the best grandmas second guess their recipes! Did I mention that everything is magically refilled if you run out? That's right, at Babe's no one goes hungry. Run out of chicken or mashed potatoes? No worries, your neighborly server will promptly whisk away that empty bowl and refill before your eyes.
Alas, the time will come where your belly can take no more and a food coma is moments away from setting in. You'll ultimately have leftovers on the table so be sure to ask your server for a doggie bag. Again rookies, don't be afraid when your server actually brings you a plastic bag. There is no styrofoam at Babe's, just plastic baggies to dump your 'tovers in to get you home.
Hungry yet? Head to Babe's in Frisco!
Menu  
Fried Chicken Chicken Fried Steak Fried Chicken Tenders - Did I mention fried? - Fried Catfish Hickory Smoked Chicken Pot Roast
Sides
Green Salad Mashed Potatoes Cream Gravy Grandma's Corn Green Beans Buttermilk Biscuits