The Texas heat may be in full swing, but that shouldn't stop you from enjoying your time outdoors. Today I'm sharing some of my favorite outdoor locations in Frisco.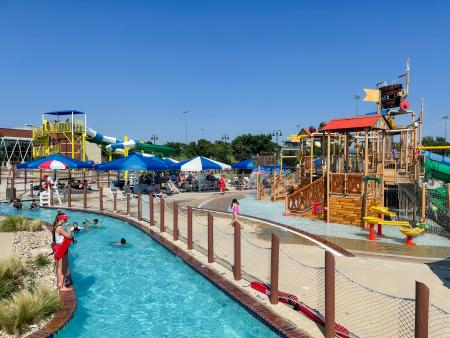 If you are looking for a place to cool off, the Frisco Water Park needs to be on your radar. It's the perfect place to get in the water to cool down and is conveniently located at the Frisco Athletic Center (FAC). This family-focused water park has features for all ages, including a lazy river, a lagoon, racer water slides, an interactive water playground, and much more. 
Members of the FAC receive complimentary access to the Frisco Water Park and those wishing to visit for the day can do so by purchasing a Day Pass starting at just $11. Day Passes are a great option because they allow entrance to both the Frisco Water Park and the FAC amenities. The water park is open from Memorial Day through Labor Day, so don't miss it. 
The Frisco Water Park is located at 5828 Nancy Jane Ln. Frisco, TX 75035.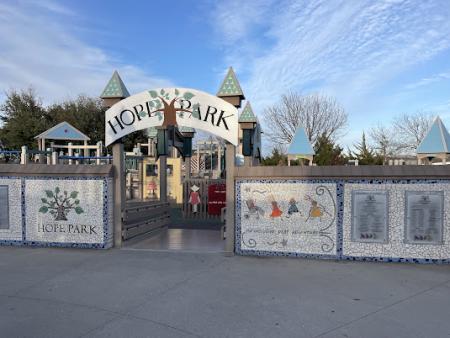 Frisco Commons is one of my favorite places to go and enjoy nature. There are beautiful meadows, walking trails surrounded by large trees, and a fishing pond where turtles can be seen frequently. Its beauty attracts many local photographers, so it's not uncommon to see photos shoots happening during golden hour. You may see families taking walks together, having a picnic, enjoying the sunset, or taking a break under the pavilion.
Frisco Commons is a great place to take children. There is a massive children's play area in Hope Park and a splash pad right next to it. The play area is divided into two separate sections, one for toddlers and another for older children. There is also a Veterans Memorial, community garden, and large pavilions for friends and family gatherings.
Frisco Commons is located at 8000 McKinney Rd. Frisco, TX 75034.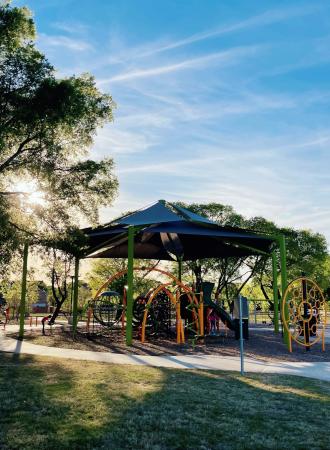 The City of Frisco offers a large selection of parks, but one of my personal favorites is Pearson Acres Park. The park's play structures can be enjoyed even on a hot day due to the canopy installed above. And, there's a covered area with seating and tables perfect for a snack break or relaxing reading time.
There are unique features like a four-seat seesaw, music area, and a rotating climbing structure. The park also offers work out equipment, a basketball court, a shaded pavilion, and the cutest cow and bunny sculpture called "Making Friends". The art is inspired by the dairy farm local Charles Pearson founded on the park's site. As a nice touch, there are irises at the park, just like those once planted at the Pearson family home.
Pearson Acres Park is located at 7550 Teel Pkwy Frisco, TX 75034.
Some other great Frisco parks include Jack Hamilton Park, Ruff Range Dog Park, Cannaday Recreation Area, and Cottonwood Creek Greenbelt. Note that parks open 30 minutes before sunrise and close 30 minutes after sunset, and the Frisco Skate Park stays open until 10 p.m. Frisco has more than 50 parks, so don't be shy!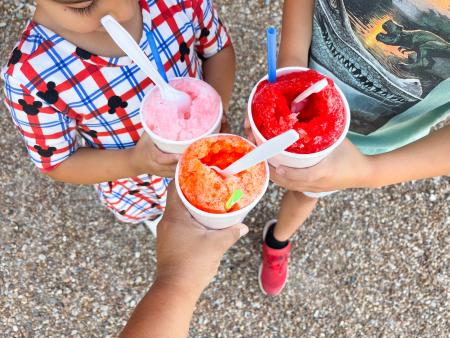 One of the most popular spots in Frisco during the summer months is The Frisco Snow Cone Lady shack. It's practically a Frisco staple and is a local gem somewhat hidden right in between Frisco Square and the historical Rail District at 6427 Elm Steet Frisco, TX 75034.
The Snow Cone Lady offers some of the best shaved ice in the metroplex with over 50 different flavors and the option to add cream or sour. They truly have something for everyone, but one of my personal favorites is the Silver Fox.
Due to its popularity the lines can get lengthy, but the area is shaded and the service is pretty speedy. It's a summer bucket list item for sure, but don't delay because the Snow Cone Lady is only open until August.  
Home of the Dallas Cowboys World Headquarters, The Star District is one of the liveliest places in Frisco, offering premiere dining experiences, shopping, luxury specialty services, and monthly special events. Tostitos Championship Plaza is where you will find many locals tossing around a football and gathering for a good time.
On select dates in the summer there are movies playing on the jumbotron, shopping events, kids arts and crafts, and even yoga. Be sure to put The Star on your list for holiday fun in Frisco, as the Plaza is transformed into a spectacular sight.
Walking around The Star District you'll see the Ring of Honor Walk honoring 22 members of the Cowboys legacy, and, of course, you can get your team gear at the Pro Shop just steps from the turf field on the plaza. One of the coolest experiences at The Star is the tour inside the Dallas Cowboys training facility. Some of the highlights include getting to see the War Room, Super Bowl Memorabilia & Station, Grand Atrium, and more. 
When it's time to grab a bite to eat there are over 35 restaurants to choose from. I personally love going for brunch at Tupelo Honey and Heirloom Haul.
The Star is located at One Cowboys Way, Frisco, TX 75034.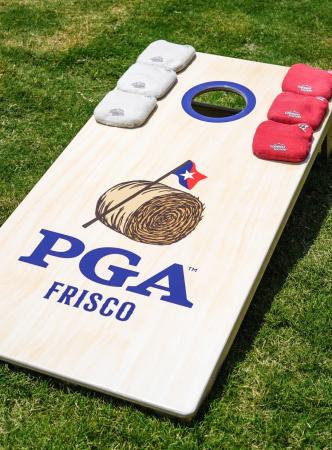 Lastly, one of Frisco's newest hot spots is PGA Frisco. Offering two world class golf courses, 13 restaurants, shopping experiences, a 10-hole short course, and a putting course, it's no wonder its popularity is quickly growing.
One of the most unique and fun restaurant concepts at the PGA Frisco's entertainment district is Ice House. Not only do they serve incredible smoked meats, but they also offer hitting bays for guests looking to hit a few golf balls while enjoying their food. For those looking for a virtual experience, Lounge by Topgolf offers Swing Suits where guests can practice their skills on a virtual course.
PGA Frisco's two-acre natural grass putting course is a hit for everyone from kids to grandparents. You can walk up and play or stop by the rental shack.
So grab some ice cream at Margaret's Cones & Cups and enjoy your time at PGA Frisco.
The Monument Realty PGA District is located at 3255 PGA Parkway, Frisco, TX 75033.
This list is just the sample of all the amazing parks, trails, outdoor dining, and things to enjoy in Frisco, Texas. Planning your day trip or weekend getaway? Explore our Visitor's Guide to learn more about The City That Plays.