How do you officially kick off summer in Frisco? Take a float in the Lazy River at a RoughRiders game? Cheer on FC Dallas at a soccer match? Enjoy a frozen treat from the Frisco Snow Cone Lady? 
Whatever is on your Frisco summer bucket list, be sure it includes a trip to The Frisco Fair. 
The Fair takes place April 28 - May 15. Don't miss your chance to experience carnival rides, midway games, arts and crafts, and, of course, fair food. 
Planning to be there? We've got some insider tips on making the most out of your trip. 
About the Frisco Fair
The Frisco Fair is located in the heart of Frisco, on the corner of Main Street and Frisco Street by Frisco Fresh Market. It's open daily. Parking is available onsite in lots on Main Street, along Frisco Street, and at Toyota Stadium.
Admission to the fair is free, you'll just pay to play. Tickets for rides, games, and food can be purchased in person or online. (Rides start at $4.) 
In-Person Tickets: Fair patrons can purchase Magic Money cards from the Magic Money booths located throughout the fairgrounds. You'll get a physical card that can be swiped to purchase food, drinks, carnival rides, and games.
Online Tickets: Download the Magic Money App and create an account before you arrive. The app will serve as your proof of tickets, and you can reload additional funds or track funds in the app.  
Ferris Wheel, Roller Coasters, and Carousels - Yes, Please! 
Did you know the Fair is offering EVEN MORE rides and roller coasters than this year? 
There will be about 70 carnival rides available to twirl, spin, and get your adrenaline pumping. Whether you're a thrill seeker or want a family-friendly experience, The Frisco Fair will have a ride for you. And, of course this year, the iconic giant Ferris Wheel and a roller coaster will be back.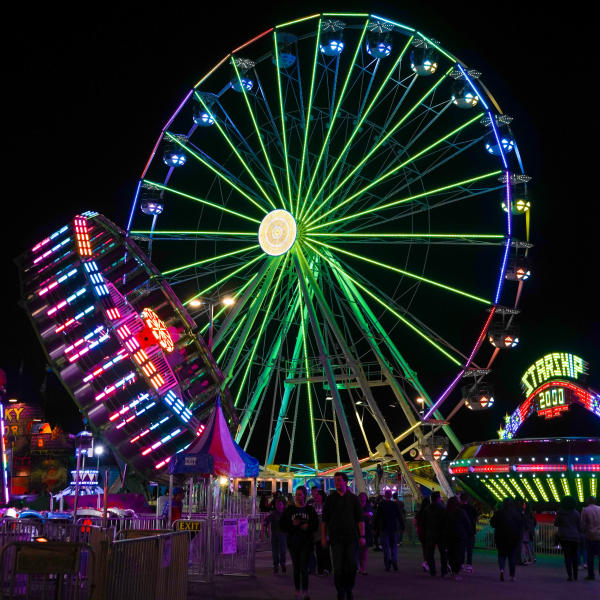 Come Hungry 
All of your favorite fair foods, including foods on a stick, fried treats, and Fletcher's famous corny dogs will be available. 
This year, the Fair is introducing "Taste of Frisco" to showcase local restaurants and chefs. Fairgoers can enjoy a more elevated food experience, including adult beverages. Some featured businesses include Chido Taco Lounge, Board & Bread, and The Pour Girl. 
Know Before You Go
The fair is only around for 18 fun-filled days, so here are our tips for making the most out of your trip. 
Get to the Fair faster by prepaying for parking before you even arrive. If you do this, you also receive a discount (win/win)! 
And speaking of planning ahead, download the Magic Money App on your phone and create an account. This is how you will purchase tickets for rides, games, and food. What's great about the app is you can load and reload funds easily - so the enjoyment never stops! 
To stay up to date on latest news about The Frisco Fair, sign up for text alerts by texting "FRISCOFAIR" to 55678. 
Extend Your Stay and Play
Along with The Frisco Fair, we also recommend checking out:
Ready to Plan Your Visit?
Plan your next play-cation in Frisco, and stay in the loop on all that's happening in The City That Plays by subscribing to our newsletter.