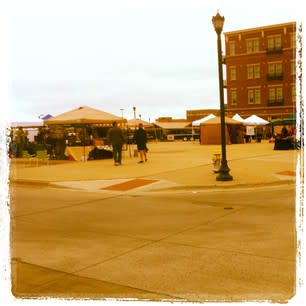 Today, I went out to the Frisco Farmers Market at Frisco Square. I have to say, it was a lot of fun! Even on this cooler Saturday morning, locals started setting up their spots early this morning and officially opened up for business at 8:00am. Everyone I spoke to (both shopper and vendor) was incredibly nice and inviting, and I left feeling a real sense of community. And while I was there, I couldn't help but splurge on handfuls of goodies!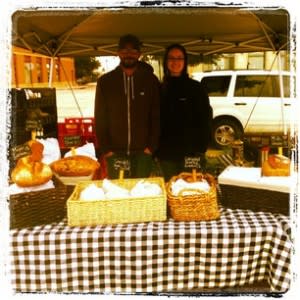 Village Bakery Co. - I bought a DELICIOUS Almond Croissant here for $2. It was amazing and I wish I would have left with more than one!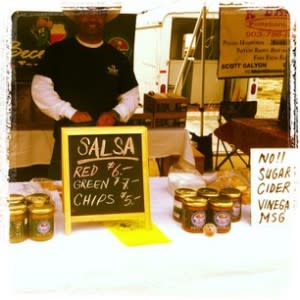 Beccerra's - I got to sample a couple different salsas here, and I knew I had to leave with a jar. Both red and green salsas were mighty fresh and tasty, but the red really won it for me!
Littlee John's Plant and Produce - These guys had colorful table filled with various fruits and veggies. They graciously helped me narrow down my selection by recommending their popular and juicy tomatoes. I'm glad they did, because these tomatoes taste amazing!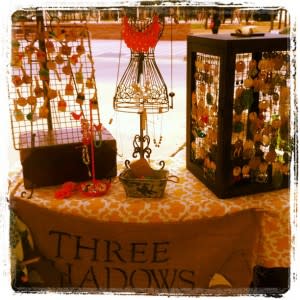 Three Shadows Designs - I hadn't planned on jewelry shopping when I arrived, but I couldn't help myself and "accidentally" purchased 3 things (2 sets of earrings and a necklace). This Indie chic jewelry shop offered quality and unique selection with great prices ($26 for all 3!).
I have no doubt that I will be back soon and would HIGHLY recommend this Saturday morning event to everyone in Frisco to try at least once. You won't leave disappointed! They are out there every Saturday from 8am - 1pm (or sell out). See you next Saturday!