Frisco is quickly becoming a global dining destination, and with a melting pot of culturally diverse residents, there is no shortage of delicious restaurants to match the growth. Restaurant owners want to share and celebrate their culture with the one thing that brings people together: FOOD! Here is a guide to some of the best restaurants (in no particular order) that transport you around the world in Frisco.
MEXICO
Rudy's Kitchen is quite literally a hidden gem. Long gone are the days of gas station restaurants being taboo. They are now the new norm with some of the most gourmet and sought-after food. Located inside of a Chevron gas station on Main Street, it is easy to miss this family-owned Mexican restaurant but once discovered, it will become a family favorite.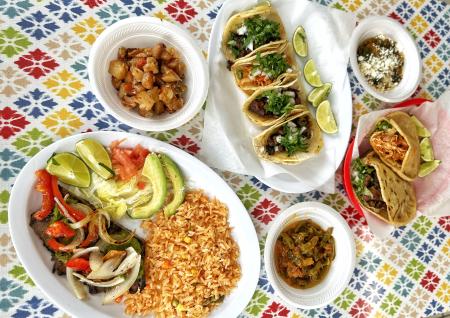 Rudy and Claudia Martinez have always dreamt of owning their own business but owning a restaurant was not necessarily a part of the plan. Luckily, they followed their passion. Rudy's Kitchen serves an extensive variety of authentic Mexican street food and is known for dishes like gorditas, street tacos, nopolitas, birria tacos, bistec ala Mexicana, chicharrónes, menudo, and rajas con queso.
Know before you go:
Go to Rudy's Kitchen with an open mind and try something you have never heard of…ALL of it is good! There are plenty of delicious vegetarian dishes available. Birria tacos are only available on weekends. Rudy's Kitchen is also open for breakfast and available to order via delivery platforms such as Uber, Grubhub, and DoorDash.
GREECE
Platia Greek Kouzina has been a Frisco favorite for nearly 10 years, and for good reason. The exposed stone walls, rustic wood furniture, and charming Greek décor makes the space feel warm, cozy, and inviting.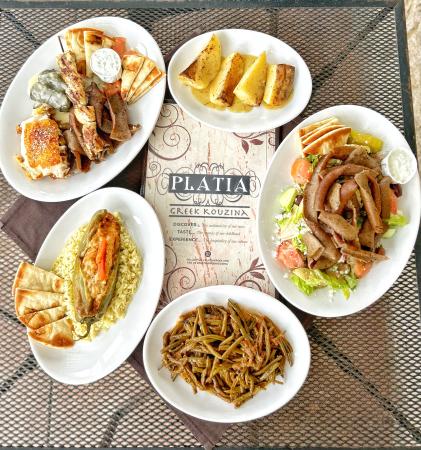 Platia means "town square" in Greek and is in comparison to a plaza at the center of a city. It's very common in Europe to have a platia in different neighborhoods to bring people together. Rhea and George Manos, along with Sally Maglaris, have been in the restaurant business for years and wanted to create an environment that makes you feel "at home", and they achieved exactly that. The menu features a great range of appetizers, soups, salads, grilled meats, seafood, and vegetarian options. But the star here is their delicious gyro. Let's be honest, good, authentic Greek Gyro served by a Greek family can only be found at Platia, and you will never want to try a gyro anywhere else again!
Know before you go:
Save room for a sweet treat. Desserts here are not to be missed! Platia is also a BYOB restaurant, so you can still indulge in your favorite bottle of wine without breaking the bank. Reservations are not accepted and guests are seated on a first come, first served basis, so go a little early on weekends to avoid long wait times.
ITALY
Prepare to be transported to Italy without the flight when you dine at Baonecci. The Gambaccini family are natives from Luca, Italy, a city located in Tuscany. They moved to Frisco in the height of the pandemic from San Francisco. Baonecci is a family-owned restaurant that serves authentic, traditional Luchesse-style Italian food using only the highest quality and freshest ingredients. Meats, cheese, flour, and tomatoes are imported from Italy, which makes all the difference.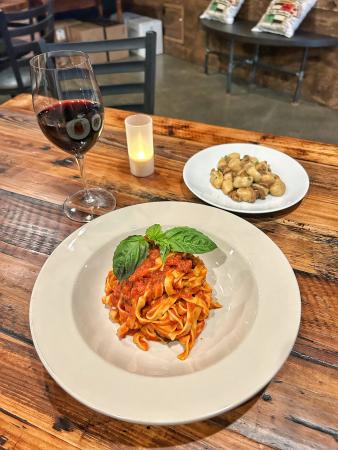 In the kitchen, Mama Stefania makes the freshest pasta from scratch and a unique award-winning cracker thin crust pizza that can't be found anywhere else. Everything is made from scratch here, including the lady fingers in the delightful tiramisu, which is highly recommended!
Know before you go:
Baonecci hosts occasional wine dinners and has a great list of Italian wines along with a full bar. They also have a private room that can accommodate up to 25 guests. Reservations are recommended for weekend visits.
CHINA
The noodle-focused restaurant, Highland Noodles specializes in authentic Lanzhou hand pulled noodles and is rightfully so the talk of the town. Noodles are made to order per the customers' choice ranging from thin to thick with five different sizes and shapes. Choose from a variety of noodle dishes such as fried noodles, cold noodles, noodle soup bowls, and the popular hand pulled noodles.

photo credit @chompdallas
Diners can also get a glimpse into the kitchen and watch their noodles being pulled for a unique dining experience. Pair your noodles with a variety of side dishes, salads, and appetizers, including plenty of vegetarian options. Highland Noodles is quickly becoming a must-visit destination for diners from all over DFW.
Know before you go:
QR codes are used for menus and ordering, and menus are also available in Chinese. Reservations are highly recommended. You can also check wait times online prior to your visit if you prefer to walk in. They also have a private dining space available for larger groups. Scissors are available upon request if you prefer to cut your noodles. Highland Noodles kitchen is closed daily from 2:30 pm- 5:00 pm.
AUSTRALIA
The Aussie Grind was the first Australian full-service restaurant in DFW, and it's right here in Frisco. When Angie and Lui Monforte moved to Texas, they brought a little bit of Australia with them and it's been well received by Texans. The Aussie Grind serves Australian-style coffee, breakfast, lunch, and dinner in a casual setting. Many may wonder what Australian food is. It's essentially a fusion of different types of cuisines and types of food.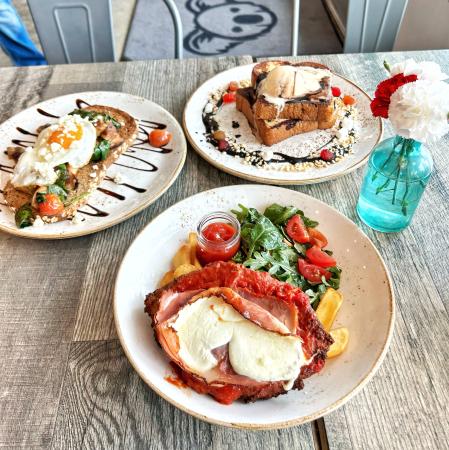 Some of the most popular dishes at The Aussies Grind are breakfast gnocchi, Aussie-style avo smash, chicken parmy (a twist on a classic chicken parmigiana), Australian meat pie, fish and chips, Aussie style burger, pavlova, and pancakes with ice cream (yes you read that right!). It's never too early for ice cream at The Aussie Grind. You can even get their popular iced coffee with ice cream, but the flat white and lavender latte is a personal favorite. All syrups are made in house, juices are freshly squeezed, and everything is plated to perfection. Check out The Aussie Grind for some of your favorite classics with an Aussie twist.
Know before you go:
The Aussie Grind does not take reservations, get there early on weekends. Breaky (breakfast) is served all day. Gluten free pastries are also available. Text ahead service available for to go coffee orders.
THAILAND
When Nid Tositrakul and his nephew moved to Frisco in 2019 from Virginia, they had a hard time finding authentic Thai food with flavors they were used to eating at home. They saw this as an opportunity to bring more awareness of true Thai flavors, and 246 Thai Grab & Go was born. 246 Thai Grab & Go is a fast casual eatery designed for customers to try Thai food that honors the authentic dishes and flavors from different regions of Thailand. Everything is prepared and served as conventional as possible and with dishes being made from scratch daily their motto "we serve what we eat" gives diners a glimpse of what to expect.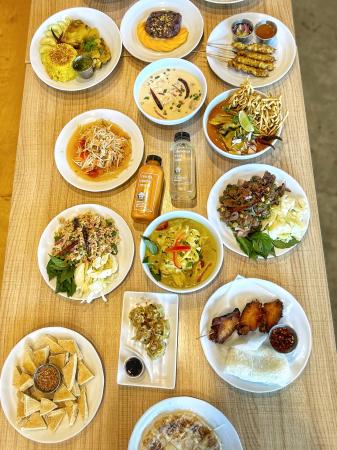 The "grab and go" concept provides customers with a quick, but quality, dining alternative for the working consumer that may usually resort to a drive-thru option for a quick meal. Although many of their customers order take-out, there is a dining area and guests are encouraged to dine in to enjoy their meals immediately and as fresh as possible. Monthly specials introduce guests to various types of street food dishes that may not be common or available anywhere else, and that alone is worth the visit!
Know before you go:
246 Thai Grab & Go is closed on Wednesdays. Their level 1 spicy is equivalent to level 3 spicy elsewhere. Monthly special items may take a little longer to prepare. Delivery is available via Uber Eats, Grubhub, and DoorDash.
INDIA
One important fact to know is that not all Indian food is the same. Indian food varies based on regions of India and whether the preference is vegetarian or non-vegetarian. Indian food consists of spices, herbs, and vegetables to create rich aromatic dishes. For an authentic experience that will allow guests to experience a variety of flavors and caters to vegetarians, Vrindavan can't be beat. Vrindavan offers a "Royal vegetarian experience" and serves North Indian Vegetarian food in a true Indian tradition, a thali. Thali refers to a complete Indian meal in which a variety of dishes are served together on a large platter.
The concept is an unlimited pre-fixed thali serving a set menu offering three different types of thali meals served six days a week. (Check restaurant website regarding menu for specific days.) The thalis are filled with a contrast of flavors and textures that complement each other. Offerings are unlimited so feel free to ask for seconds and thirds!
Know before you go:
Vrindavan no longer accepts reservations. Seating is on a first come, first served basis. Vrindavan is closed on Mondays. Gratuity is automatically added to each check. Guests may not take their food to go. Dessert and drinks are not included in the all-you-can-eat price.
JAPAN
When you think of food in Japan, sushi immediately comes to mind. Luckily, Kinzo delivers exactly that and so much more. Kinzo is a Japanese restaurant co-owned by Executive Chef Leo Kekoa, a former Nobu Dallas chef bringing the omakase experience, a chef-prepared tasting menu, to Frisco. The vibe is cozy, modern, and minimalistic with 22 seats around a large open sushi bar. Expect to see artfully crafted Edomae-style flavorful sushi and temaki hand rolls created from the highest quality of fish and shellfish sourced from the Toyosu market in Japan. If you're not ready to commit to a full omakase experience, diners can walk in or make a standard reservation and order a mini omakase or equally beautiful and creative dishes off an à la carte menu.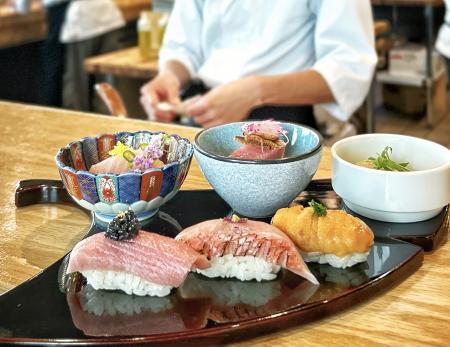 Know before you go:
The reservation-only, 18-course omakase experience is available Tuesday- Saturday at 5:45 pm and 8:15 pm and is limited to six people at each time slot. If you're one of twelve lucky diners to snag a reservation, your omakase courses will be prepared and served personally by Chef Leo for a more personalized and intimate experience. Reservations open 1st day of every month at 10:00 am for omakase and à la carte bookings.​
Continue your tasting journey
This trip around the world through foods is just a taste of all the delicious, diverse food offerings in Frisco. Check out our dining listings for more sensational options to fill your plate. And in between meals on your trip around the world through food in Frisco, check out these ideas for things to do in town.