Whether you are planning your next weekend trip to Frisco, or you are looking for a vibrant backdrop for your next Instagram post, these Frisco murals are a great outdoor exploration activity for the whole family.
Public art that engages the community in the planning, design, and execution of the piece can help to create a sense of belonging and identity for individuals and businesses in the area. Art is a way for people of different backgrounds and cultures to feel a sense of unity, recognition, and connectedness through mediums such as public murals.
Joshua Boulet: Frisco: Past and Present
Joshua Boulet is the artist of one of the larger murals you can find in the Frisco Rail District. His piece, Frisco: Past and Present, depicts the history of Frisco and takes you through the development of the city.
With familiar landmarks, this 70-foot piece creates a sense of awe as you become a part of the story of Frisco. Find Boulet's work at the corner of Fourth and Main in the Rail District next to the Frisco Gazebo.
Patrick Ganino: Multiple
Artist Patrick Ganino's work can be found all across Frisco at locations including Didi's Downtown, Bittersweet Ivy, Karma Fitness Frisco, and many more. His recent rooftop mural features Frisco's historic Double Dip, the iconic water tower alongside some familiar faces.
You can find Ganino's art at Didi's Downtown, Bittersweet Ivy, The Patios, and The Tower at The Rail.
Tate Bladon: Countdown 2 Escape Building
In 2020, Frisco Wakeland High School student Tate Bladon designed an initiative to bring color and renovation to the buildings in the Frisco Rail District. He engaged his peers and other members of the community to unite others through art, which can help improve mental health by decreasing stress and anxiety.
His work can be found behind the building at 6963 Main Street.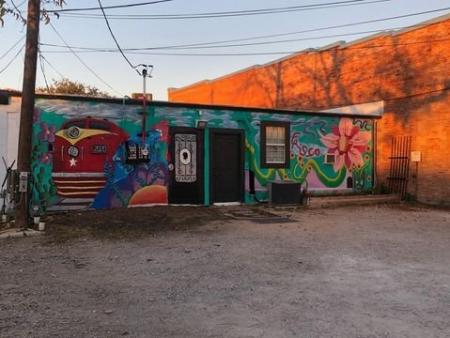 @friscomurals
Be sure to tag #iHeartFrisco in all of your Instagram pics. You may end up seeing your photo shared here or on our Instagram. When venturing out to snap a pic for Instagram or plan a photo shoot, we recommend reaching out or researching these spots beforehand. We kindly ask you be respectful of photo policies, restrictions, businesses and other guests.
To keep up to date with the most recent area news, sign up for our newsletter.