Nashville country music singer-songwriter, Grace Tyler, draws inspriation from her experiences growing up in Frisco, Texas. She talks about who shaped her love for music, how Texas tends to draw her back home, and the local bites she enjoys on her visits back to Frisco.  
Enjoy getting to know more about one of our musical Faces of Frisco: Grace Tyler. 
How did you get involved with music and what age did you start singing?
I started music when I was around 6 years old. My parents would take me to The Varsity Club in Frisco every Tuesday for their kids karaoke nights. I fell in love with performing and began voice lessons shortly after that! I started playing full band shows at the age of 14 around the DFW area.  
Who are your music inspirations?
Being from Texas, Miranda Lambert was one of my first influences. I love old school and 90s Country, as well. Some of the women who have influenced my music would be Patsy Cline, Faith Hill, Martina McBride, and Tammy Wynette, just to name a few. 
How would you describe your music?
My music is a mix of power and finesse. I'm a sucker for belting out a note and also getting to show the vulnerable side of my voice, as well. I'd say it's a mix of mainstream meets Texas meets 90s Country.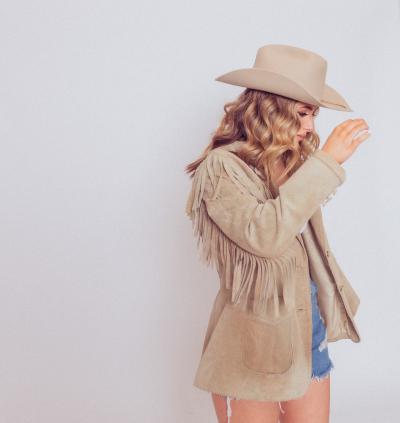 How has your music evolved from when you started until now?
As a songwriter, I feel like the older I've gotten and the more life I've experienced the better my writing has become. As a teenager back in high school, I didn't feel confident in myself as a songwriter. Now, I feel my confidence is evident in the words I sing. 
What are you working on this year that you're excited about?
I have a lot of new music coming out this year that I'm super excited about! It shows so many different sides to me as an artist that I can't wait to share. 
What do you miss about Frisco?
The Mexican food. And, the BBQ. Tennessee finally got a Whataburger, which was a big step up in the food department, but I definitely miss all of the great food.
When you come home, what's on your must-visit list and why?
I'm a foodie - so Babe's Chicken Dinner House, Hutchins BBQ, and Mi Cocina are all must haves. I also love stopping by my friends at Tumbleweed TexStyles to bring some Texas back to Nashville. 
What was your favorite part about living in Frisco?
I loved growing up with the city. I was born and raised in Frisco, and it is always so cool to see what new thing was built each time I come back! I loved the Frisco community and the amount of people who would come out to support me at gigs growing up and even now. 
Where in Frisco did you go to get inspired?
I loved to go for walks and get outside to be inspired. 
Are any of your songs about or inspired by Frisco?
"Texas & You" is a song about feeling drawn back to Texas because of the many things you love about it and a person who lives there. I was in a long distance relationship, and as much as I love Nashville, I always felt drawn back to home. 
I think it took me leaving to really appreciate Frisco and how it shaped me into the person and artist I am today.
Did growing up in Frisco/Texas influence your music? If so, how?
Growing up in Frisco definitely influenced my music. My music is created through experiences and situations that I've dealt with myself or have seen other people experience. Frisco, and Texas in general, is such a different place from anywhere else in the world. I think it took me leaving to really appreciate Frisco and how it shaped me into the person and artist I am today.
 

What does it mean to you that the Academy of Country Music Awards will be held in your hometown?
It feels like a full circle moment. It makes me really proud to be from Frisco and that country music acknowledges how incredible Frisco is. 
Frisco was announced as a Music Friendly Texas Certified Community by the Texas Music Office, what does that mean to you as an artist who grew up in Frisco?
That means a lot because when I grew up, music was definitely not the forefront of people's minds. Everyone played sports, and I felt like I had to fit in and do that, as well. The older I got, the more I saw Frisco embrace music, and it became easier to find a music community. I didn't feel like I had someone who wanted to pursue music older than me from Frisco to look up to, and knew I wanted to change that narrative. I hope kids growing up in Frisco today realize that your dreams are possible, and I hope to be an example of that. Music has forever changed my life for the better. Being a "Music Friendly City" is another great step in embracing the music community in Frisco and makes me proud to be from Frisco.
Follow Along with Grace
Like Grace said, Frisco is embracing the music community and is proud of artists who learn and dream here. Follow along Grace's journey and learn more about Grace Tyler's music at gracetylermusic.com. 
Explore more of the Faces of Frisco who contribute to making the Frisco community what it is today. And be sure to check the latest local music scene and mark your calendar so you don't miss out on the good stuff.