The festivities are in full swing here in Frisco, and I'm totally loving it. Christmas time is my absolute favorite. With so many fun things to do, see and eat, it's hard not to get excited. Today I'm sharing all the must-do's in Frisco this holiday season.
Santa at Stonebriar Centre
This year we did our annual Santa photo at Stonebriar Centre in Frisco. One neat feature about this location is that they offer two separate photo backdrops. One with a beautiful sled and the other with Mr. Claus himself. I know how tricky it can be snapping a good photo with Santa, but the photographers take multiple pictures to make sure you get the perfect shot. All photo packages include the digital images from your visit, plus a printed copy of your favorite picture.
Pro Tip: Schedule your visit online so you can skip the long lines.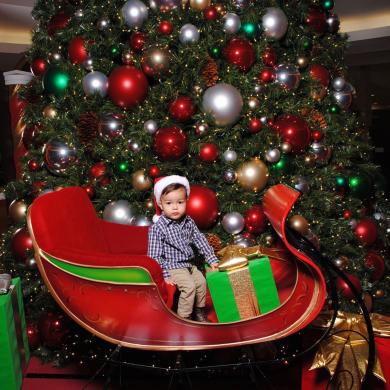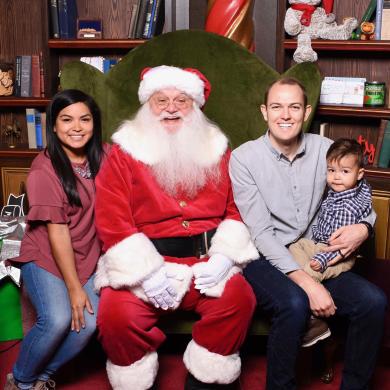 This location also hosts Pet Night, which means you can bring your fur baby to meet the big man himself. They also do Ugly Sweater Day, Grandparent's Day, and Holiday PJ Day, so check out their special events calendar. After you visit with Santa, I recommend taking a ride on the beautifully decorated carousel upstairs. The entire Stonebriar Centre is decked out for the holidays, so walk around and enjoy some excellent Christmas shopping.
Christmas at The Star
If you didn't already know, football is a pretty big deal here in Texas. So, it shouldn't come as a surprise that Santa goes all out football when he comes to visit the Lone Star State. He is especially fond of the Dallas Cowboys. Don't believe me? Visit The Star in Frisco and see for yourself. Mr. Claus has nicely decorated his living room in full Dallas Cowboys swag. Complete with a royal blue chair and a green football turf. It's a one-of-a-kind Santa experience you don't want to miss. Afterward, roam the grounds and snap some Instagram worthy pictures.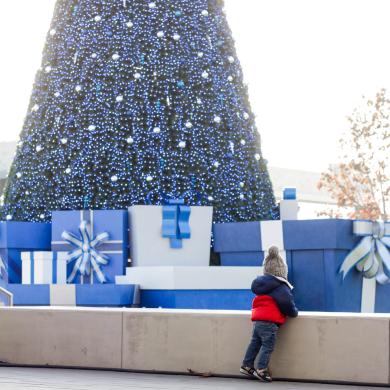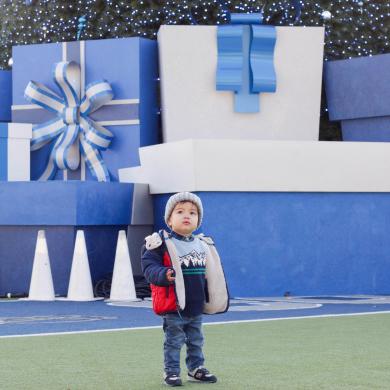 If you visit the Star on Friday or Saturday night you will also be able to enjoy their Christmas Spectacular.  One of the newest Christmas events in Frisco, the show features live performances by the Dallas Cowboys Cheerleaders, Rhythm and Blue Dancers and Drumline. Santa also makes a special appearance during the show and it's fun for the whole family. It starts at 6pm, but make sure to arrive early for the best seats. The best part? Admission and parking are both free. Performances runs until December 22, so hurry and see this amazing show.
Holiday Treats
Since the weather is now cooler, I love sipping on Hot Chocolate. It's the best way to keep warm this season. One of my favorite spots to visit is @nerdvana.coffee+shop. They have the coolest machine that places designs on the top of your drink. If you download their Ripple app, you can have any photo uploaded on to your beverage. Cool right?  I also appreciate all the board games offered to guest. It's such a fun atmosphere, where you can go and enjoy time with family and friends. I also recommend trying Hot Cocoa from Summer Moon and The Nest Café. You can't go wrong.
And what's Hot Chocolate without delicious cookies? For some of the best cookies in town, head straight to The Cookie Rack. They offer 14 incredible flavors, like cookie dough, cake batter and salted caramel pretzel. My son personally loves their Snicker cookie. They also offer a weekly specialty cookie, so follow them on social media to keep up with the latest cookie releases.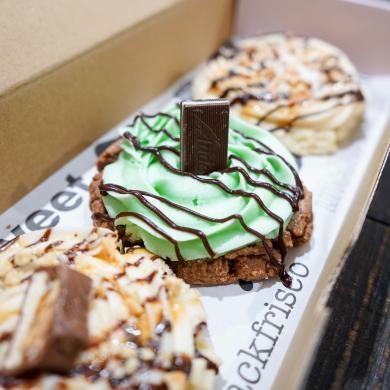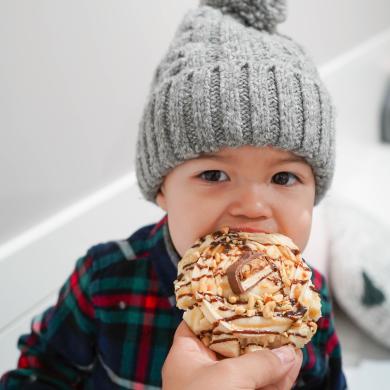 Frisco Mercantile
Frisco offers some incredible shopping, but the small boutiques is what really sets the city apart. I love how each shop has their own flair. If you are looking for a place to finish your holiday shopping, you need to check out Frisco Mercantile. Trust me, you will be left in total awe. Or at least I was. Everything is displayed beautifully, and they have over 150 different dealers. You could spend hours just roaming the aisles. They carry just about anything, like home décor, women's clothing, antiques and so much more. They are also conveniently open 7 days a week and receive new merchandise daily. Some other great local shops are Bittersweet Ivy and Boxcar House.  
Christmas in the Square
And last but not least, Christmas in the Square. When it comes to Christmas events in Frisco, this is the crown jewel of the city during this festive time. I may be biased, but it offers one of the best light shows in the Dallas-Fort Worth metroplex. With over 175,000 lights, it's no wonder Christmas in the Square draws over 700,000 visitors a year, and it's considered the largest choreographed light show in North Texas. Visitors can enjoy the light spectacular every day from 6-10 pm until the end of December. In addition to the light show, there are also other fun activities like ice skating and a Christmas tree maze. I personally love to just walk around and admire the décor; my favorite is the giant ornament.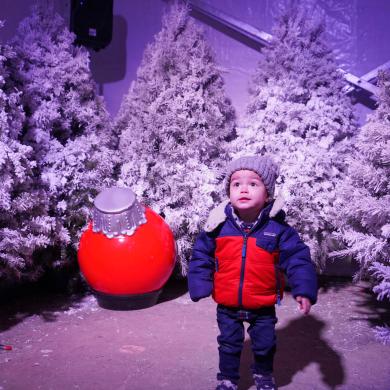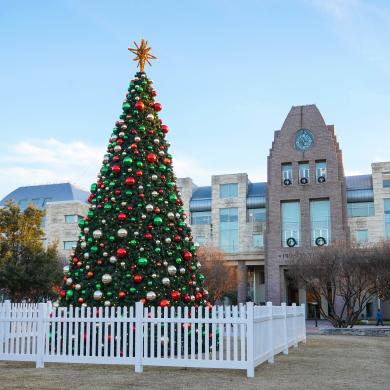 Frisco truly is a magical place to visit this time of year. It's definitely worth a visit. I hope to see you soon!