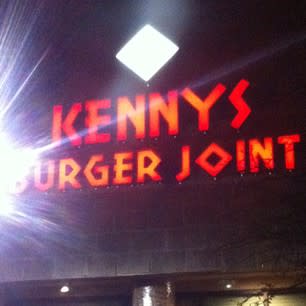 Are you in search of an amazing burger? Search no more and get yourself to Kenny's Burger Joint as soon as possible!
Have you heard of Chef Kenny Bowers and partner Bob Stegall? These guys are the creators of beloved Addison Kenny's Wood Fired Grill and Kenny's Italian Kitchen and have also opened Kenny's Burger Joint in the Stonebriar Commons shopping center in Frisco, Texas.
While in search of a delicious meal, and more specifically a juicy burger, I randomly stumbled on Kenny's Burger Joint. I was instantly hopeful that this Kenny's was somehow related to the other Kenny's restaurants that I loved so much, and fortunately I was right! I grabbed a friend and we ventured in to try out menu.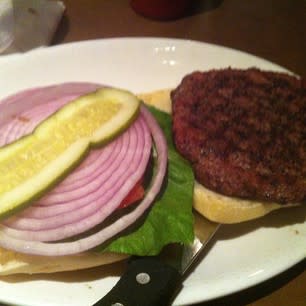 We were instantly greeted and seated, and began our search through the menu. Between the wood grilled burgers, Kenny's famous ribs, sandwiches and big dogs, salads, fries, and milkshakes, we finally made our choices.  I went with their traditional version of the burger, called Zed's straight up burger, and an order of Kenny's special seasoned fries. I have to say, it really hit the spot!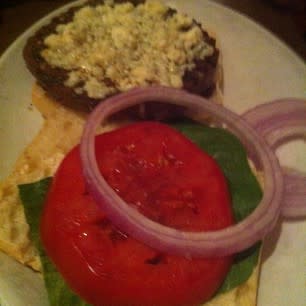 My friend ordered the Black & Blue Burger that came cajun spiced, and had blue cheese, lettuce, tomato, and onion with a side salad that came with ranch and fresh veggies. Both choices were a hit and I'm not ashamed to say we cleaned our plates!
There wasn't enough room left for dessert, but I'll need to go back for a special milkshake outing. Kenny's Burger Joint serves up the classics such as chocolate, vanilla, strawberry, and oreo as well as two Girl Scout Cookie shakes with Thin Mints and Tag-a-Longs. Not only that, but they have quite the selection of adult milkshakes as well such as:
The Attitude Changer - Stoli vanilla, chocolate liquor, Oreos, vanilla ice cream
The Easy Rider - Makers Mark, caramel, vanilla ice cream
Insomniac- Kahlua, Baileys, espresso vodka, chocolate ice cream
Chocolate Grasshopper- Creme de menth, Creme de cocoa, Oreos, vanilla ice cream
The Naughty Mommy - Stoli strawberry, Navan vanilla liquor, Amaretto, Cheesecake, Strawberry, Vanilla Ice cream
Long story short, this place rocks my socks! If you haven't checked out Kenny's Burger Joint than you're missing out. If you've already tried Kenny's, what's your favorite menu pick?