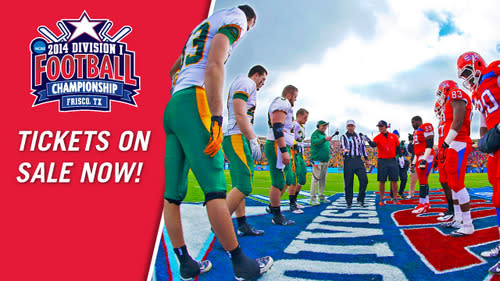 We're counting down the days to the NCAA Division I Football Championship at Frisco's Toyota Stadium on January 4! We're on pins and needles (along with everyone else!) waiting to see which teams will face-off in the final match-up! For now, the semi-finals include New Hampshire vs. North Dakota State and Towson vs. Eastern Washington. Ticket packages are still available for the championship game, so snag yours before they sell out!
In the midst of our excitement for the big game, Frisco received even more exciting NCAA news: in 2016, Frisco will host the NCAA Division II Men's Basketball Elite Eight game at Dr Pepper Arena! It will be the first time the Division II Elite Eight game will be played in Texas.
That news came on the heels of the announcement that the Dallas Cowboys are relocating their world headquarters and training facility to Frisco. Additionally, the Cowboys will be building an adjoining multi-use special events and sports facility.
Looks like sports in Frisco just keep getting better, and 2016 is set to be our biggest year yet!