Frisco has A LOT of public art. Along with the Texas Sculpture Garden (privately owned by Hall Park), the city itself has more than 80 pieces in its collection, making it one of the largest municipal collections in North Texas.
Featuring a variety of sculptures, paintings and photography, the collection came to be after Frisco City Council passed a Percent for Art ordinance establishing Frisco's Public Art Program in 2002. The ordinance calls for a percentage of Capital Project Funds to be used to commission public art which can be viewed and enjoyed by the public. The mission of the program is to enrich Frisco's artistic vitality and cultural vibrancy by bringing dynamic contemporary art to a broad audience of residents and visitors.
Since we can't list ALL 80 here (but we did here), we selected 8 of some of the most popular and some of the unique pieces which you definitely need to check out.
Cattle Drive: Created by Anita Pauwels, 2003
Probably the most recognizable and popular pieces along Frisco's Public Art Trail, Cattle Drive is located in Central Park and is a tribute to the late 19th century cattle drive and life on The Shawnee Trail, which was the first north-south cattle trail in Texas that came through this area. Fun fact: Gaylord Properties, the developer of Frisco Bridges, intentionally designed the 7.3-acre park in the shape of a longhorn. Built in 2000, the city assumed ownership in 2002. The park is a popular spot for photographers, as it features beautiful walkways, water features and a small greenery meadow.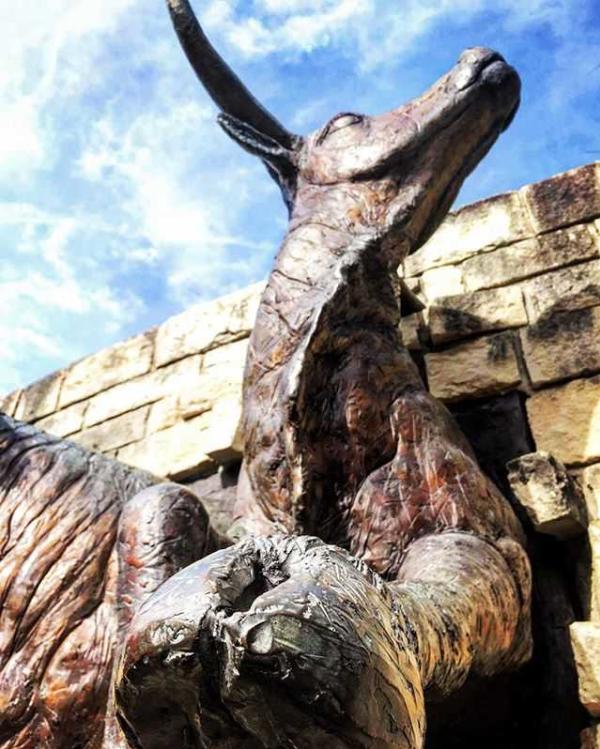 📷 by @simalouako
Cloudscape: Created by Joshua Wiener, 2016
The newest addition to Frisco's Public Art Collection is Cloudscape, located in a natural meadow on the southwest side of Harold Bacchus Community Park, near the walking bridge over West Rowlett Creek. The art piece, inspired by a drawing of rain, is made up of 25 14-foot-tall aluminum poles leaning at a 15-degree angle and topped with aluminum disks. The pieces is meant to signify constant movement with the slant of the pillars and the ever-changing shadows cast by each pole.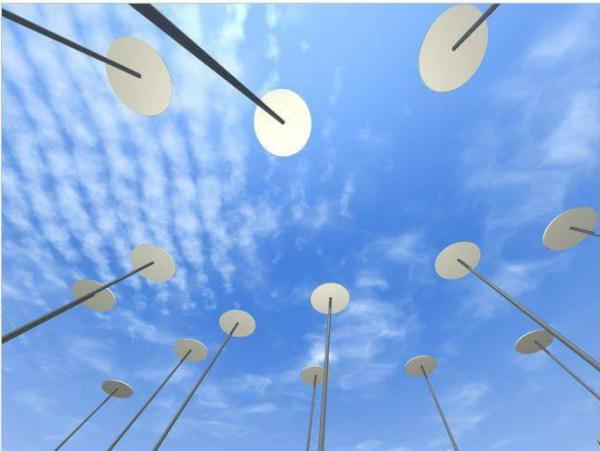 Frisco's First: Created by David Allan Clark, 2009
Located in the front of the George A. Purefoy Municipal Complex, Frisco's First features a life-sized 1900s era farmer holding onto the front portion of a train engine. The jubilant farmer celebrates the arrival of the railroad to Frisco, which brought business, growth and many opportunities to the city. The front of the engine is based on a photo taken by Mattie McCormack of the approach of the town's first train on March 20, 1902.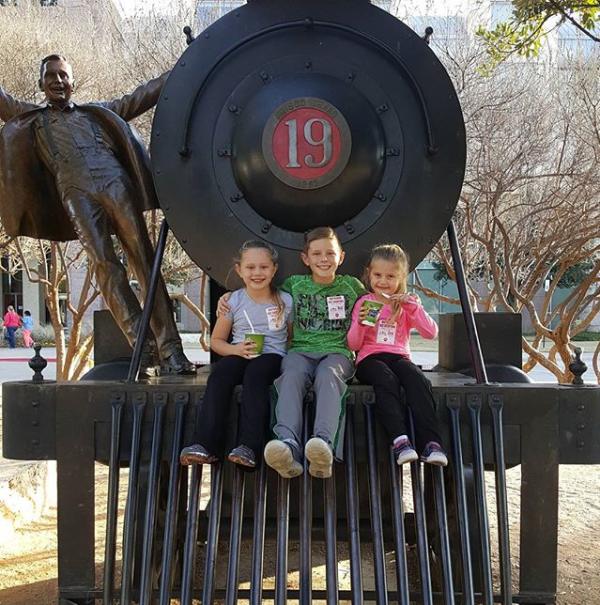 📷 by @janettejohanson
Poems: Created by John Runnels, 2006
Considered one of Frisco's most unique and unknown public art pieces, Poems is located in J.R. Newman Park. The installation is a sidewalk art piece which integrates the written language which has been sandblasted in to the concrete sidewalks. Based in Houston, Runnles also has exhibited in numerous solo and group exhibitions all over the United States.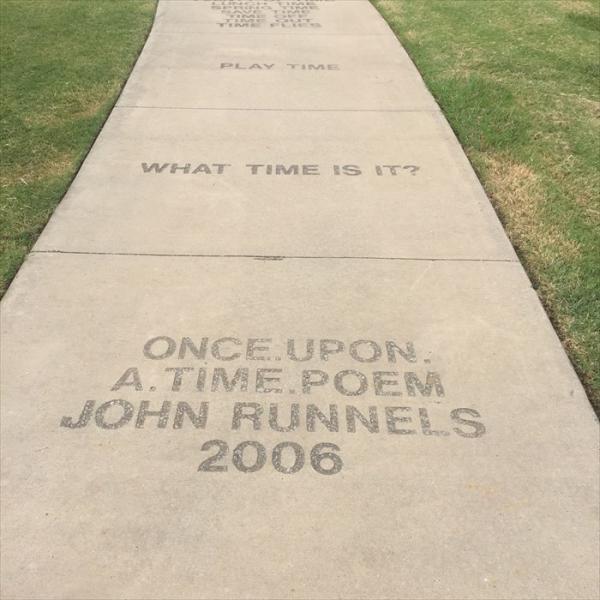 Prairie Bells: Created by Bill Buchen, 2010
Located on the west side of the George A. Purefoy Municipal Center, Prairie Bells commemorates each year since Frisco's founding in 1902. Not to be confused with a Christmas tree, the tower shimmers with dancing prismatic wind bells representing Frisco's first 100 years and its bright future. Wind responsive vanes cast multi-colored reflections all around. This piece is most beautiful during the day, but is also lit up at night.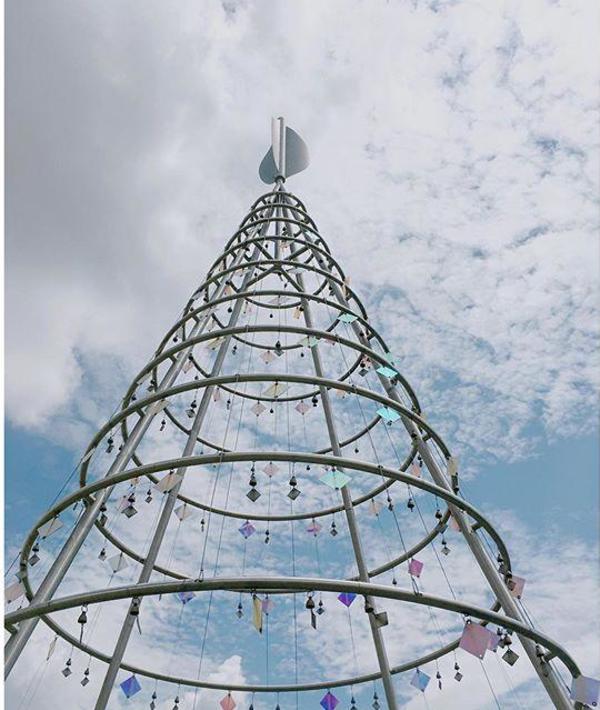 📷 by @nicoc.o
Spirited and Faithful: Created by Robin Brailsford, 2007
Located in J.C. Grant Park, Spirited and Faithful is a quartzite equestrian statue which stands over 7 feet tall and weighs more than 1,000 pounds. The massive stone horse and covered wagon are representative of Frisco's history and settlement by pioneers. Based in California, Brailsford specializes in LithoMosaic art and features two additional pieces of work in Frisco's Public Art Collection including pieces located at Fairways Green Park and Harold Bacchus Community Park.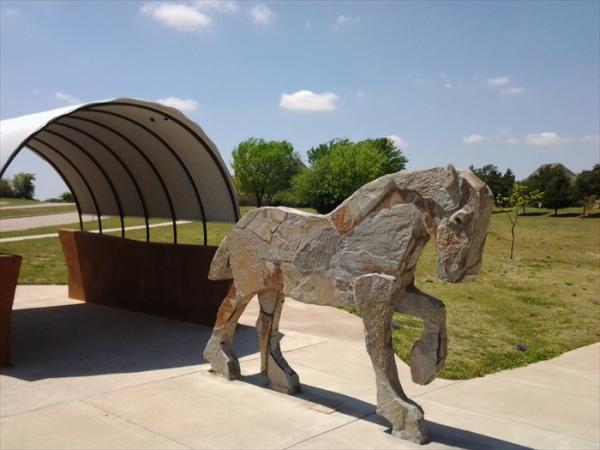 The Pitch: Created by Gail Folwell, 2010
Located outside of the front gate of Dr Pepper Ballpark, The Pitch is a sculpture which stands 12 feet tall and is a contemporary rendition of a baseball pitcher in a dynamic, post release follow-through. The Pitch is a commissioned bronze resulting from a national competition call for artwork for the ballpark and was selected for the 2010 National Art Museum of Sports art competition and exhibition.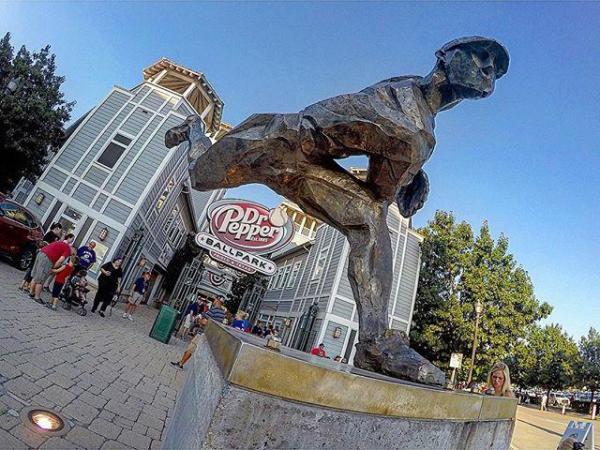 📷 by @dfw_jw_pw
Transparent Strength: Created by Damion Priour (1949-2011), 2006
Located just outside of the Frisco Police Department, Transparent Strength features thick industrial glass turned on its smooth polished edges and anchored by 60 million year-old fossil limestone which was quarried in central Texas. Several more spheres of stone and glass are located on the hill toward the intersection of Stonebrook and Parkwood, just below the larger sculpture. The piece serves as a memorial to Frisco's Police Department, with the name of the late Patrolman Joe Preston Murphy engraved on the edge of the polished glass.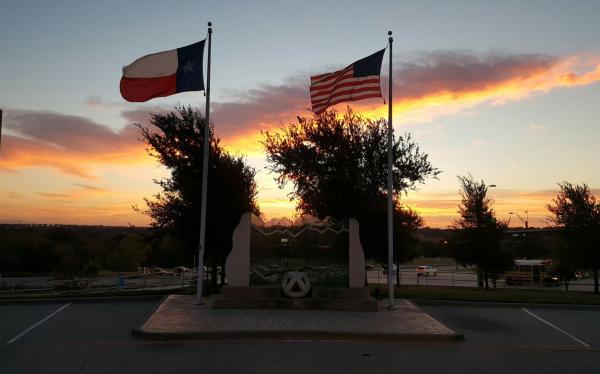 📷 by @FPDJenkins
Be sure to tag us in your adventures along Frisco's Public Art Trail. Learn more about Frisco's Public Art Collection here, as well as additional arts and culture findings in Frisco, here.