As the weather gets cooler in Frisco, all things fall and pumpkin spice come to mind. We see it in pies, lattes, muffins and donuts, so why not support local and get your pumpkin spice fix right here in town. Here are a few of our favorite cafes and restaurants to try a pumpkin spice latte! 
Renew Coffee and Bakery is located in Frisco Square in the heart of Frisco. The ambience in this cute, little coffee shop is peaceful and comfortable. The owners of this shop are very welcoming and will greet you warmly as you enter. The latte art is beautiful and carefully poured to perfection. They offer an assortment of muffins, scones and cookies along with high-quality roasted Intelligentsia Coffee. Stop in and relax while sipping your pumpkin spice latte with a friend or grab one to go and enjoy as you walk around Frisco Square.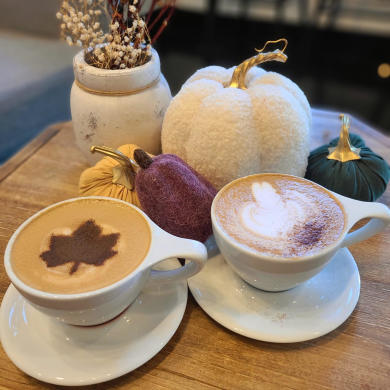 If you want to try a unique PSL this fall, you must ask for the Aussie Iced Pumpkin Spice Latte at Aussie Grind. With two shots of espresso over ice cream, rimmed with graham crackers, pumpkin spice and a toasted marshmallow on the side, you won't get this beautifully-presented drink anywhere else! Their hot PSL is also just as amazing! The Aussie Grind serves up an innovative breakfast and lunch menu with an Aussie twist. Fall-themed items on their menu include the mushroom stack and butternut squash toast.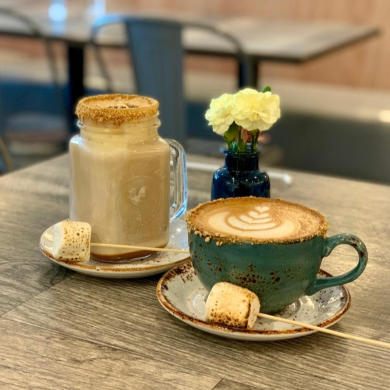 Global Peace Factory located in Stonebriar Commons is Frisco's very first coffee house! They use a distinctive coffee roaster from Seattle, called Caffe Darte with coffee beans originating from Naples, Italy. Global Peace offers a variety of fall speciality drinks: Ginger spice, Pumpkin Spice and the Maple Brown Sugar latte. You can get any of these with oat milk for an extra-creamy texture. Delicious pumpkin spice pound cake is made daily and is first come, first serve. If you miss out on that though, you can try the pumpkin spice waffles which will only be available during the fall season.

📷  Whitney, @globalpeacecoffeehouse
Nerdvana Frisco is a unique scratch kitchen and craft bar serving locally roasted coffee and specialty brews with a twist. Along with their pumpkin spice latte for the fall, they have a Trick or Treat special: try the trick, a spicy Habanero Mocha latte, or the treat, a sweet apple cinnamon latte. Bring out the nerd in you and play a round of classic or modern board and video games while sipping on an awesome fall latte or a cocktail inspired after your favorite video game.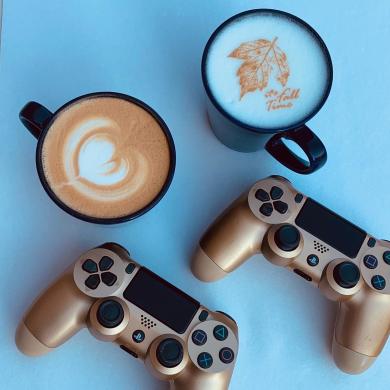 The Nest Cafe has the most exquisitely plated brunch in town. Each item on their menu is artistically presented and is made of quality ingredients with an amazing flavor profile. A fall menu item worth trying is their El Capitan 3, with French toast, ham, maple syrup, burrata and balsamic drizzle which pairs well with their pied pumpkin latte. The Nest is known for their London fog and lavender lattes, and their Winnie the Pooh latte art. Such a yummy spot to check out this fall!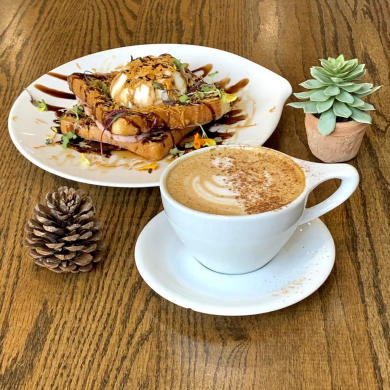 Kona Reserve Coffee located in Starwood partners with family owned, Hawaiian farms to bring you deep, rich speciality coffee. Their fall favorites are Pumpkin Patch Chai Latte made with homemade pumpkin maple syrup and chai tea powder and a Boo-Berry Latte made with delicious blueberry and hazelnut syrup, each served with beautiful latte art. Also on their menu during this fall season is Fool's Gold with turmeric and honey served as a latte or cortado and Autumn Berry Mocha with white mocha and raspberry. Regular menu items include speciality coffees, teas, gelato, smoothies, breakfast sandwiches and musubi. The dining room is bright and airy and a great spot to meet friends or have a business meeting.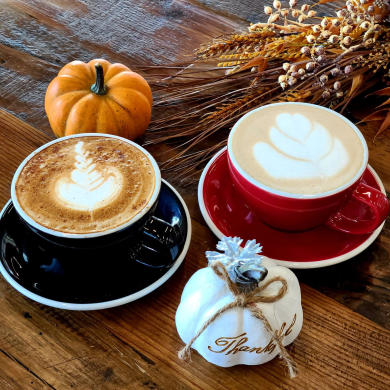 Located in the Echelon at the Summit, Karmic Grounds is a full service coffee shop featuring specialty coffees, beer, wine and quick bites. To experience autumn in a cup, try their creamy pumpkin butternut spiced latte complemented by hints of maple, brown sugar, and cardamom. For a sweet treat, try their pumpkin cold brew donuts which are vegan and gluten free or their pumpkin loaf with maple icing, also gluten-free. Karmic Grounds has ample seating inside and out and has a dog-friendly patio.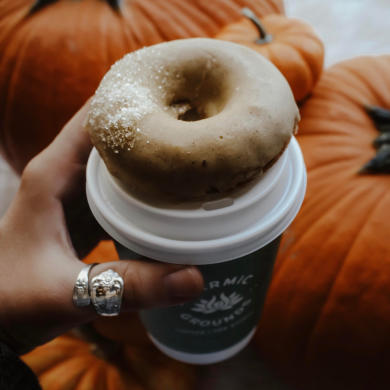 📷  Jordyn Olivia, @thedesertvioletphotos
For a complete list of coffee shops, head here.