As the weather gets cooler in Frisco, all things fall and pumpkin spice come to mind. We see it in pies, lattes, muffins and donuts, so why not support local and get your pumpkin spice fix right here in town. Here are a few of our favorite cafes and restaurants to try a pumpkin spice latte.
La Finca, located on Main Street in historic downtown Frisco, is a family-owned and operated coffee shop with Mexican roots. The owner creates his own unique bean profiles and roasts in house while his wife bakes fresh every day in the scratch kitchen. We loved their hot pumpkin spice latte made with dulce de leche and pumpkin syrups. The iced butter cup latte was made with a perfect blend of peanut butter and chocolate. The bakery offers a variety of sweet empanadas including pumpkin pie filling and also serves a nutty pumpkin roll and fall themed cookies.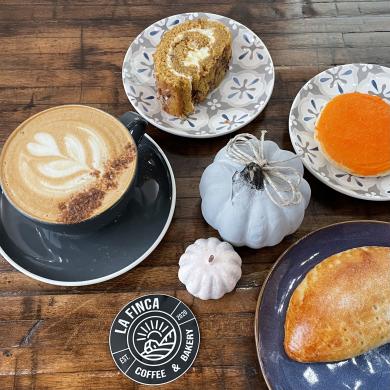 UP Inspired serves delicious, nutritious food with real ingredients that are locally sourced and organic whenever possible. UP believes in food that fuels both the mind and body. Their coffees and lattes are made from hand-crafted and organic sauces and sweeteners, so you know they're good for you. They have an incredible pumpkin spice latte made with all natural and organic pumpkin syrup and they offer a pumpkin muffin (gluten free) with every coffee purchase.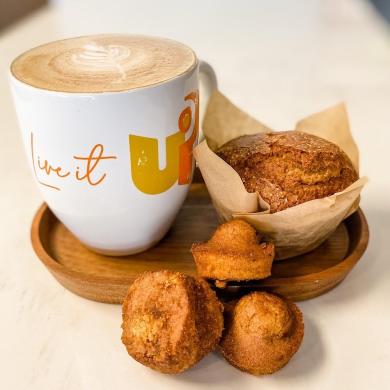 📷 @beautyfromburnttoast
Renew Coffee and Bakery is located in Frisco Square in the heart of Frisco. The ambience in this cute, little coffee shop is peaceful and comfortable. The owners of this shop are very welcoming and will greet you warmly as you enter. The latte art is beautiful and carefully poured to perfection. They offer an assortment of muffins, scones and cookies along with high-quality roasted Intelligentsia Coffee. Stop in and relax while sipping your pumpkin spice latte with a friend or grab one to go and enjoy as you walk around Frisco Square.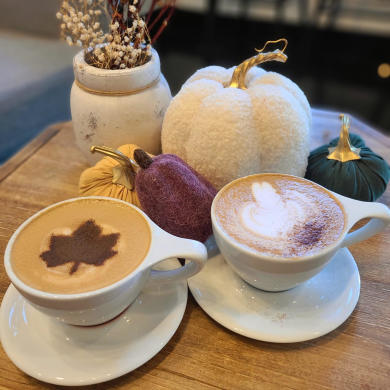 Ascension Coffee serves up breakfast and lunch all day alongside their award-winning craft coffees. Their seasonal cup of the moment includes pumpkin spice lattes and they serve limited pumpkin muffins, so arrive early to grab yours. Ascension sources responsibly and prides themselves in serving up a 'cup of excellence' and will definitely elevate your coffee experience while at The Star in Frisco.
Located just off the Dallas Parkway, Lemma Coffee Company is dedicated to quality, hospitality and good times. The seasonal drinks are now available which feature the classic pumpkin spice latte and a couple of new drinks that include a coffee concentrate. Try the Autumn Fizz or Cranberry Haze for a unique fall-inspired drink. Adding a warm pumpkin croissant to any of these drinks is sure to bring out all the fall vibes.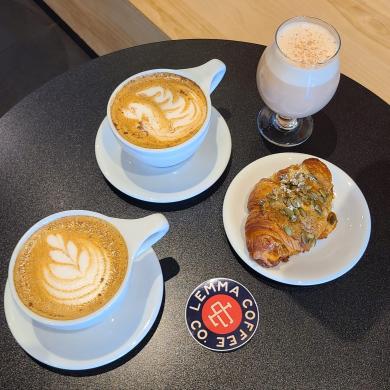 The Nest Cafe has the most exquisitely plated brunch in town. The Nest is known for their London fog and lavender lattes, and for their Winnie the Pooh latte art. Their pumpkin pie latte is perfect to pair with their delicious breakfast menu items. Such a yummy spot to check out this fall!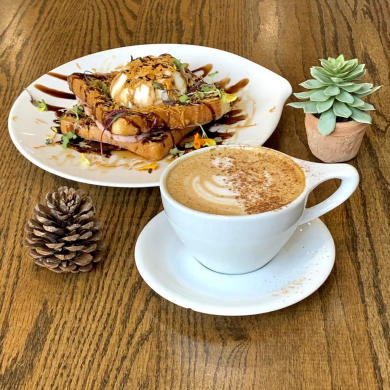 Kona Reserve Coffee located in Starwood partners with family owned, Hawaiian farms to bring you deep, rich specialty coffee. Their fall favorites are Pumpkin Patch Chai Latte made with homemade pumpkin maple syrup and chai tea powder and a Boo-Berry Latte made with delicious blueberry and hazelnut syrup, each served with beautiful latte art. Also on their menu during this fall season is Fool's Gold with turmeric and honey served as a latte or cortado and Autumn Berry Mocha with white mocha and raspberry. Regular menu items include specialty coffees, teas, gelato, smoothies, breakfast sandwiches and musubi. The dining room is bright and airy and a great spot to meet friends or have a business meeting.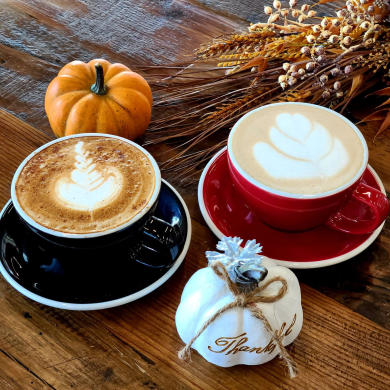 Located in the Echelon at the Summit and also on Main Street in historic downtown, Karmic Grounds is a full-service coffee shop featuring specialty coffees, beer, wine and quick bites. To experience autumn in a cup, try their creamy pumpkin butternut spiced latte complemented by hints of maple, brown sugar and cardamom. For a sweet treat, try their pumpkin cold-brew donuts which are vegan and gluten free or their pumpkin loaf with maple icing, also gluten free. Karmic Grounds has ample seating inside and out and has a dog-friendly patio.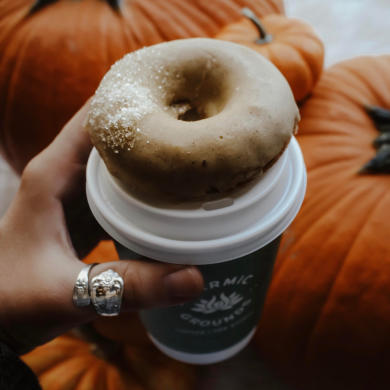 📷  Jordyn Olivia, @thedesertvioletphotos
It's all about relax, recharge, and refuel at The Lounge. It's a nice spot to stop in to read a book, catch up on email, or meet up with friends to enjoy the locally roasted coffee and wide variety of teas. Not wanting the caffeine boost? The Lounge has smoothies, non-coffee-based frappes, or even decaf coffee and herbal teas.
Feeling Fall?
Discover the things to do this Fall in Frisco and 6 Frisco-Inspired Halloween Costumes. To keep up to date with the most recent area news, sign up for our monthly newsletter. And for a complete list of coffee shops, head here.