Frisco is many things, and no stranger to a variety of sports from football to badminton. If you are wondering where the beautiful game fits in, make no mistake - Frisco is a soccer city through and through.
Here's a snapshot of what you need to know about the ages, stages, teams, and must-see soccer stops in Frisco, Texas.
Watch the Pros
Toyota Stadium and FC Dallas, Frisco's Major League Soccer club, is the epicenter of soccer in Frisco. FC Dallas is an original MLS member since the league's inception in 1996. Club owners, Hunt Sports Group, who also own the Kansas City Chiefs, have a deep-rooted passion for soccer that stems from Lamar Hunt's legacy and influence in the MLS. You can catch a home FC Dallas match at Toyota Stadium February through October. With an average match attendance of more than 10,000, you'll feel right at home.
In addition to the professional MLS level soccer, FCD's youth, academy, and elite clubs train thousands of boys and girls across the state. Those who don't call Frisco home are likely to stop in for tournament play at Toyota Soccer Center, the 145-acre multipurpose facility with 17 tournament-sized soccer fields. Frisco hosts soccer tournaments like the Michael Brown Winter Classic, Shawnee Trail Shootout, King TUT, Dr. Pink Varsity, Scott Dymond College Showcase, and even the Dallas Cup where you're sure to find FC Dallas youth and alumni on the pitch. Don't be surprised to see young players sporting the FC Dallas kit around Frisco year-round.
What you need to know about FC Dallas:
"We got next," as they say. You will see the next generation of US Men's National Team superstars. Nobody builds national team players better than FC Dallas and to see those players early on in their career is a special opportunity.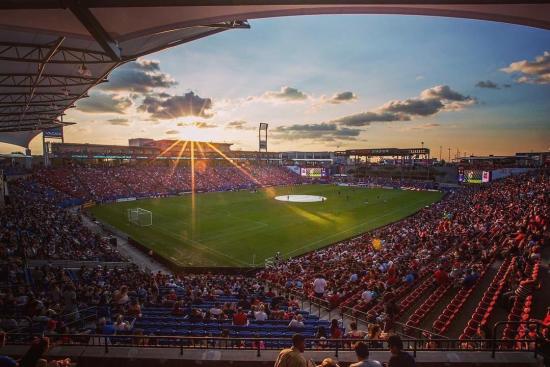 Hall of Fame History
As if the present-day soccer in Frisco isn't enough, there's quite an impressive nod to the history of the game, too. In 2018, Frisco opened the National Soccer Hall of Fame. Located in the south portion of Toyota Stadium, the HOF welcomes approximately 20,000 visitors a year. What draws them in? Some of the most popular sights to see include the four Women's World Cup trophies that take center stage among a lineup of hardware on display. The state-of-the-art interactive experiences allow you to build your dream team, your favorite scarf, or get into the game with virtual reality.
What you need to know about the National Soccer Hall of Fame:
They use facial recognition to personalize each visitor's experience, creating "the most personalized experience in sports".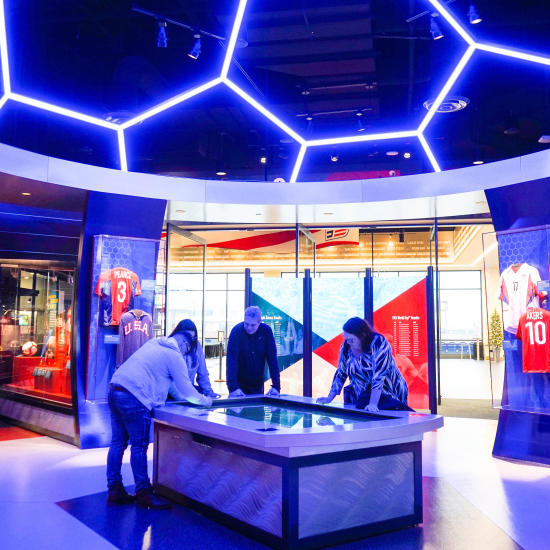 Train and Play
You'll feel another constant vibration of soccer action at the PIT (Performance Indoor Training). Since 2015 thousands of soccer players and fans have trained and played at the PIT. About 7,000 people a week enjoy 40,000 square feet of indoor turf and 69,000 square feet of outdoor fields. Soccer players age 5-50 play in leagues while training starts as young as age 2. (We told you Frisco was a soccer city.) The year-round leagues for youth and adults make the PIT a consistent part of the soccer pulse in town.
What you need to know about soccer at the PIT:
They have offerings for the entire soccer family, from training to open play and leagues.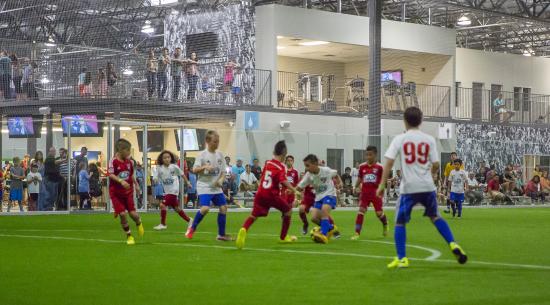 Young at Heart
When we say Frisco is big on youth soccer, we mean it. Frisco Soccer Association is the largest youth sports association in the state. Celebrating its 25th year in 2022, Frisco Soccer Association (FSA) has 10,000 players. Spanning ages 3 to 19, those players are split between recreational, academy (ages 7-10), and competitive (ages 11-19) soccer.
What you need to know about youth soccer in Frisco:
Recreational soccer with FSA is all about having fun. It's playing with friends, learning how to win, how to lose, listening to coaches and officials, and developing mental, social, and physical skills.
The World Stage
There's a high level of anticipation about Frisco and the Dallas area being a Host City of the FIFA World Cup 2026™. A regional finalist, North Texas is ready to host soccer fans and teams from around the globe. Final details on host cities are coming later in 2022. 
What you need to know about the World Cup in Frisco:
Landing key matches or the International Media Hub could not only be a once-in-a-lifetime fan experience but also good for the region with an estimated 3,000 new jobs and $400 million economic impact.
Shop Soccer in Frisco
Since we have all the goods on being a fan and a player, you need the scoop on how to shop the sport in Frisco, as well. Nestled in and around that epicenter we mentioned you can find three soccer-specific shops for all your gear and gifts: Soccer City, Soccer90, and the FC Dallas Fan Shop.
Now you're caught up on the local soccer scene. So whether you pack your cleats or your supporter scarf to cheer on your favorites, you'll blend right in with the soccer energy in Frisco.
Ready to Hit the Pitch?
If you're ready to admit that "football is life" here in Frisco, go for gold at the National Soccer Hall of Fame. And if you want to stay in the know about all things Frisco, sign up for our e-newsletter.