Spring break is almost here, and Frisco is bursting with fun and interesting activities for families to enjoy together. Whether you're a longtime Frisconian or just visiting our wonderful city, you'll find plenty of things to keep your family busy and entertained this spring. Here are just a few.
The Frisco Museum Pass is your ticket to discover five of Frisco's top attractions. Available for purchase at the Frisco Discovery Center, the Frisco Museum Pass saves 25% over paying individual admission prices at each venue. The Frisco Museum Pass includes admission to:
Sci-Tech Discovery Center is a hands-on, tactile experience for kids that makes learning about science fun! From creating 3D printed objects in the Maker Studio and blowing giant bubbles in the lab, to exploring a topographic sandbox and flying an airplane in the simulator, Sci-Tech Discovery Center will stretch your mind through hands-on STEM fun!
National Videogame Museum (NVM)
Sure, kids love NVM because they can play hundreds of videogames from past decades, but it's a real treat for the parents who lived through those decades. Get ready to be transported back to your childhood through playing the original Super Mario Brothers, Duck Hunt, Pong, Sonic, and the rest. The NVM even has a time capsule living room and bedroom straight from the 80s that is totally radical. And the fully-equipped, retro arcade, "Pixel Dreams" (Pac-Man! Galaga! Donkey Kong! Frogger!) is not to be missed.
TrainTopia and Museum Of The American Railroad
You may not be a miniature train enthusiast when you enter TrainTopia, but you will be when you leave. TrainTopia features over 2,500 square feet of G-scale trains, all of which were originally built and cared for by businessman Steve Sanders. Upon Mr. Sanders' death, the Sanders family donated his impressive train collection to The Museum of the American Railroad, where it is now on permanent display at TrainTopia. Kids and adults alike will truly enjoy squinting at the intricate railway and city scenes while completing scavenger hunts that add a lot of fun to the experience. (And if you find the "lost luggage," let me know!) Walking tours of real, full-size train cars on the grounds of the museum are also available by appointment.
At the Frisco Heritage Museum, you'll learn all about Frisco's history in a fun environment, complete with a beloved scavenger hunt. Kids will enjoy role-playing as early Frisco residents in a replica homestead on the second floor, and watching old, silent Mickey Mouse films in the theatre. There are also many historic homes and buildings on the grounds of the Heritage Center that are interesting to peruse if the weather is nice.
No family trip to Frisco is complete without a visit to the first KidZania location to open in the United States. KidZania is an 80,000-square-foot city run by kids, for kids. They even have their own constitution! In KidZania, children get to "work" in many different professions, for which they earn KidZos that they can use to purchase items from the KidZania store or fun experiences, such as an elevated ropes course adventure. Some of KidZania's most beloved job opportunities include veterinarian, NICU nurse, fireman, podcaster, and parcel delivery worker, with dozens of other jobs to explore along the way. Kids get to be independent within the KidZania "city limits," and it provides the whole family with hours of fun and entertainment.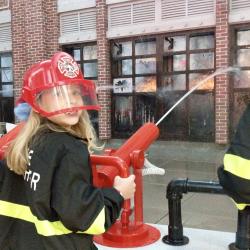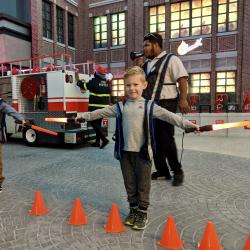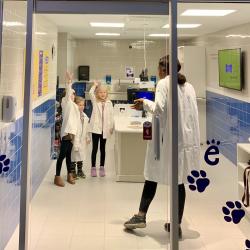 The Star
Whether or not you're a Cowboys fan, you have to visit The Star in Frisco. Take advantage of beautiful spring weather and dine al fresco at any of the dozen restaurants lining The Star District, and be sure to bring a football to throw around the turf of Tostitos Championship Plaza. If you're looking for something off the beaten path, try a guided tour of The Star and Ford Center, the Dallas Cowboys' world headquarters and practice facility. The tour is about an hour and a half long and worth every minute. You'll learn about Cowboys history and get to see all the nooks and crannies of the current practice facility and team offices. You may even get to brush shoulders with a Cowboy or two. Tours at The Star have been temporarily suspended.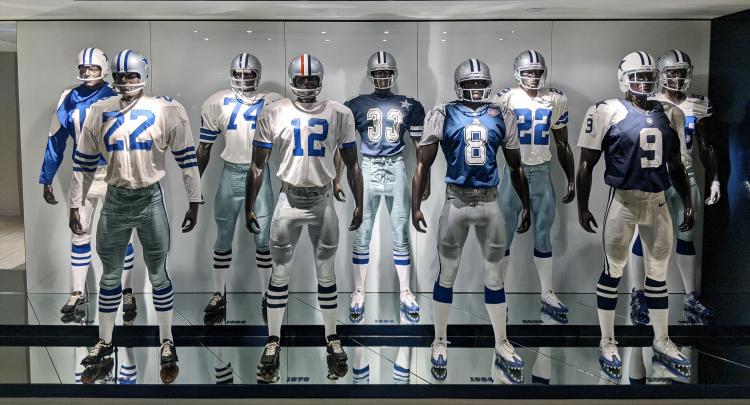 Want to go skydiving but don't have an airplane handy? No worries- just head to iFLY. At iFLY, you'll get to experience the thrill of skydiving in a controlled, indoor environment. It's an adventure for the whole family!
There's nothing like a countdown to get your adrenaline up. At Countdown 2 Escape, you'll have an hour to work out clues embedded in each escape room- there are three rooms to choose from, each with a different theme and level of difficulty. Correctly follow all the clues and you win!
Whether you're visiting Frisco from afar or planning a staycation, there are plenty of great hotel deals and packages to be found. Head to our Deals & Packages page and browse the list of available deals. 
Frisco is a great place to visit for spring break. With plenty of family-friendly activities that cater to a wide range of ages, all family members will be pleased and come away with memories to last a lifetime. Enjoy the warmer weather, and happy spring break!