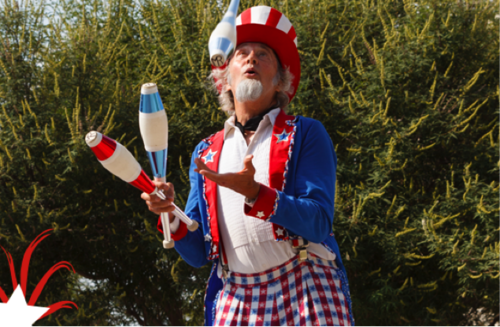 Q: What's covered in stars and stripes, sets off fireworks, and only comes around once a year? If you guessed Frisco Freedom Fest, you're right on the money. The annual dance party/Taste of Frisco/game-a-palooza/local talent showcase/fireworks show is going down in Frisco Square at 4pm on July 4th! (When else?!)
New to this year's festivities are some interesting activities at the Children's Plaza, including hamster ball races. That's right, hamster ball races. Watch as hamsters in balls race to the finish line. There will also be several zip lines and even Euro bungees at this year's event—perfect for those little daredevils. As always, kids will enjoy a rock climbing wall, a bounce house and dachshund races, too. And don't forget about the face painting and airbrush and glitter tattoos!
Once you've worked up an appetite, head over to Taste of Frisco, where top Frisco restaurants will be serving up their most popular menu items. Grab your food and take a seat in front of the Community Stage, where local talent will impress with everything from dance to music and more. A Hometown Heroes display pays tribute to Frisco's police and fire departments.
Just steps from the party, FC Dallas has a match against Philadelphia Union that evening at Toyota Stadium, and a massive fireworks display will light up the sky following the match.
We're ready to celebrate America and we hope to see you there, decked out in red, white and blue!