Frisco is one of the fastest growing cities in North Texas, and the growth won't be slowing down any time soon. With so much new development, Frisco is always seeking for ways to improve and accommodate the expanding population. Most recently, the Frisco Discovery Center underwent some great new developments.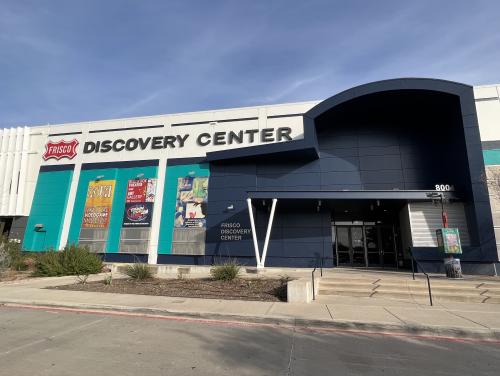 The Frisco Discovery Center is one of my personal favorite places to visit. I love that it has a variety of indoor museums, an art gallery, and a theater all under one roof, making it a wonderful destination no matter the weather. The Sci-Tech Discovery Center, National Videogame Museum, Black Box Theatre, TrainTopia, and Frisco Art Galleries all call the Discovery Center their home.
Updates and Upgrades
As you can imagine, visitors from across the country come to visit the Frisco Discovery Center. That means a lot of foot traffic. Some of the upgrades to the building included changing all public areas from carpet to concrete flooring. This will allow for easy maintenance and cleanliness. The bathrooms were all redone with beautiful tile and made more family friendly to accommodate even the youngest guests. New offices, a preparation area, and a brand new gallery space, the Grand Gallery, are also part of the rennovation and expansion.
An exciting new addition to TrainTopia is underway - a highly detailed layout is being cleaned, restored, reconstructed, and rewired by a group of volunteer craftsmen. The "O"-Gauge layout depicts downtown Dallas and iconic buildings, West Texas oil fields, rock cliffs, and water features, and will be shown at a lower height that enables better viewing for children.
The Art Galleries at Frisco Discovery Center
The Art Galleries at Frisco Discovery Center consist of two galleries now, the Community Gallery and the Grand Gallery. They feature rotating art exhibitions and installations from local artists and art organizations. The first exhibit at the Grand Gallery is Memento Mori, art inspired by the holiday Dia De Los Muertos (Transient Nature of Life). The exhibition showcases art that remembers loved ones and celebrates Hispanic heritage. You can find it in the Discovery Center's Grand Gallery through November 11, 2023. 
See hours and current exhibit dates for the art galleries here. 
Black Box Theater
In addition to the science, the trains, the video game history, and the art, Frisco Discovery Center also includes the 100-seat theater Black Box Theater, which is home to many local theater productions. You can find so much variety here, from improv comedy and local artists prints to the creative adaptation of Wednesday Addams in The Addams Family Younger @ Part. In January 2024 you can go on a journey through the musical gems of the 1990s to the 2010s at A Soirée of Modern Classics.
See hours and current productions at Black Box Theater here.
Science and STEAM
They call it "Mind Stretching Fun" for a good reason. The Sci-Tech Discovery Center offers engaging stations and science, engineering, and art programming year round. Learning about slithering, creepy, crawly insects, beautiful monarchs, music, plants, and space are just a few of the latest activities and events kids can dive into through Sci-Tech Discovery Center. 
Discover Community
The Frisco Discovery Center isn't only a place for education and entertainment, it's also a hub for community events like birthday parties, holiday celebrations, summer camps, and theater performances. And with the new upgrades, the center is equipped to handle even more events and visitors. Because art shows and performances are always rotating through Frisco, there's always something new to discover. 
Overall, the upgrades to the Frisco Discovery Center have made it an even more enjoyable and welcoming destination. Whether you're a Frisco resident or a visitor to the growing North Texas city, there's something for everyone to enjoy at this incredible facility.  
Plan a Day to Discover
Frisco Discovery Center is conveniently located at 8004 N. Dallas Parkway, next to the newly opened Frisco Library. Discovery Center hours are Tuesday - Thursday 10 a.m. to 5 p.m., Friday and Saturday 10 a.m. to 6 p.m., and Sunday noon to 5 p.m.
Be sure to check with each museum partner for respective operating hours and holidays.
From day trips to family vacations, there's so much to discover in Frisco. Subscribe to the enewsletter for monthly updates on the latest happenings in Frisco, and plan your visit today.