Frisco Safe
Your safety is our #1 priority. We care about you - Frisco's residents, visitors, meeting and sports events planners, and our hospitality and tourism community. Together, destination partners and businesses are taking the necessary precautions and making changes to safety protocols to keep each other safe.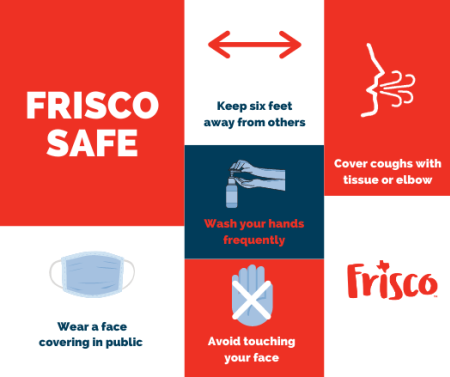 Frisco Safe, which includes Visit Frisco's GBAC STAR program, is a shared commitment for all of us to stay safe and healthy, while following recommended public health guidelines. 
Frisco hasn't been the same without you. Whether it's a full weekend, a few days or just 24 hours, go ahead and make your plans to visit Frisco. We're here. We're ready. It's time, let's play again.
Frisco is getting back to business. City leaders have launched and are overseeing the Open Frisco, Open Texas initiative. The Visit Frisco Convention Sales & Services department is ready to meet again, whether that be in-person or virtually, and the Visit Frisco Sports & Events department is ready to assist you in getting back in the game, whether that be rescheduling an event or planning your next tournament.
What's Open In Frisco?
As we return to the fun and business of travel, and you plan your return (or first visit) to Frisco, make sure you're up-to-date with all the required PPE information, travel restrictions and statuses of businesses and events. Visit our COVID-19 Information & Updates page for the latest developments. 
GBAC STAR™ Accreditation
The Global Biorisk Advisory Council's (GBAC) STAR Accreditation is the cleaning industry's only outbreak prevention, response and recovery accreditation for facilities. This performance-based accreditation program helps facilities demonstrate they have the work practices, procedures and protocols to prepare, respond and recover from outbreaks and pandemics to instill confidence in customers, staff and key stakeholders. 
Several of Frisco venues and partners are currently going through the process of completing the GBAC STAR Accreditation program, including Ford Center at The Star, Omni Frisco Hotel, Frisco Discovery Center and Hyatt Regency Frisco. As accreditations are finalized, they'll be added below.