Permission Granted: Add a Little Play to Your Meeting in Frisco, Texas
In Frisco, Texas, we may not have coined the phrase "work hard, play hard" but we feel like we've perfected its meaning. It started when we heard that all work and no play makes Jack a dull boy. We're not sure who Jack is, but we definitely don't want to be dull.      
To that end, Frisco has developed itself into The City That Plays, and we take it very seriously. It begins with our reputation as Sports City USA, and extends to our enjoyment of all forms of entertainment, dining, and recreation. There's so much to do here, we had to draft a playbook to assist our guests in planning their play-cation.
Of course, when we entered adulthood, we quickly learned that "work hard" has to come before "play hard," so let's start there. Your first order of business is to select a location for your next meeting or event.
Once you've selected Frisco (we'll just go ahead and put that out there), we know your guests won't have time, necessarily, to galavant around town all day. Still, we're going to make sure they feel the cool Frisco vibes and get a little play in there somewhere! It's what we do.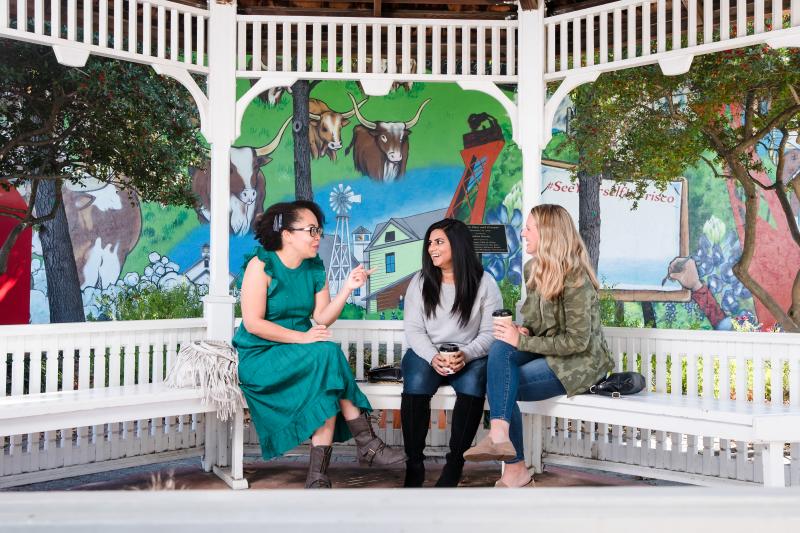 Pick me! Pick me!
We're not going beat around the bush, we'll just say it: we want you to pick us. We want the opportunity to meet you, take care of you, and exceed your expectations.
With that, let the wooing begin.
The following might sound like bragging, but we can't even apologize, because it is what it is -- we pack a lot of attendance-boosting attractions into a 10-mile radius.
We're not talking about a couple of theme restaurants and a nice hotel pool. Frisco is home to several professional sports teams, a growing museum district, world-class facilities, and a thriving community of locally-owned restaurants with cool character. We have 9 million square feet of retail, and a 70-mile trail system. We have multiple can't-miss destination districts featuring art, flagship stores, and sports history. (We're only scratching the surface here; we'll elaborate in a minute.)
Frisco also wears the crown as one of the fastest growing cities in the country and we work hard to maintain that royalty. We do this by fostering an environment that's welcoming to both residents and visitors alike. We enjoy meeting new people, inviting them into our world, and showing them a good time. Basically, Frisco is an extrovert. (Embrace the personification, we're trying to make a point.)
You might be thinking, "that all sounds fantastic, but I'm going to need some more stats." Happy to oblige. Frisco is an easy 25 minutes from both DFW International Airport and Dallas Love Field. We have 4,263 hotel rooms, 417,000 square feet of meetings space and a lot of new things on the horizon, always.
We have what you need, we have what you want, and we're ready for you.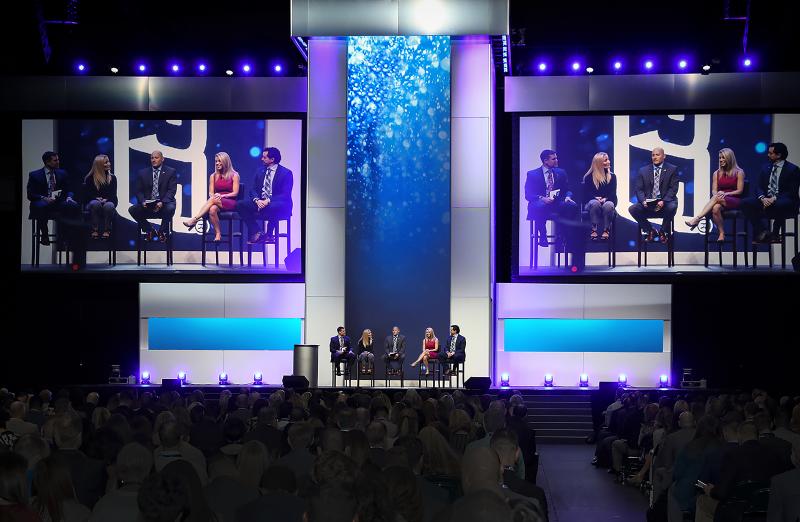 Let's be friends.
If you know, you know. Selecting a location for your next meeting or event can be daunting, with so many choices and so many people to please. We'll offer you this pro tip: you should buddy up with the team at Visit Frisco, the city's convention and visitor's bureau. They know everything about this town.
Your first point of contact (and new bestie) should be Director of Sales & Services, Christina Decker. Christina's top priority is to ensure her clients are not only seen and understood but feel wanted here.
Whether you attend a FAM or receive a personal visit from Christina, Frisco wants to learn your needs, preferences, and most of all, about your people. How can we showcase our city for their enjoyment? What does their "work hard, play hard" look like?
Along with her experienced and creative team, Christina will help you find the perfect hotel and meeting space in Frisco. Whether you're planning a large trade show and convention or a small training session and meeting, she'll guide you to the right venue -- and then shower you with personalized services.
"Service is everything," says Christina. "You'll find services in every city, but not like the services team that we have in Frisco. The strength of our relationship with each client is evident not only on the sales side of things, but on the service side as well. We aspire to be an extension of the client's team, period."
Christina understands the value of developing a personal relationship with her clients. One thing she's learned along the way is that people are often intimidated when they have to go to a big city or downtown urban area and get into the congested mix of it all. Frisco is not only easy to navigate, but we have venues that can't be found anywhere else in the country - literally.
"We can compete with cities like Dallas and Fort Worth," explains Christina. "We have unique venues other cities don't have, such as the Dallas Cowboys World Headquarters, PGA of America, National Soccer Hall of Fame, Riders Field, the National Videogame Museum, and the Museum of the American Railroad. To know you have all of those things and more within a 10-mile radius is reassuring to our clients. Once you're in Frisco, everything is here. Everything."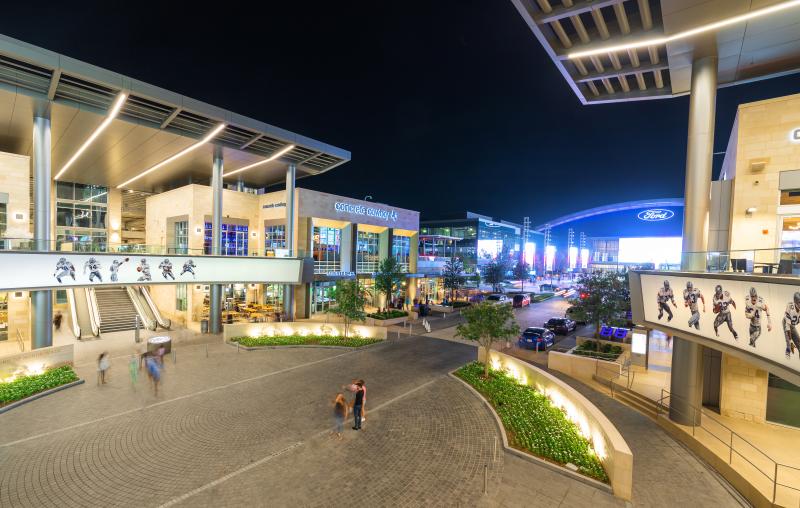 At your service.
It's safe to assume you want a hotel and event space that perfectly meets your needs, budget, and makes you feel right at home. Frisco has multiple full-service properties, including the Embassy Suites Hotel and Conference Center, where you'll find one of the largest ballrooms in the state of Texas. We're also proud of our new, centrally-located Hyatt Regency Frisco, and the Westin Stonebriar Golf Resort and Spa (who, by the way, recently completed a $30 million can't-miss modernization that includes upgraded meeting spaces and a lagoon-style pool).
Maybe your meeting is on the smaller size, either by attendance, budget, or both. Frisco has dozens of select-service hotels for smaller associations or overflow options, conveniently located near all of the major attractions. We can also offer you a long list of memorable offsite venues that are unique to the area.
But wait, there's more! (Queue the infomercial guy.) By now you've heard that PGA of America relocated its headquarters to Frisco. The 600-acre, mixed-use development features two championship golf courses, a short course, and the Omni PGA Frisco Resort, which opened in 2023 with more than 500 rooms and suites and over 127,000 square feet of indoor and outdoor meeting and event space.
The Dallas Cowboys chose to build their World Headquarters here too, appropriately named The Star. There, residents and visitors dine, play, and even stay, if they like, at the on-site Omni Frisco Hotel at The Star. It's an entertainment district as much as it is an opportunity to absorb Dallas Cowboys culture, maybe catch a glimpse of Jerry Jones giving comments at a press conference or watch the team at training camp.
"In Frisco, we're growing so much, so quickly, and it's always changing," shares Christina. "We have new things coming all the time. Every time your group meets, there will be something new to experience."
For example, Frisco's new 158,000-square-foot public library is something to behold, but for meeting planners, the building offers indoor and outdoor meeting space.
And come 2024, Frisco's first brewery will be serving up locally brewed beer, seltzer, and cocktails. The brewery will also feature a restaurant, bakery, and butcher shop, plus play host to events and live music on its 14,000-square-foot outdoor entertainment patio.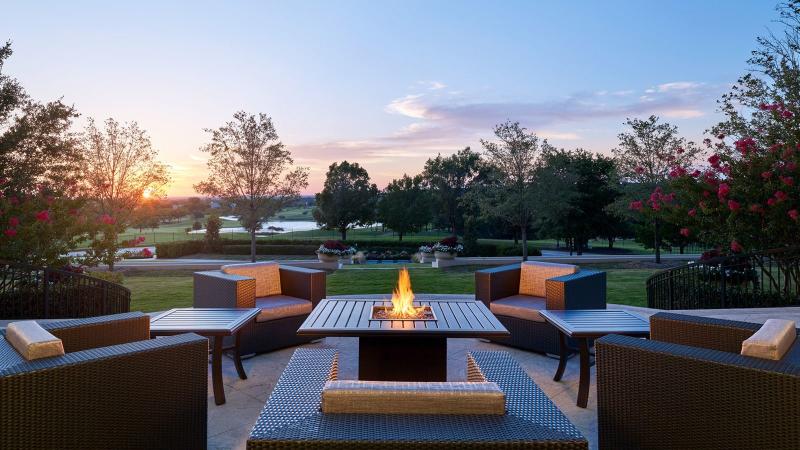 Work, stay, and play.
We know, sometimes you can't take advantage of all that a city has to offer while you're knee-deep in valuable education and networking. When that's the case, the Visit Frisco services team can plan memorable experiences for you on the front end or back end of your trip.
Bringing your spouse or children along? We highly recommend it, because Frisco is a family-friendly city and let's not forget, we're extroverts who like to play. We're ready to take care of everyone involved and show them a great time.
Here's a glimpse of the many areas to explore in Frisco, Texas:
Stonebriar District: Here you'll find the Embassy Suites Hotel and Conference Center, Hyatt Regency Frisco, Stonebriar Centre mall, KidZania, Riders Field, and a lot of dining and retail choices.
Seriously, in one city, you get all of these destination experiences that are unique to Frisco. In most cases, there's only one of them in country. 
Now, here's something important that you'll want to pass along. We wouldn't invite you here and then not do our part to ensure you feel safe. We care about you and your safety is our #1 priority. Together, destination partners and businesses are taking the necessary precautions and making changes to safety protocols to keep each other safe. Frisco Safe, which includes the GBAC STAR program, is a shared commitment for all of us to stay safe and healthy, while following recommended public health recommendations.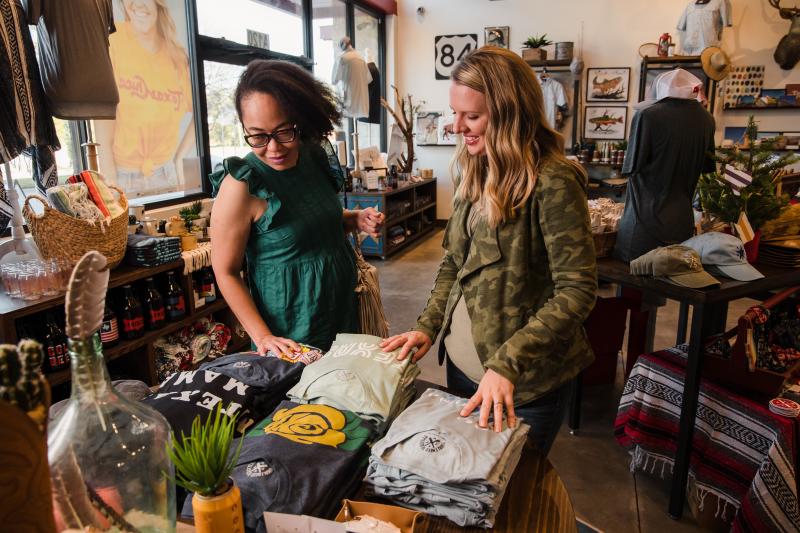 What are you waiting for?
While Frisco is home to growing families, budding entrepreneurs, and corporations who chose to relocate here, it's also a destination city best enjoyed by those who haven't discovered it, yet. Your meeting or event is welcome here. Our extroverted town can't wait to meet you, work with you, and play with you.
"We know that our clients want to know that they're wanted," says Christina. "You want to know that your chosen location is a place you can trust and will have things your attendees are going to enjoy. We want you to come to our city. We'll listen to your ideas and needs, and we'll make it happen without a lot of stress. We know that's what you need."
So what are you waiting for? The Visit Frisco team has the properties, the relationships, the fun, and they can access the best services and deals for you. Reach out to Christina Decker. She'll help your meeting find the right balance of work and play in Frisco, Texas.
(Remember, all work and no play made Jack dull. Don't be like Jack.)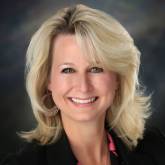 Christina Decker

Director of Sales
Q: How long have you worked in the industry? Just about 26 years. Q: What do you love most about your job? I love to help people. I find out the needs of our clients and find them a place or solution. Q: What would you tell a meeting planner/sports event rights holder/visitor that is considering Frisco? Frisco is the best place to have a meeting because we are centrally located - only 25 minutes from both airports. Frisco has top notch, beautiful hotels and unique venues. Along with our outstanding customer service and our city support, Frisco is the perfect place for any meeting. Q: What is your favorite Frisco attraction, and why? KidZania! I love that we currently have the only one in the US. I like the concept and how children can learn the responsibility of what it is like to be an adult while having fun. I love talking about KidZania to clients. They are so fascinated, especially when they actually get to visit it. Q. What is your favorite Frisco restaurant and your go-to dish to order there? My all-time favorite place is Eight 11 – I have to order the Jalapeno Popper Pizza, which is worth every carb. I love the wine flights they offer and the variety of wines they have on the menu. We love sitting on the patio, enjoying the eat and drinks, and listening to live music. Q. Where is the first place you take your friends and family from out of town when they visit Frisco? If they aren't from Texas I have to take them to Babe's! Otherwise I would take them to Eight 11 unless it's Friday night I have to take them to Cantina Laredo for their yummy margs – it's what I do every Friday night in Frisco! Q. What's your favorite place to shop in Frisco? Painted Tree - they have so many unique finds for home and fashion! Q. Describe your Frisco in 3 words? Unique, friendly and fun. Q. What is your go-to sweet treat? Rare Books Bar for their delicious cakes by the slice – I love to order a variety to share! Q. What is your go-to happy hour drink? When I'm not at Cantina Laredo I have a specialty cocktail at Bottle in Bond (bartenders' choice)! Q. Where would someone most likely find you on the weekend? At Frisco Fresh Market supporting local vendors with the most delicious food, fruits and unique gifts. Or I'm enjoying the sunshine at my pool! Q. Where is one of your favorite travel destinations in the world? Germany - it's my husband's home country. I've eaten and drank my way through the entire country. Q. Describe who you are in 140 characters or less. I am passionate about Frisco and the hospitality industry. I like to inspire others to do good and be good, by leading by the example. I believe if you have a good attitude, you can do great things no matter what the situation. I am a loving wife, mother and grandmother, and love to spend time with my family. Q. Fun fact about you? I have a dog (Chihuahua mix) named Jäger.