Visit Frisco was honored by Sports ETA, the trade association for the sports events and tourism industry, for the Destination Branding & Marketing Campaign of the Year (Population: Under 500,000). The award was presented by John David, President & CEO of Sports ETA, at the association's annual 4S & Rights Holder Summit.
The prestigious award is given to a destination member of Sports ETA with the most outstanding comprehensive marketing campaign for its organization between July 1, 2022, and June 30, 2023.
Building off the momentum of a reinvigorated post-pandemic travel industry, Visit Frisco created a marketing campaign that would leverage Frisco's sports as a way to promote all aspects of Frisco's travel and tourism offerings and grow our brand awareness. The campaign leveraged traditional tactics, including extensive market research and target market development. The Visit Frisco team approached the branding concept through the lens of prior misconceptions about the city as a sports-only destination to provide viewers with our enlightened view of Frisco, one that highlights the city's vibrancy through its array of destination-making things to see and do. Taking something that Frisco is known for—sports—the campaign shows that there are many ways to play in Sports City USA - Welcome to Frisco: The City That Plays.
"Sports ETA congratulations Visit Frisco on being honored with the Branding & Marketing Campaign of the Year," said David. "Their comprehensive campaign and launch is a playbook for other destinations to model for success."
The Sports ETA Member Awards program, which annually honors individuals and organizations for their outstanding contributions to the industry, are powered by Team Travel Source.
Every year, Sports ETA celebrates the outstanding accomplishments and remarkable achievements within the sports events and tourism industry. The Sports ETA Member Awards recognize the exceptional organizations and individuals who have not only demonstrated excellence but have also made significant contributions to the ever-evolving world of sports events and tourism.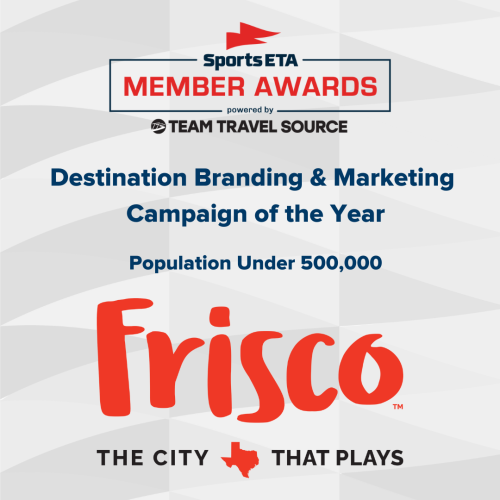 ###
About Sports ETA:
As the only trade association for the sports events and tourism industry, Sports ETA is the most trusted resource for sports commissions, destination marketing organizations (DMOs), and sports event owners. Sports ETA is committed to the success of more than 600 member organizations and 2,400 sports event professionals. We promise to deliver quality education, ample networking opportunities, and exceptional event management and marketing know-how to our members to protect the integrity of the sports events and tourism industry.  For more information, visit SportsETA.org.