Get ready for a morning of art, music, and family fun! Frisco Arts brings you an immersive arts experience taking place at the Texas Sculpture Garden in HALL Park, a collection that celebrates Texas artists and is the largest private collection of sculpture ever assembled and made available to the public. You'll even get a look at the new Kaleidoscope Park underway. 
Frisco Arts Walk and Run, taking place Saturday, October 7, 2023 from 8:30-10:30 a.m., is a 5K featuring pop-up musicians, dancers, vocalists, visual artists, and more along the way. Participants walking or running the 5K should register in advance. And for everyone else, you are invited to come experience the energy of the arts at the events and cheer on the walkers.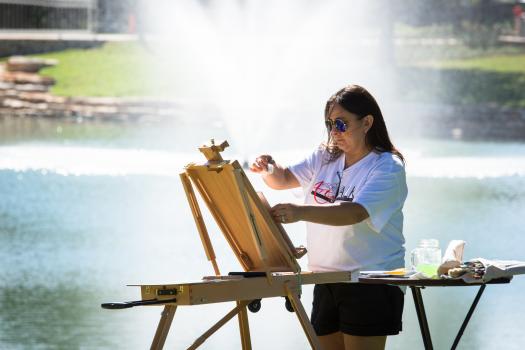 Creativity on Display
In its sixth year, the Frisco Arts 5K continues to grow and highlight the vibrant pulse of the arts community. Brad Huff, Race Chairman and Frisco Arts Board Member says the variety of artists placed throughout the event make it special. "This is an immersive art event where along the run you'll run by people that are painting, playing guitar, maybe the violine, a Shakespeare troop, people in tuxedos playing cellos. There's not anything I have found like it in the country," says Huff.
In true creative art style, winners aren't given a trophy. Instead, age group winners will receive unique artwork by a local artist, some that may even be created during the 5K! Artists will be onsite to meet and greet the winners. The overall male and female winners receive special glass art awards. Don't worry if you aren't at the head of the pack - all finishers will receive a custom arts medal. Walk, jog, run, or what suits your ability - just enjoy the music and arts community!
Supporting the Arts
The Frisco Arts Walk and Run is a fundraiser to support advocacy, education, and grantmaking. Because Frisco Arts knows that an investment in the arts is an investment in the community, they are constantly focused on supporting and championing the arts community in Frisco.
Money raised goes to grants that Frisco Arts awards to local artists. In fact, some grant recipients will be awarded during the walk on October 7th as part of the celebration. Huff says as the event numbers have grown every year and Frisco Arts is really proud of what it's become. 
New to the Frisco Arts Walk and Run in 2023 is the partnership with Kaleidoscope Park, an awe-inspiring place where everyone can enjoy art, culture, and nature in Frisco. Set to open in 2024, Kaleidoscope Park will feature energetic music and dance performances on an outdoor stage, festival, events, green spaces to play and relax, and tech pods to work or plug in. This highly anticipated addition to the green spaces in Frisco is made possible through a public-private partnership among the City of Frisco, Kaleidoscope Park Foundation, and Communities Foundation of Texas.
Find more details for the Frisco Arts Walk here. To learn more about the Texas Sculpture Garden at HALL Park, simply download the free Otocast app for a map, pictures, and audio guides! Find local restaurants and events happening as you explore and enjoy Frisco.