I often get asked about THE BEST dessert shop or bakery in Frisco, but let's be real, there really isn't just one! Whether your favorite dessert is a cake, pie, cookies or ice cream, Frisco has you covered. We are fortunate enough to have the crème de la crème of desserts and a wide range of cultural sweet treats right here in our own backyard. Here is a list of some of my favorite dessert shops and bakeries (traditional and non-traditional) in Frisco.
The Cookie Society opened its doors during the Covid-19 pandemic and hasn't missed a beat. The Cookie Society is a boutique bake shop that offers unique flavored gourmet cookies. They began as an online business back in 2016 and still currently ship their cookies nationwide. What makes them so special? They have perfected their cookies with not only a balanced sweet to salt ratio but also managed to create a crisp cookie with a soft and chewy center. No wonder they recently landed on Oprah's 2020 Favorite things! Some of my favorite flavors are the classic chocolate chip, banana pudding and cinnamon roll. Pre-ordering is recommended for orders of a dozen cookies or larger guarantee availability.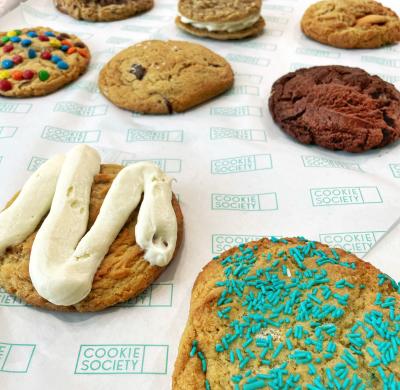 SomiSomi serves Korean inspired soft-serve in a cup or in their signature fish-shaped waffle cones. You can expect to see a rotating menu with ice cream flavors like ube, matcha, black sesame, milk tea, coffee, oreo and milk. Can't decide on a flavor? Get a swirl! If this isn't convincing enough then upgrade to a Ah-Boong style cone, where the cone is stuffed with your choice of filling. Choose between red bean, ube, custard or Nutella filling and then top it with your choice of soft serve flavor. Not in the mood for ice cream? The Taiyaki is also delicious option at Somi Somi. Taiyaki is a fish shaped waffle served warm and filled with your choice of custard, taro, red bean and nutella. It's a must try!
Pietro's Bakery and Café recently opened in October and proudly serves authentic Italian pastries, baked goods, soups, pastas and sandwiches. Pietro's also provides full cake orders, special events catering and brunch on the weekends. Craving a cannoli, napoleon or traditional rainbow cookie? Pietro's has them and will immediately transport your taste buds to the streets of Italy. They also offer delicious cakes and gluten free dessert options.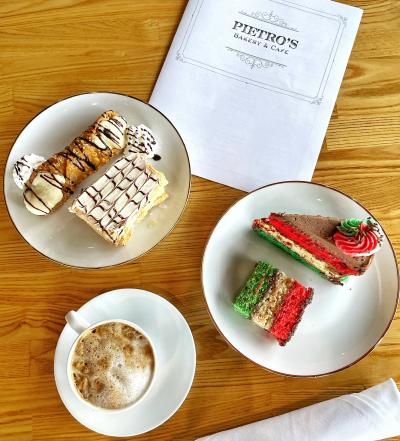 To most people, daily grinds may appear to be a coffee shop, but it is so much more than that. It's probably one of Frisco's best kept secrets. Daily Grinds takes pride in their pastries and has mastered the art of one of the most technical and layered pastries: The Croissant. Every croissant at Daily Grinds has a three day process and exactly 36 layers. Staying true to their beliefs of using only the highest quality ingredients, Daily Grinds uses European Butter instead of American Butter and the difference is noticeable. The golden blueberry scones are also worth trying at daily grinds. The pop of blueberries leave you with the perfect buttery, soft and moist bite!
Bigdásh serves decadent healthy-ish Middle Eastern desserts. Yes, I know dessert is not "healthy;" however, Bigdásh has found a way to provide desserts without the guilt by using fresh ingredients and less sugar in their desserts. The knafeh, stretchy ice cream and the sweet cheese, the OG item that started it all, is a must try. For the ultimate Bigdásh dessert, indulge in the Turkish triangle, made with triangle baklava, ice cream on the inside and topped with Turkish pistachios that are imported from Turkey. Chocolate lovers should try the triple chocolate crepe. This dessert is the quintessential dessert and will really hit the spot!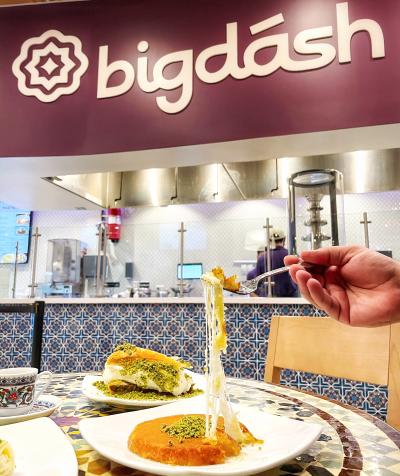 Batch Bakery specializes in made-from-scratch pies. The crusts, fillings and frostings are all hand crafted from scratch, which really sets them apart. They take pride in baking their pies fresh every day and strive to serve the best piece of pie in town. Batch Bakery also conveniently sells 4-inch pies (personal pies) and batch bites in addition to their traditional 9-inch pies. The option of buying personal pies has been a game changer. The key lime pie is absolutely a must at Batch Bakery. It is sweet, citrusy and creamy with the perfect graham cracker crust. This light and bright pie is addicting!
Great Harvest Bread Co.
Great Harvest Bread Co. specializes in some of the most delicious, freshest breads and baked goods around. They have their own mill on site and grind their whole wheat fresh every day. Some of their popular sweet breads are cinnamon swirl, chocolate chip and pumpkin bread, which is served all year round. That's right, you don't have to wait for "pumpkin season" to get you pumpkin fixe! You can also find some of the best hot, out-of-the-oven cinnamon rolls that just melt in your mouth at Great Harvest Bread Co.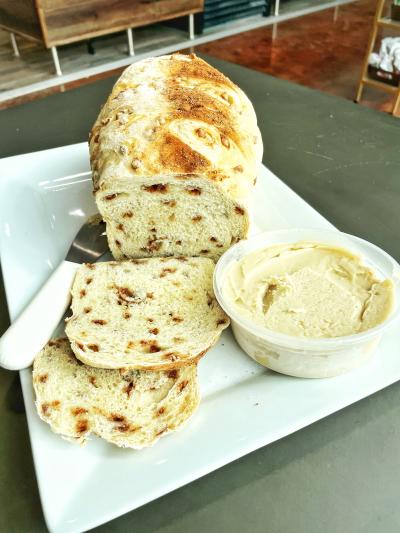 Detour Doughnuts is a staple in Frisco. This is not your average donut shop. Detour Doughnuts currently serves a rotating monthly menu of unique and unconventional creations ranging from seasonal delicacies such as cherry blossom to a (customer favorite) savory everything doughnut; a twist on the everything bagel but in a doughnut form. The anticipation of the new flavor release on the last week of each month is unlike any other. Guests are encouraged to pre-order to guarantee receiving their picks. With flavors like smores, biscoff cream and rose champagne, it's impossible to not fall in love at first bite.
Check out these Frisco, Texas guides for best ice cream spots or 5 coffee shops in Frisco. To keep up to date with the most recent area news, sign up for our newsletter.