Frisco is full of fun and engaging parks and playgrounds. From the large, fully-accessible Hope Park at Frisco Commons to small pocket playgrounds scattered throughout neighborhoods, it's easy to find a place to play in Frisco! If you're looking to break from your usual outdoor play routine and try something new, check out one below, some of the best parks in Frisco you probably don't know about. These parks are not typically highly trafficked, so you'll likely luck out and be one of only a handful of visitors, or even have the whole place to yourself. Happy playing, and don't forget the sunscreen!
Perhaps the best kept secret in Frisco, Limestone Quarry Park appears to be a traditional outdoor park at first glance- swings, slides, play structures, covered pavilion, the works. But the real hidden gem here is behind and below the play area. Follow the small, unmarked path through the trees directly behind the bench and you'll find a Frisco oasis- Limestone Quarry. Here, the small creek runs clear and cool, complete with a waterfall, swimming hole, and plenty of skipping rocks. Pro tip: Have everyone wear water shoes or tennis shoes that can get wet- those limestone rocks can be tough on the feet!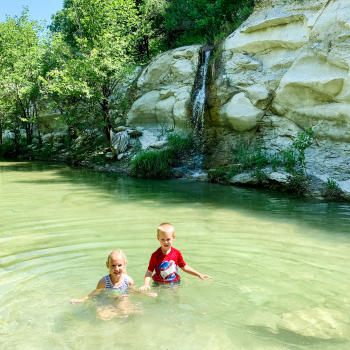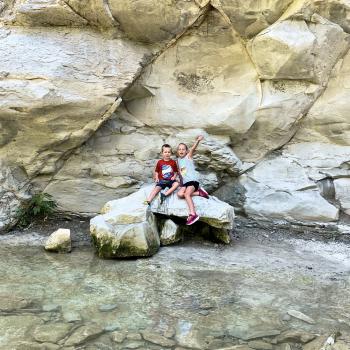 This hidden gem recently got a huge facelift, making it more entertaining for little and big kids, alike. Bi Centennial Park now features several zip lines, triple-deck play structure with tall slides, an elevated merry-go-round (it's so cool!), and face-to-face double swings. Bi Centennial also includes a basketball court, street hockey rink, and covered pavilion with tables.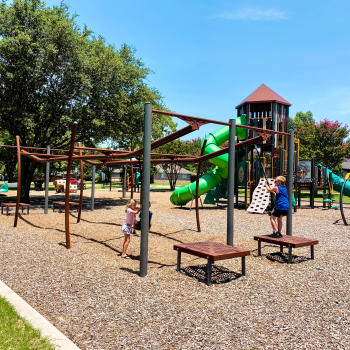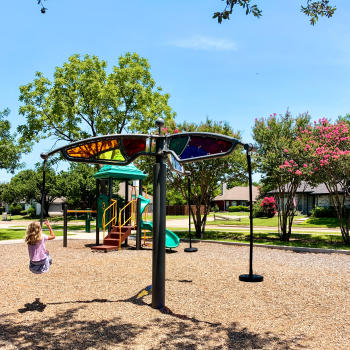 This is our summertime go-to park because it has everything we need for hours of fun. Spray park to beat the summer heat? Check! Play area if the kids want a break from the water? Check! Picnic tables and pavilion for lunch? Check! There is rarely more than a handful of people at this park, which makes it a hidden gem you need to visit soon! Pro tip: To activate the water features, you have to press and hold the black sensor at the top of the blue pole located on the western side of the spray park area. Also, water shoes are highly recommended, as there are a number of trees (yay, shade!) that drop acorns or sticks on the spray park area.
Located in West Frisco, JR Newman Park is the best of both worlds- a unique playground area kids will love and a well-maintained splash pad to keep everyone cool! There is also a basketball court and Poems, a City of Frisco art piece that features sidewalk engravings of fun, easy-to-read poems. A covered pavilion with tables is a great place for a snack and for parents to escape the sun as their little ones splash the day away.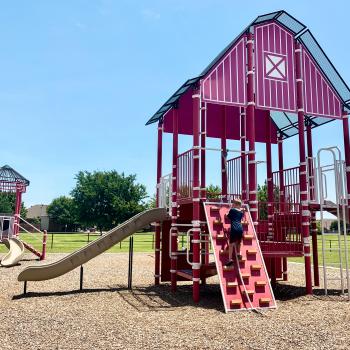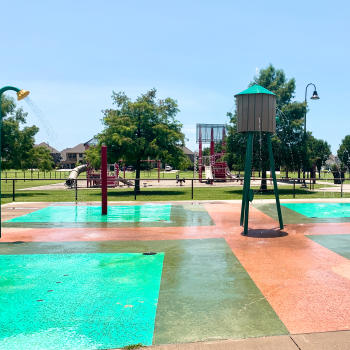 The genius of this hidden gem is that it has two play areas- one for younger kids and another for older kids. My kids love bouncing back and forth between the two. There is also a large field perfect for kicking a soccer ball or flying a kite. Other features include a covered pavilion, basketball court, and walking trail, which my kids love to ride their bikes around.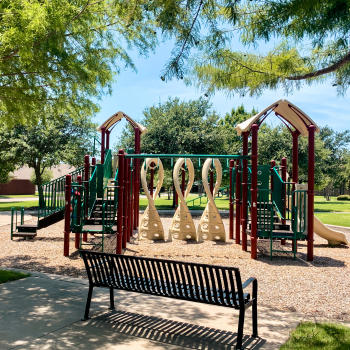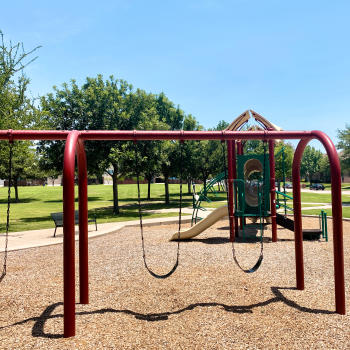 Can't Get Enough of the Great Outdoors?
Check out where to bike in Frisco and five things to do outside. And stay in the know for all things Frisco by signing up for our newsletter.