Soccer season is here, which means 17 opportunities to see FC Dallas play at Toyota Stadium. Founded in 1996 as an original member of Major League Soccer, FCD has called Frisco home since 2005 and plays in historic downtown.
But there is so much more to FCD soccer than the game itself with matches a small part of the larger experience. Last fall's opening of the National Soccer Hall of Fame in the stadium's south end is an excellent way to make a match an all-day experience. See numerous soccer-related artifacts in this museum honoring American soccer's rich history.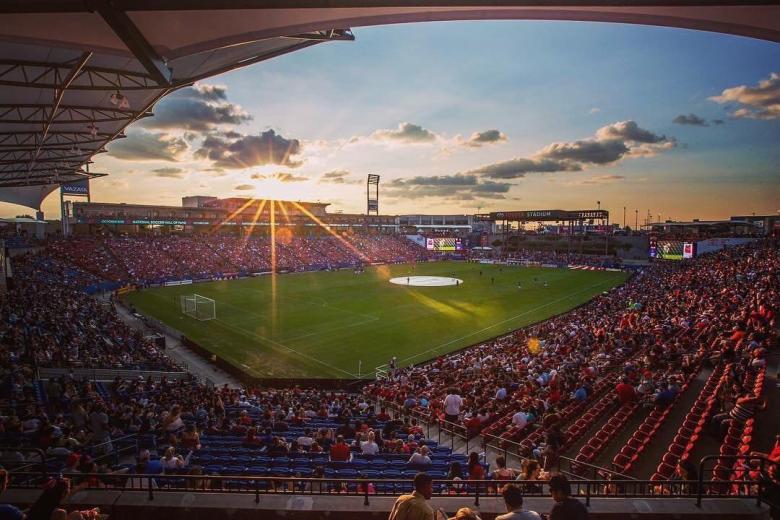 📷 by @officialmattguilford
Naturally, delicious food is another big part of the equation. Fans can visit any of the great restaurants near the stadium like Blue Goose Cantina, Chito's, Durkin's Pizza, Frisco Diner, Jake's Hamburgers, Mezcal Taco, Pizzeria Testa or Rotolo's Craft & Crust.
As for getting to the stadium, FCD scores points by offering free parking in various lots.
If tailgating is your thing, head to the south end of the Red Lot, where the club's two major supporters' groups, the Dallas Beer Guardians (DBG) and El Matador, have plenty of food along with free beer from local microbreweries Peticolas and Tupps.
As first kick nears, follow these groups to the stadium, a march accompanied by chants and drumming. Once inside Toyota Stadium, see the pregame scarfing of the Lamar Hunt statue in the stadium's north end. Hunt is a Soccer Hall of Fame inductee and the club's original owner. Various dignitaries have scarfed the statue over the years including former Dallas Cowboy receiver Dez Bryant.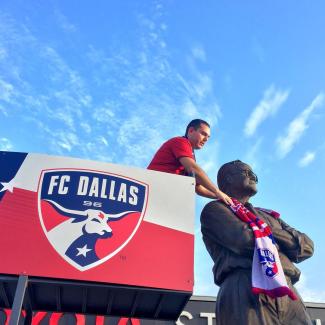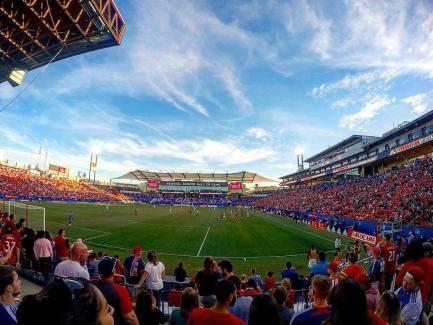 📷 by @fcdallas (left), @_rockyland_ (right)
Seating options include various locations around the stadium. But for those seeking an immersive experience, where the fan feels part of a raucous and festive in-game atmosphere, try sitting in the beer garden at the stadium's south end alongside the DBG. The beer garden features plenty of chanting, singing and TIFOs, giant banners designed and painted by fans to honor a current player or a pop culture reference. One TIFO for FCD's 2019 season opener featured Captain Marvel.
And for those who didn't eat before arriving, the stadium offers ample food options. New this year are two stands where no item costs over $3, including a margarita and the PK dog, which resembles a pig in a blanket.
Another pregame ritual is the singing of "Deep in the Heart of Texas."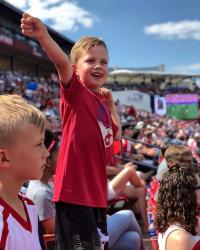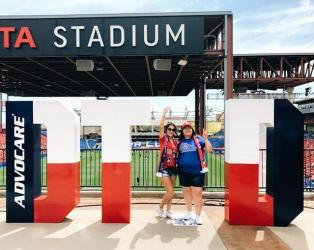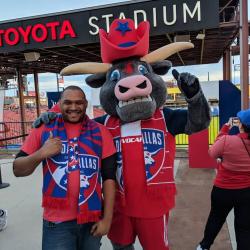 📷 by @alexmarieandrews (left), @carmensanchezxo (middle), @eternalmre318 (right)
Each match consists of two 45-minute halves with plenty of non-stop, end-to-end action. Play only stops for serious injuries or occasionally for water breaks during hot weather.
As the match nears its conclusion, listen for and join in the "Go Dallas Go" chant which the DBG and El Matador start with five minutes remaining.
So, if you're looking for something to do, why not check out FC Dallas soccer? You can not only watch an entertaining match, but eat great food, enjoy revelry with fellow fans and have a good time at one of the best in-game atmospheres in Dallas-area professional sports.
See full schedule and get your tickets at fcdallas.com.