If you ask around about the little restaurant on the corner of Main and 7th Street in Frisco's downtown Rail District, you'll hear that it's Didi's Downtown – a 'home away from home' type of place with a small town feel, fantastic food, and great service. There's a lot more to love about Didi's than just the stellar menu, like the story behind the restaurant's name, and the owner and chef, Scott Hoffner.  Get to know one of the faces of Frisco, as we discover Scott's background and vision for hospitality that makes Didi's a Frisco gem. 
Tell me why Didi's Downtown can be so many things, like your neighborhood bar, your family dinner out, your date night, your friends party zone, and place to chill on a patio with music? 
Didi's is a transporter to different times, places, spaces, and experiences you've had. It depends on the day but you could feel like you are listening to music on the patio in Austin or on the base of the mountain in Colorado when it's cold outside. It was built so long ago, and built to make memories. I think of it as a house, not a restaurant. I want you to feel like you've been here before and there's a warm and comfortable vibe to it. 
I think of it as a house, not a restaurant. I want you to feel like you've been here before and there's a warm and comfortable vibe to it.
Why do you say Didi's is the place where it all goes down? 
We do a little bit of everything here. We have five-star flair food from bulgogi bowls and trout almondine to five course classic steakhouse dinners. We have things happening here from summer solstice parties, watermelon eating contests, and drag shows to hot fudge pie contests. You can ride your bike here, walk here, drive your car here, your golf cart, your four-wheeler, your truck.   
Our patio is screened in, which means completely screened in from bugs. There's fans on and misters when it's hot. I'm really proud of that! We have all types of live music to enjoy from the patio stage – country music, rock and roll, R&B, funk, reggae, classic rock, Texas country.
Let's talk about the food! It's American food, scratch, 'homemade everything', but how do you describe the twists you put on the classics? 
It's family friendly with five-star flair. We have eight specials a week – appetizers, salads, sandwiches, entrees. You may get miso-crusted seabass or stuffed taquitos!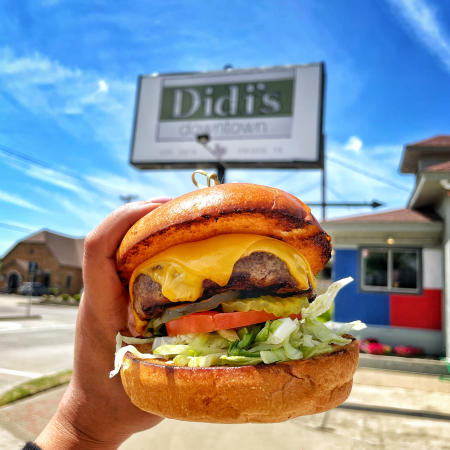 Is it true you've been in restaurants since you were nine years old?  
My best friend will argue with me that it's 10 years old. I started in a place called Plano Steakhouse and worked at a place called Little Chefs. There's not been a year of my life where I haven't been in a restaurant since then. I have a degree in Culinary Science and a degree in Hospitality Marketing. I wanted to be well-rounded beyond just knowing how to cook. Along the way, I've had friends who've really helped me get better at certain things on the marketing side, like Brooklyn Calloway and Patrick Ganino. 
Your resume includes everything from high-end restaurants to professional athlete clients. Have you cooked for any local athletes? 
When I was in California, I cooked for celebrities all the time, the list goes on. In Texas I got hired by Tyson Chandler, who was the starting center for the Mavericks in 2011. He won the Championship and it springboarded the connections. I cooked for Troy Aikman and Jason Hatcher, too. 
Did the idea of really elevating your hospitality and service at Didi's come from the namesake, your mother? 
My mom's name was Diane, but the kids called her Didi. She was a people pleaser and loved to cook and throw parties. She was the first to feed my friends, and we always had a full house where there was always something to eat. And, I like to have people in and show them a good time. In my mind hospitality is a mentality – a way of thinking. You have to know what your guests need before they know. 
You have that special energy but how do you ensure your staff also gets it and demonstrates the same hospitality to your customers?  
The French have a term, stagiaire, which is basically bringing a cook into the kitchen, giving them a few ingredients, and seeing how they interact with people and if they are confident knowing their way around a kitchen. I took that over to the front of the house at Didi's. Everybody that comes to work here, before you are hired, you come here and hangout a while. You can see if they are truly interested in what's going on here and if they fit into the rest of the team.
Tell me about these murals jazzing up the exterior walls for people to see as they drive down Main Street?
I've known Patrick Ganino since I was 10 years old. He came to visit me in Frisco and painted the first mural around - the train mural on the side of Didi's. That mural sparked the popularity of having more murals throughout downtown. We started it right here at Didi's Downtown. Patrick also gave me some of the best advice about commenting on social media. He told me to treat it like if someone came up to me and told me how good the food looked. I would say thanks and talk to them. That's how I approach social media. 
Now you know a little more about Scott Hoffner's hospitality mentality at Frisco's own Didi's Downtown and can experience the vibe and the delicious food yourself. Try these additional menu favorites: Hot Honey Buttered Fried Chicken, Avocado Tacos, Jalapeno Barbeque Burger, Tuna on Fire, Philly Cheesesteak Egg Rolls, Bowtie Chicken Biana, The Best Meatloaf, and the beignets for dessert.  
Looking to plan a trip to Frisco to get in on the Didi's Downtown action? Find the right hotel for your stay. And, be sure to explore our site for family vacation ideas and places to shop in Frisco.