Summer in Frisco can be a scorcher, and this summer is shaping up to be no different. But there is a watery saving grace in town... the Frisco Water Park! From water slides and features named after local landmarks to an indoor aquatic play depot, the Frisco Water Park offers cool, refreshing summer fun that all ages will enjoy. Located at the Frisco Athletic Center off of Preston Road and Nancy Jane Lane, the Frisco Water Park is open Memorial Day through Labor Day and offers day passes and memberships. Here's what you need to know before you go.
Water Slides & Features
The Fort : Fun for kids of all ages, The Fort is a multi-level play structure with several slides, sloshing water buckets and spray features. Watch out below as the giant Frisco water bucket dumps water from up above a few times a minute. Though the best part may be the lounge chairs surrounding the Fort where parents of kids ages 6 and older can relax and supervise from the shade in comfort.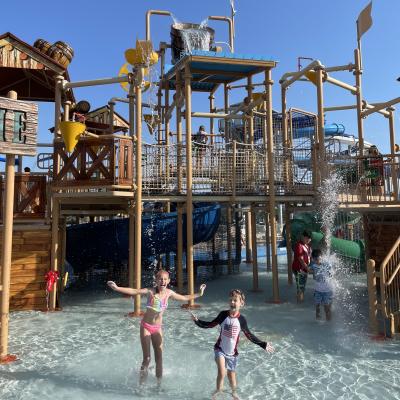 Preston Plunge : If you are familiar with Frisco, you've probably seen the giant blue and white slides captivating the landscape as you drive down Preston Road. This is the Preston Plunge, an integrated collection of four towering (and fast!) water slides. Meet your friends or family at the top and race to the bottom atop foam mats. Must be 42" tall to ride.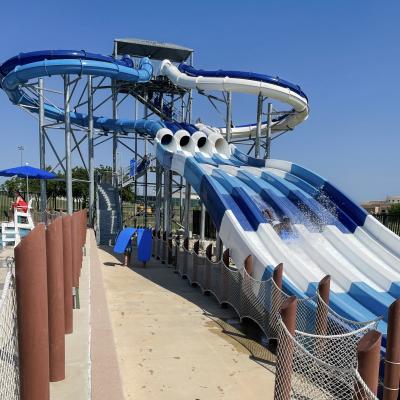 Lazy River : Grab an inner tube or just float along in the relaxing Lazy River. The Lazy River meanders throughout the Frisco Water Park with multiple entry and exit points along the way. The perfect way to float the day away.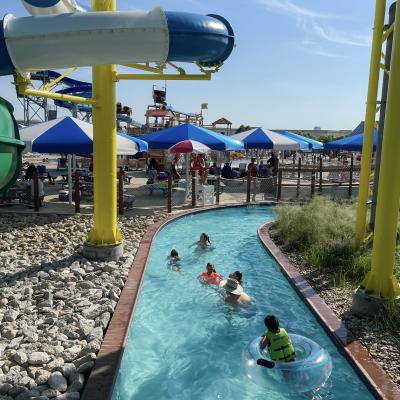 The Squirt Station : Perfect for younger splashers, the Squirt Station is a large, interactive water play structure that features two smaller slides and multiple buckets and spray features. But be prepared when the whistle blows: the Gully Washer is about to dump!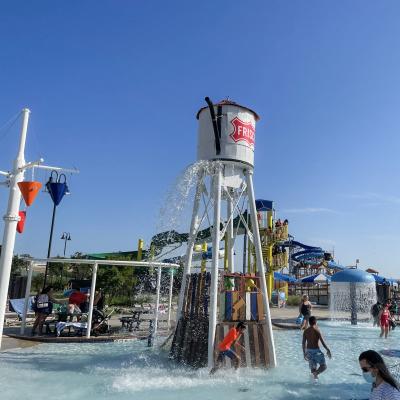 Indoor Aquatic Center : Head indoors for a bit of shade and enjoy the heated warm water pool, an indoor lazy river, the Big Blue slide (must be 48" tall to ride) and the Play Pool, a small splash and slide structure for younger kids. The Indoor Aquatic Center is climate controlled and open year round. (Check the website for closure dates and times.)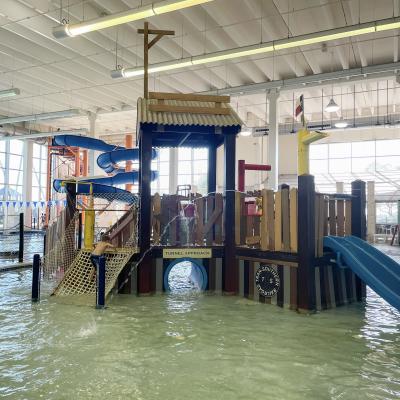 Other water features at the Frisco Water Park include the Pipeline and The Green Gusher slides (must be 48" tall for both), as well as the Lagoon, a large pool for swimming, congregating and relaxing. 
Food and Drink
The Frisco Water Park features an on-site Snack Shack with choices ranging from nachos, tacos and snow cones to burgers, pizza and hot dogs. But if you prefer to bring your own, coolers with food and non-alcoholic beverages are allowed (no glass containers).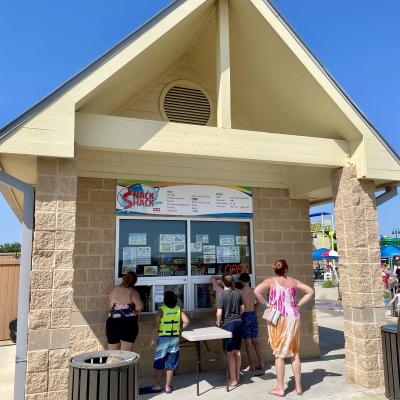 Friday Night Dive-In Movies
The Frisco Water Park is offering Dive-In Movies every Friday night in June and July. These family-friendly films begin at dusk, so typically at or around 8:30 p.m. Dive-In Movie admission is included with a day pass or active membership. Grab a tube and a spot in the Lagoon pool for a fun and relaxing movie night under the stars!
Admission
There are two ways to visit the Frisco Water Park. Individual day passes are available for purchase and range from $11-13, depending on age (2 and under are free). Day pass holders get access to the outdoor and indoor areas of the Frisco Water Park as well as all self-directed aspects of the Frisco Athletic Center, including the fitness floor. 
Or enjoy the park all summer long with a Splash Pass! The Family Splash Pass is $95 ($105 for non-residents) and allows up to 5 family members access to the outdoor areas of the Frisco Water Park from Memorial Day through Labor Day. Memberships for additional family members can be also purchased, and individual Splash Passes are available.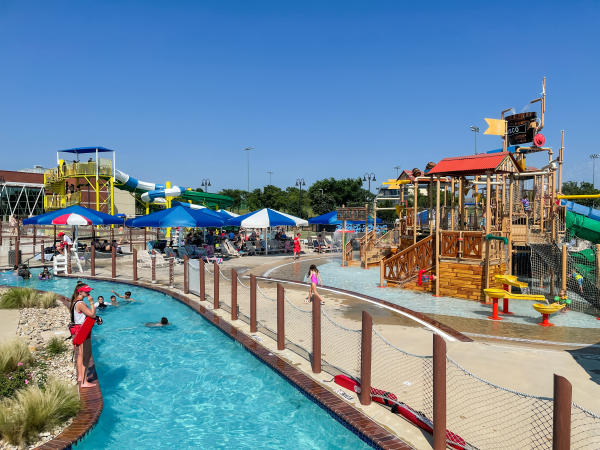 Make the most out of the summer by visiting the Frisco Water Park at the Frisco Athletic Center at least once this summer. There is something for everyone to enjoy as you escape the Texas summer heat and make some magical summer memories.
2021 Update: As of August 25, the Frisco Water Park will remain closed until next season.
READY FOR MORE FUN?
Check out this list of the best parks in Frisco, Texas. To keep up to date with the most recent area news, sign up for our newsletter.