The kids are back to school, the sun is setting a little bit earlier in the evenings, and football season is just around the corner. But, there's still lots of summer left and plenty of time to check a few more boxes off your seasonal bucket list. Here are some suggestions for keeping the summer fun going with a day or weekend trip to Frisco.
Take a Tour of The Star
Have you ever wondered what it's like to lace up your football cleats and play for the Dallas Cowboys? The Star Tours at The Star in Frisco gives you the ultimate fan experience while providing an intimate peek at what it's like to be part of America's Team. After a hiatus, guided tours are back, with three options for football fans:
The guided tour takes you behind the scenes at the Dallas Cowboys World Corporate Headquarters. This includes a stop at the Ford Center, the war room where the team drafts from, Super Bowl memorabilia, the Nike Star walk, and more. The VIP Tour & Visit includes the guided tour, a souvenir Star guide and magazine, and an exclusive offer for dining and shopping.
For the biggest Cowboys fans, the Ultimate Fan Experience includes the tour, a souvenir Star guide and magazine, the dining and shopping offers, an exclusive Cowboys lapel pin, and an authentic letter of fandom from Jerry Jones himself. So whether you're a casual fan or have an entire room dedicated to the Cowboys in your basement, The Star Tours is a must-do experience.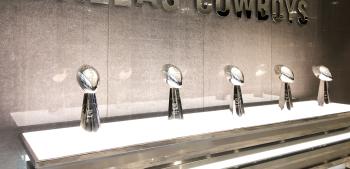 Catch a Game or Two
Frisco is The City That Plays and the home of many of Dallas' professional sports teams. Naturally, we have sports happening all year round. In the summer, we have FC Dallas playing at the Toyota Stadium. Their last home game of the Major League Soccer season is on October 9. If you plan on checking out a match this season, we have five things to do on FC Dallas game day. From merch to food before and after the match, we have you covered.
Baseball's regular season is winding down, with the Frisco RoughRiders playing their final home game at Riders Field on September 11. The Double-A Affiliate of the Texas Rangers is currently competing for a playoff spot in the Texas League South, so late summer is the perfect time to come see a baseball team with lots to play for.
There's no baseball experience quite like a summer's day at Riders Field, especially with its lazy river, big enough to fit 1,267,973 baseballs. For die-hard baseball fans, we recommend checking out the "Road to the Show" display, highlighting the debut dates of every single player that's made it from the Riders to the big leagues. You might be surprised by some of the names you find. Finally, if you or a member of your family loves fireworks, be sure to check out Fireworks Friday and Sky-Light Saturday for a firework show after the game. And kids won't want to miss Kids Sunday Funday, with family-friendly activities every Sunday.
Summer Fun by the Pool
There's still lots of time to squeeze in a few more pool days this summer, and a staycation at a hotel with a pool makes it even easier. When it comes to hotels in Frisco with outdoor pools, you have plenty of choices. We have more than 25 hotels to choose from, and most of them have refreshing pools outside, so you can enjoy the fresh air and stay cool at the same time.
These include Omni Frisco Hotel, featuring an elevated pool overlooking the outdoor field in front of The Star. You're just steps away from year-round entertainment, including tours of The Star. The Hyatt Regency Frisco is connected to the 200 shops and restaurants of the Stonebriar Centre if you're looking to add some shopping to your weekend getaway. The pool here features comfortable poolside loungers available to book. There's also the Westin Stonebriar Golf Resort & Spa, ideal if you're looking for a weekend of golf on the Fazio Course or want to stay at a hotel with a huge outdoor pool. Our favorite of this area is the giant twisting water slide! But, for a more relaxed approach, hang out poolside in a private cabana or play backyard games on the event lawn.
Play Volleyball at Frisco Rail Yard
Part food truck party, part backyard bash, part picnic, fully fun: Frisco Rail Yard is the place to be for hangouts with family and friends. This park features food from the top food trucks in the area, family-friendly outdoor games, live music, and entertaining events. This year, the park even has new sand volleyball courts. On Sundays, it's Sunday Funday with 6x6 co-ed play and happy hour prices on ice-cold beer. Sunday is also 4x4 family night, perfect if you have two adults and two kids. Follow Frisco Rail Yard on Instagram to register for volleyball events and stay up-to-date on regular volleyball nights throughout the week.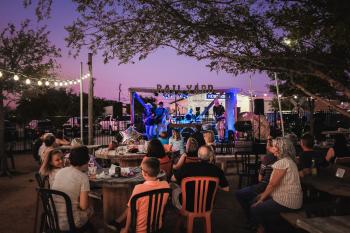 Find Your Play This Summer
Whether your idea of play is sitting around the pool, serving an ace on the volleyball court, or taking in the big game from the comfort of a stadium, there are so many ways to find your play in Frisco, The City That Plays. So keep the summer fun going with a day trip or weekend in Frisco. After all, there's still lots of summer left! Sign up for our newsletter for even more ideas of fun in Frisco.