I love a good puzzle or riddle. There's something about challenging your mind that's always been intriguing to me. Add in an immersive and social environment, and you've got an escape room. I'll be honest, when escape rooms first started popping up here and there, I was hesitant. Being locked up with no way out sounded a little too intense for me. SPOILER ALERT... you aren't "locked" in. Should you need some fresh air, you can exit the room. 
My first escape room experience was at Countdown 2 Escape. The Visit Frisco team had a chance to check it out for some team building and it was one of the funnest, most engaging experiences I've ever had. If you're looking for a date-night, family, or group activity, Countdown 2 Escape is worth considering. The locally-owned and operated attraction is not only one of the cutest decorated spots in town, but offers a top-of-line experience in a comfortable setting. I sat down with owners, Fred and Shannon Hammond to learn more about their business and their passion for Frisco.
Where did you get the idea to open Countdown 2 Escape?
Shannon: "Fred was at a time in his career a couple years ago when he said, "I can't do this anymore." He had been in corporate America and CPG sales. So, we began looking to buy a business – we'd never owned a business but wanted to look for something that lined up with our gifts and passions. We love our community – we've been here since 1995 and have been obsessed with Frisco. We have always loved connecting people and helping people come together and build relationships, so when looking for a business, the escape room came up. We didn't know much about escape rooms, but we knew the business model helped bring people together, put their phones down and engage, and that's where we got really excited."
Why did you choose the Rail District as the location for Countdown 2 Escape?
Shannon: "The Rail District is perfect because the historical fabric that is woven through that area is what helped us fall in love with Frisco. It makes us happy to be there. We love the feel of everybody supporting everybody. We don't see egos or people excluding others from their businesses. Also we love seeing the great stuff that's getting ready to happen in the Rail District and the revitalization with Nack Development."
Fred: "Countdown 2 Escape is not your everyday activity. You can make an evening out of it that's different, special and memorable. We're not selling the escape room; we're selling the downtown experience."
How often do the escape room themes change?
Shannon: "When we bought it, the rooms had been very loved over three years and needed a change. There was a lot of learning on our part on how often do you rotate rooms, how long is long enough, how long is too long? We went to an escape room conference – there were people there who have done this for years. They write the stories, create the puzzles, create the room flow, and come help develop the rooms. We brought in a lady from Canada with Game Masters, closed for two weeks and redid every room. We tried to choose things that were relevant to Frisco and that people in Frisco would love. We've learned that most people who come to us are just families who want to have fun and connect, or corporate teams who want to do some team building. As we change out those rooms, we will keep "family friendly" in mind."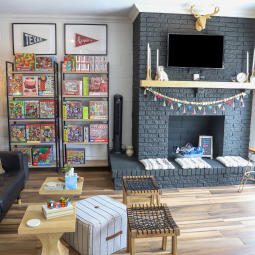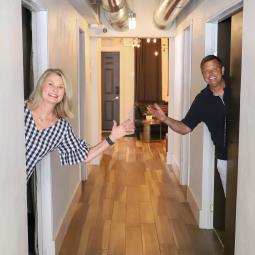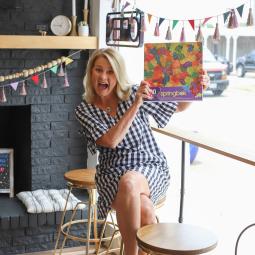 What is your favorite escape room theme you've had?
Shannon: "One of our favorites was the Lost Jewel of Zanzabar. We love entry level rooms because almost everyone can enjoy them. We ripped down walls and put blood, sweat, and tears into building that room."
Fred: "On the other hand, we also really loved the Christmas rooms that we did at the Frisco Fresh Market. One thing we identified and took a risk by doing was to create a seasonal escape room. We created two identical rooms for Christmas about who stole Christmas. It was a story that had a great game, it was at a beautiful location. The story was how mom hides the presents and the kids wonder what's going on. They go through the process of being appreciative and finding the presents together."
What feeling or experience do you want visitors to Countdown 2 Escape to leave with?
Shannon: "We train our staff with this: when we have guests leave, we want them to leave with a spring in their step, feeling like they really enjoyed their experience and got phenomenal customer service."
Fred: "We want to provide an experience like you walk into our lobby and feel like we've been waiting for you. We want our rooms to be fun and engaging. We constantly emphasize customer service because that's what we're selling: the experience."
Dare to Escape
Countdown 2 Escape recently launched a new escape room theme called Sweet Dreams Hotel. To learn more about this new room and all the adventures to choose from, visit countdown2escape.com. Countdown 2 Escape is located at 6963 Main St. and is open 7 days a week by reservation.