When it comes to shopping, Frisco is known for IKEA, Alex from Target, Tumbleweed TexStyles and 9 million sq. ft. of retail throughout the city (that's a lot of shopping, folks). Included in that 9 million sq. ft. are the unique and locally-owned boutiques in the Rail District. This popular area for locals is sometimes overlooked by visitors who aren't aware of the historic charm and fun finds awaiting them on Main Street.
One of those "finds" is Sunny Paige boutique. The bright, aqua exterior of the charming, historic home is just a hint of the fashionable, vibrant and unique items you'll discover once inside. Not only is Sunny Paige one of the best boutiques in Frisco, but we'd argue it's one of the best in North Texas. We sat down with owner, Kim Dickson to learn more about what inspires her, what her favorite fashion finds are and what's new in the Rail District. 
What inspired you to open a boutique? 
Just this year I found a senior yearbook where I had written, "Once I become successful in my career, I want to resign and own my own business." I've always wanted to serve women in a way that inspires them to feel good and believe in themselves. I wanted to create an environment in Frisco that would serve the community in a way that people would feel peaceful when they came in and inspired to believe in themselves and dream big. This also gave me an opportunity to work with my daughter, Delani, and help her pursue her dream of becoming an artist. Several of the art pieces we feature and sell in the store are hers. It's been a blessing to work alongside her. 
Where does the name of the boutique come from? 
My friend, Cynthia, who is the original owner of Sunny Paige, has a daughter named Paige. And she thought "sunny" sounded great with that name. I worked for Cynthia at Sunny Paige for two years, and I couldn't leave. It was my happy place.  
Why did you choose the Rail District as the location for Sunny Paige? 
We were going to be located in McKinney. One day after church, we were driving down Main Street and there was a for-rent sign out here. My husband encouraged me to call, so I called and had a meeting the next day. We prayed about it – and this was it. We wanted to be in a house because the other Sunny Paige (in Whitesboro) is in a house, and it just creates a certain environment. It was an answered prayer. We wanted to be in Frisco originally, so this worked out perfectly.  
Fashion trends seem to change overnight. How do you keep up with them?  
I do research, communicate with the other Sunny Paige owner, and I depend on my vendors to help me with that. I also just think about my customers and what they will look and feel good in, and walk out feeling happy.  
What are some of your personal favorite items that you carry? 
Some of the jewelry – chain jewelry is very popular right now, I also love the beaded jewelry. I love the shoes, and Consuela bags are a season favorite – their purses are washable. I also like the Hobo purses. 
What or who inspires you? 
The owner of the other Sunny Paige inspires me. She's a creative artist – she's so good at creating a story with all of her displays. She was inspired by a little boutique in Fredericksburg. I also got my inspiration when I was in high school from a lady who owned The Basket Case in Richardson. She was so creative, and I knew that was in me to create and design. I believe that's what started it for me.  
Whenever customers come in to shop, what do you want them to leave with? 
Friendship. Our customers, we call our friends. We like to have a relationship with them. I want them to feel joy. 
Anything new coming up we should keep an eye out for? 
The Rail District started Outdoor Market days, which take place on the third weekend of every month. We've seen a lot of families come by to shop and get out and support the community. It's been really popular the past few events, and we're hoping to expand and add more activities. We're here for the community - that's our job and our joy.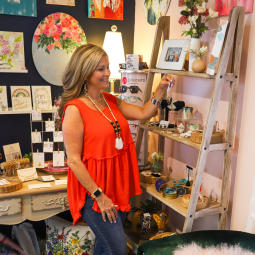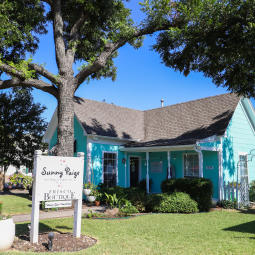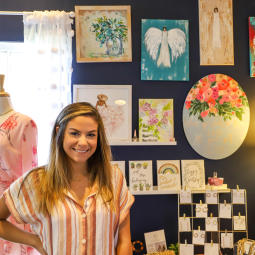 Learn more about Sunny Paige and shop online at sunnypaigefrisco.com. Sunny Paige is located at 7074 Main Street and is open Monday - Thursday, 11 a.m. - 5 p.m., Friday, 11 a.m. - 6 p.m. and Saturday, 10 a.m. - 4 p.m. Closed on Sundays. Follow them on Facebook and Instagram for deals and new arrivals.