Throwing a Dog-Friendly Wedding to Remember in Frisco
The American Veterinary Medical Association reports that 76% of cat owners and 85% of dog owners think of their pets as just another member of the family. A Harris Poll, meanwhile, indicates that some 95% of pet owners feel this way. Pets frequently take part in all of a family's most significant moments—including festivities, family travel, and of course, weddings. If you are planning a Frisco wedding, and you'd like to ensure that your dog is involved in the festivities, make sure your event is pet-friendly and find the perfect role for your pet.
Selecting the Right Role for Your Dog
Depending on your dog's personality, you can assign a role that they are completely comfortable with. For instance, dogs with a calm personality may enjoy being ring bearers, while those that are more extroverted can entertain guests during your outdoor pre-reception cocktail hour. Shy dogs that prefer to be with their humans can simply pose for photos with the couple, then be accompanied to a quiet, peaceful spot to rest and enjoy a tummy rub. If your dogs love showing off their talents, why not include them by having them perform a short show for guests at your reception?
Choosing the Right Venue
Most couples prioritize nature on their wedding day, since outdoor settings such as forests, parks, and gardens make beautiful backdrops for photographs of some of the most romantic moments that take place on their big day. Outdoor weddings have an added bonus—space in which your dog can run, play, and interact comfortably with guests. When making your choice, inquire about any pet-friendly amenities and services different venues offer. Ensure your pet has someone to sit them and take them to a quiet resting spot after they have posed for photographs, greeted guests, and taken part in your chosen traditions.
Dog-friendly resorts usually have specific features that help dogs fit right in. These include furniture made with dog friendly fabrics such as cotton, microfiber, and nylon. These materials are easy to clean with a wet piece of cloth, so you needn't worry about damaging furniture. Your chosen venue should have outdoor spaces where your dogs can stretch their legs and enjoy frolicking with each other and their humans. The following hotels and resorts all have gorgeous outdoor spaces that may entice you.
If you are planning a 2023 wedding, and you'd like to wed in a place that will be totally new for you and your guests, then the Omni PGA Frisco Resort, which will be opening its doors in 2023, is a perfect choice. Located just 30 miles away from Dallas Fort Worth International and Dallas Love Field airports, it comprises over 600-acres of verdant land and boasts two designer golf courses, ranch houses, an event pavilion, and more stunning spaces with magnificent views. Also available onsite are 10 four-bedroom ranch houses complete with a kitchen, living room, and services customizable to you and your family's needs.
The resort also has a spa and elegant dining area, so you can relax and enjoy soul-soothing food prior to your big day. The Omni boasts two spacious ballrooms, outdoor patios, indoor dining spaces, and many more places that will suit your wedding party, regardless of size. Best of all, your pet will feel at home in an instant, since there are so many green spaces in which to enjoy a walk or a game of fetch. 
This resort is another gem in terms of its golf offerings and stunning landscaped areas. It sits on 400-acres of land and has an elegant spa where you can experience rejuvenating treatments, so your skin glows from within. The Westin Dallas Stonebriar Golf Resort & Spa has an impressive number of event rooms (19 in total) and 30,644 square feet of events space (with the largest space having a 640-person capacity). It has an array of elegant ballrooms as well as a scenic outdoor wedding lawn, which is ideal for a wedding set up with colorful flowers, swaying trees, and a view of water features on the golf course. Your dog will love sniffing the myriad of fragrant flora in this resort.
Imagine posing for pictures with your new spouse and your furry best friend in Verona Villa—an impressive 17,500 square foot villa with plenty of Mediterranean flair. Verona Villa has a capacity for up to 250 guests, and it has two spacious rooms with vertiginous ceilings, a grand staircase, and elegant chandeliers. Your dog will love the open space in the lush gardens, which are graced with picturesque fountains and scenic trees.

When it comes to throwing an event like a wedding without a hitch, you know the Hyatt name is one you can trust. The Hyatt Regency Frisco not only has a myriad of indoor and outdoor spaces for events, but also a team of wedding specialists that can help you plan your dream day. When you book your wedding, you also earn free honeymoon nights at select Hyatt hotels across the globe. This resort welcomes furry family members, so your pooch will fit right in!
If you have always dreamed of marrying the love of your life in an enchanted secret garden, check out photographs of weddings held at Magnolia Terrace. Couples exchange their vows beneath a canopy of trees, with stringed lights, wooden chairs, and wildflowers emphasizing the beauty of the great outdoors. The venue has a bridal suite and groom's room where you can relax with your dog in the hours leading up to your ceremony. Magnolia Terrace also has a highly experienced venue coordinator, who will ensure your party goes without a hitch.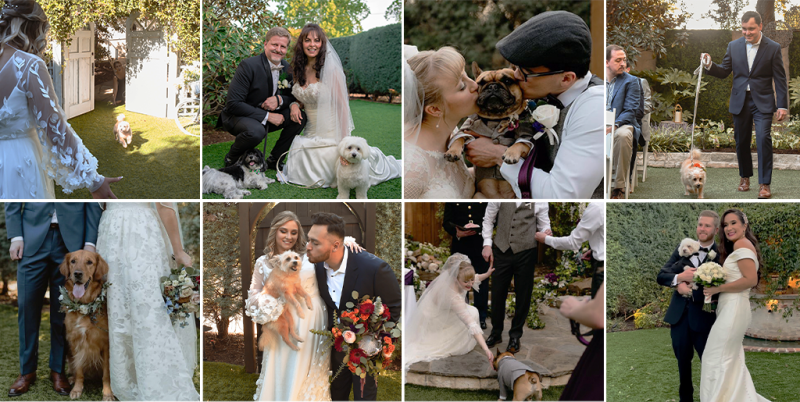 Pet-Friendly Frisco
Looking for more ways to accommodate your fur baby in Frisco? Check out these pet-friendly spaces and sign up for our monthly newsletter to be the first to know when new spots open.