Not only is Frisco the new home of PGA of America, it's also the home of world-class golf courses designed by Tom Fazio, Gil Hanse, and Beau Welling. An unmatched golf destination in North Texas, Frisco features a mix of public and championship golf courses, golf resorts and hotels, and one-of-a-kind golf experiences you'll only find here.
A golf weekend is more than just a round or two of golf. It's about the early morning coffee you grab before teeing off, the cheers and laughs recapping the best shots (and misses) of the day over a drink at the 19th hole and making plans to come back in the near future — because we know one weekend in Frisco simply is not enough. Looking for inspiration for your next golf weekend in North Texas? Here's a golf itinerary for the ultimate weekend in The City That Plays. 
Friday Evening: Dinner & Drinks at Lounge by Topgolf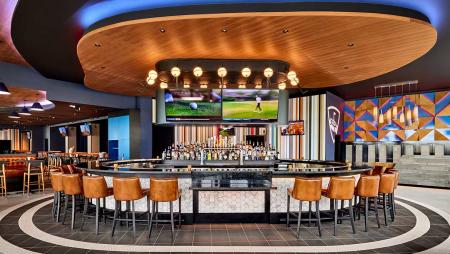 Whether you're making a road trip, planning a staycation, or flying in (Frisco has easy access to both DFW International Airport and Dallas Love Field Airport), your golf weekend starts before you even tee off. Get in the mood for a weekend on the green with a stay Friday night at the brand new Omni PGA Frisco Resort, where golf is in every single detail — including artwork in your hotel room and portraits and memorabilia throughout the resort. 
Once you're settled into your room, take a walk over to the Monument Realty PGA District, a group of shops, restaurants, and activities all nearby. Taking a stroll over gives you a chance to check out the clubhouse and look over the course you'll play the following day. 
Over at the PGA District, enjoy dinner and drinks at Lounge by Topgolf. The chef-driven menu is built for hungry golfers, with appetizers, pizzas, handhelds, salads, and mains. There's also an extensive wine list, a cocktail menu, and a selection of cold beer. Build up the hype for your round of golf the next morning with a couple test swings in one of the Swing Suites with Toptracer technology, or challenge your friends in any of the other games offered by Topgolf. Get a real feel for the golf resort vibes from the patio, equipped with comfortable seating, large TVs showing the biggest sports games of the night, and a front-row seat to all the activity around the PGA District. 
Saturday Morning: Breakfast at Toast & Tee Coffee Collective
Start your morning with a quick stop by Toast & Tee Coffee Collective near the lobby of the main hotel. It opens at 6:30am, so you'll have time to boost your morning with caffeine and either a grab-and-go snack or grab a seat and order a breakfast taco, sandwich, or other morning favorites. 
Depending on your tee time, we recommend warming up on The Dance Floor. This two-acre putting course is one of the largest in Texas and all of America. Co-designed by Gil Hanse and Beau Welling, this course sets the tone for a day of golf. Between the caffeine kicking in from morning breakfast and a little bit of loosening up, you and your golf buddies will be ready to tee off at Fields Ranch Golf Course. For this itinerary, we're recommending Fields Ranch West. It's a course with expansive fairways that are an average of approximately 75 yards wide. This Beau Welling course is designed to give golfers of all skill levels an unforgettable experience. This course showcases the natural beauty of Frisco as the course rambles along Panther Creek in a Blackland prairie setting, dotted with live oaks and mesquite trees to create a lush oasis. Experience the pure joy of golf on a course that encourages shot-making and creativity from tee to green. If your golf group is more advanced in skill, Fields Ranch East is a championship course offering more of a challenge.
Saturday Afternoon: Lunch Break at The Bunker
All that golf under the beautiful Texas sun is sure to work up an appetite. Luckily, The Bunker at Fields Ranch Course offers a delicious selection of grab-and-go handheld options such as all-beef hot dogs, all-day breakfast tacos, brisket wraps, and salad cups. Cool down with a signature Fields frozen margarita and restock your beverages for the back nine.
Saturday Evening: Dinner at Ice House
With your first round of golf for the weekend wrapped up, it's time to head to the 19th hole. What better way to recap the day and double-check your scores than over Texas BBQ at Ice House. This casual restaurant offers indoor picnic bench seating or tables outside on a shaded patio. It's designed to look like the ranch-style barns that used to be found in this area. We recommend starting off with an order of spicy sidewinders, but only if you like your thick-cut curly friends loaded with smoked gouda, fennel slaw, full sour pickle, chipotle and pineapple kewpie mayo, and your choice of smoked meat. There's also an impressive collection of frozen cocktails, buckets of beer, mocktails, and more. Might we suggest whoever had the highest score earlier in the day cover the first round of drinks?
Saturday Night: Golf at The Swing
There's no such thing as too much golf in Frisco, so after dinner, it's time for more fun and games. Head over to The Swing, conveniently located next to Ice House where you just had dinner. This 10-hole, par-3 course is lit at night, so you can keep on playing even when the sun goes down. It was co-designed by Gil Hanse and Beau Welling, and is most notable for its dramatic swales. The tee boxes also have drink holders, so feel free to carry over your beverages from the Ice House while you enjoy a fun Saturday night activity with your golf buddies.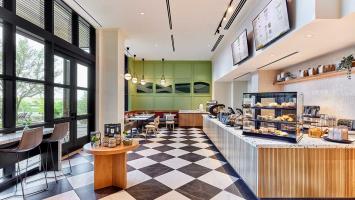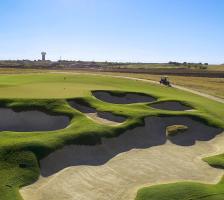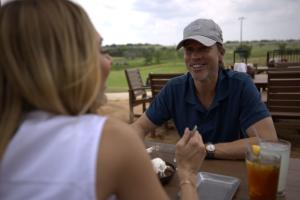 Sunday Morning: Coffee at Beans & Barrel
Rise and shine, it's time to move locations and head over to The Westin Stonebriar Golf Resort & Spa for the back nine of your Frisco golf weekend. Laidback luxury personified, this hotel is nestled right next to the Fazio Course and features a lagoon-style pool with cabanas, a spa for relaxing, and the private-dining-meets-golf-simulator experience at Topgolf Swing Suite. 
Before teeing off, stop by Beans & Barrel to pick up your morning coffee (yes, they serve Starbucks), a selection of breakfast items, and grab-and-go food. It's open from 6 am-midnight for any time you need light bites or drinks throughout the day. 
Sunday Morning: A round on the Fazio Course
Designed by the legendary Tom Fazio, the Fazio Course at the Stonebriar Country Club takes the serene nature of the area and elevates it for a picture-perfect Frisco golf experience. With renovated greens, new walls and bunkers, and improved irrigation technology, this course is sure to challenge and charm golfers of all skill levels.  
Sunday - Post-round meal at Herd & Hearth
Once you wrap up on the 18th of the Fazio Course, head back to The Westin for dinner at Herd & Hearth. The dinner menu offers an authentic taste of Texas, with smoked meats and seafood. Try the crispy skin-on Texas redfish for a fresh entrée or, for something from the grill, treat yourself to the oak smoked heritage pork chop or rosemary oil marinated hanger steak.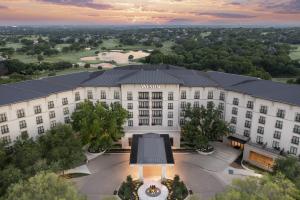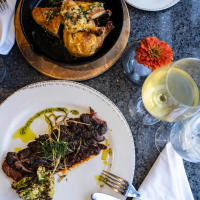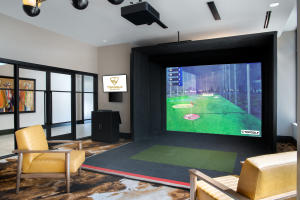 Extend Your Stay - Add Topgolf and a Spa Treatment
If you're able to make it a long weekend, we recommend staying at The Westin Stonebriar Golf Resort & Spa for an extra night. This gives you more time to book the Topgolf Swing Suite, a golf simulator where you can play all your favorite courses, or if you're starting to get tired of golf (as if!), there are many more sports and games to choose from. With food and drinks available to order directly to the suite, this is an elevated Frisco experience. After a good night's sleep, we recommend returning to Beans & Barrel for more of a sit-down and relaxing experience. Then, stop by the Well & Being Spa at the hotel for the Stonebriar Golf Recovery Massage to help recover from a big weekend on the links. This massage uses a muscle-stimulating blend of oil and percussion to help reduce inflammation and ensure you're ready to return to your normal routine feeling even better than when you arrived in Frisco.
Use this interactive itinerary to help imagine your Frisco golf weekend.
Plan Your Frisco Golf Trip
Now that you have an idea of what a golf weekend in Frisco looks like, it's up to you to message your golf buddies group chat to plan your visit. For more ideas and insider tips, sign up for our newsletter.