With summertime in full swing, refreshing açaí bowls, smoothies and juices are the best way to nourish your body and stay cool. Here is our list of the top places to go to find your next healthy meal. 
Vitality Bowls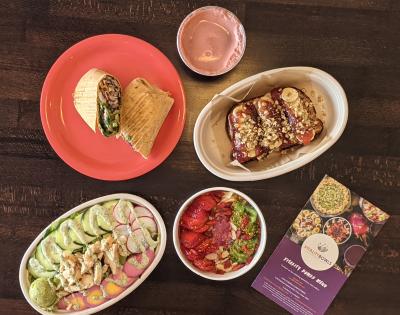 Vitality Bowls specializes in making delicious açaí bowls, smoothies, and juices. Their açaí bowls are made without preservatives, sugar or ice - just 100% of the purest ingredients available and a wide variety of superfoods.  One of our all-time favorite bowls is the Dragon Bowl. From their fresh juice bar, we recommend their bright red drink, The Intensifier.
Some of their newest items offered are salads, wellness wraps and power toast. Our favorites off their new menu include the Vitality Wrap, Supergreen Goddess Salad, and PB & Chia Jam Toast, which we highly recommend. Specific to the Eldorado location is a coffee bar offering organic and cold-brew coffee along with superfood drinks like açaí, turmeric, or pitaya lattes. 
The Vitality Bowls app is a great way to order and earn rewards for all your favorite things. Conveniently order ahead of time for pickup on those busy days when getting a healthy meal doesn't always take priority. Vitality Bowls is located at 5729 Lebanon Rd. and 5105 Eldorado Pkwy.
Kwench Juice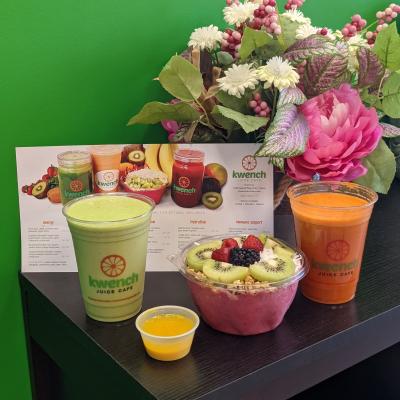 Kwench Juice is located in Hall Park in Frisco. It's the perfect spot to pick up a juice or smoothie when taking a stroll around the Texas Sculpture Garden. Our favorites on the menu include the Jungle Juice and the Acailicious bowl.
If you're in the mood for something green, try the Green Goblin smoothie. It is sooo creamy and good! Kwench also serves turmeric, ginger and wheatgrass shots for your healthy well being. You can even ask for fresh aloe vera drinks and mango lassis to try something new. Kwench Juice is located at 6750 Gaylord Pkwy.
Nekter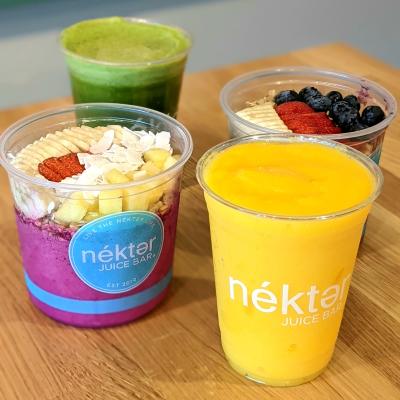 Nekter not only offers delicious, fresh cold-pressed juices but superfood smoothies and hand-crafted bowls. We loved their Açaí Banana Berry bowl and the Dragon Fruit bowl. We also recommend trying out their Turmeric Sunrise smoothie and their best seller, Toxic Flush juice.
The Frisco-based owners put a lot of love into their healthy creations. They truly believe food is medicine and have a passion for wellness after having seen the dramatic difference in their own family's health journey. To kickstart your own healthy eating habits try the Classic Reset, 6-Day Celery Detox or Half-Day Fast Cleanse to restore balance and revitalize your body. Download their app for orders, rewards, and more!  Delivery and curbside are available. Nekter is located at 3290 Main St. and 11625 Custer Rd.
Clean Juice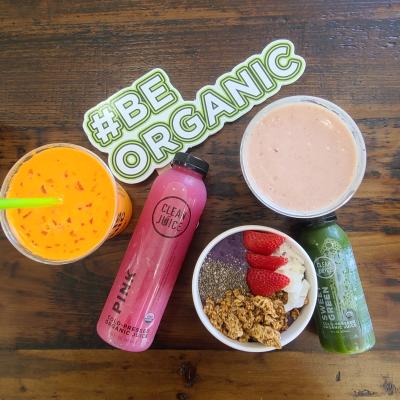 Clean Juice is one of the few juice shops in town that is USDA and CCOF certified organic, serving a variety of smoothies, juices and bowls, with real ingredients, no GMOs, no harmful pesticides, and no hidden additives. We recommend you visit before the summer is over because their seasonal bowl, THE INCREDI Bowl, is incredible! We also love the Immunity One juice and the So Basic One smoothie among the many other yummy items on the menu. 
We especially are in agreement with their motto: HEALTHY in BODY & STRONG in SPIRIT, 3 John 1:2. The owners truly live up to it. Clean Juice also serves wraps, toasts, and organic cold pressed juices as well as a fantastic line up of cleanses. Their Frisco location has a drive thru and offers app order pick up as well. Clean Juice is located at 6959 Lebanon Rd.
Cafe Açaí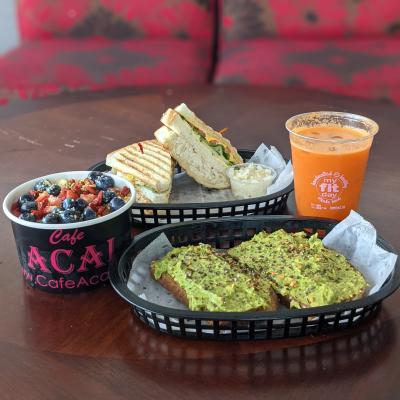 Cafe Açaí, formerly known as Heavenly Açaí, is a unique açaí bowl spot in Frisco. Their Pakistani/Desi touch makes this juice shop different from the rest. They serve up some amazing açaí/pitaya bowls, smoothies and juices made with fresh ingredients, no dairy, and no added sugars.
If you are looking for more than just a juice or bowl, they have a variety of toasts, paninis and sandwiches on their menu. They even serve fusion sandwiches such as the Panini Shami and Bun Kabab. The meats they use are halal, and they serve a breakfast special on weekends called Halwa-Puri.
If you're looking for your wellness shots, they have you covered with their turmeric, ginger or matcha shots. We love the eclectic variety on Cafe Açaí's menu. Cafe Açaí is located at 9133 Preston Rd. and 3245 Main St.
Salubrious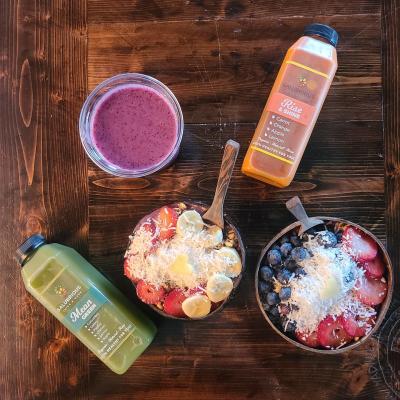 Salubrious means 'to promote health' and that's exactly what the owner of Frisco's oldest surviving organic juice and smoothie shop intends to do! Give your body the fuel it needs to feel energized and healthy in the most delicious way. Salubrious offers mouth-watering smoothies, açaí bowls, juices, coffee, paninis and avocado toast. They only use 100% fresh and organic ingredients. We love their Açaí Boost Bowl and also the Very Berry Bowl. The Fruit Salad smoothie had a variety of fruit and mint - the mint added the perfect touch to a great smoothie. 
Salubrious is known for their juice cleanses. If you're looking to gain more energy, lose weight or cleanse your body of toxins, try either the one-day, three-day or five-day juice cleanse. We enjoyed the Mean Green and the Rise and Shine cold-pressed juices which tasted amazing.  Salubrious is located at 10990 Rolater Rd.
With so many options all around Frisco, eating healthy is easy to do! Find a complete list of juice bars and smoothie cafes here. 
READY FOR MORE FUN?
Check out this list of best sports bars in Frisco, Texas. To keep up to date with the most recent area news, sign up for our newsletter.