Frisco has over 50 parks ranging from small neighborhood parks to large community parks, parks with fishing, disc golf, the largest skatepark in North Texas, and everything in between. With weather warming up, it's the perfect time to get outside and explore all of Frisco's system of trails and natural areas.

North Frisco - Warren Sports Complex
7599 Eldorado Parkway, Frisco, TX 75034
This multipurpose space encompasses more than 100 acres and is home to 2,500+ recreational games and youth sporting events year-round. Come for a day of play on the basketball, tennis, or sand volleyball courts, or on the park's flat fields for soccer, football, or lacrosse. There's also a fishing pier and the Freedom Meadow that's dedicated to those who lost their lives in 9/11, featuring 5 acres of native wildflowers.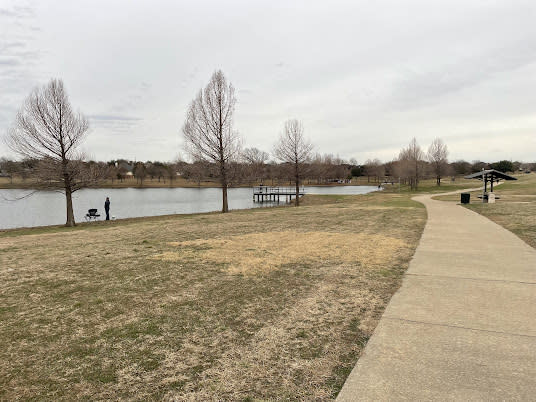 Stops nearby: Have a sports-themed day with a trip to the National Soccer Hall of Fame, a state-of-the-art museum and interactive experience with virtual reality, trivia games, and soccer memorabilia. 
East Frisco - Limestone Quarry Park
1230 Maltby Dr., Frisco, TX 75035
Limestone Quarry Park is the perfect place for a nature walk along the Taychas Trail. During your walk, take in the wildflowers and native grasses, mosaic artwork, and plenty of green space. And if you're feeling adventurous, spot the park's hidden waterfall that can be accessed by using the dirt footpath located behind the playground. 
 
Stops nearby: Make a stop at Swadeshi, a restaurant and grocery store that celebrates Indian culture and cuisine. Shop for spices, sweets, and fresh meat and produce, or dine in and enjoy a traditional meal. 
Central Frisco - Frisco Commons 
8000 McKinney Rd., Frisco, TX 75034
Winner of multiple awards for its design and the Metroplex's Best Family Park, Frisco Commons spans 63 acres of enjoyment for all ages. Kiddos can play at the park's two playgrounds and spray park including Hope Park, a playground for all abilities that includes a sensory area and adaptive equipment. Visitors can also pay their respects at the Veteran Memorial that honors those who served in the armed forces. Additionally, the park features pavilions, an amphitheater, and bike trail.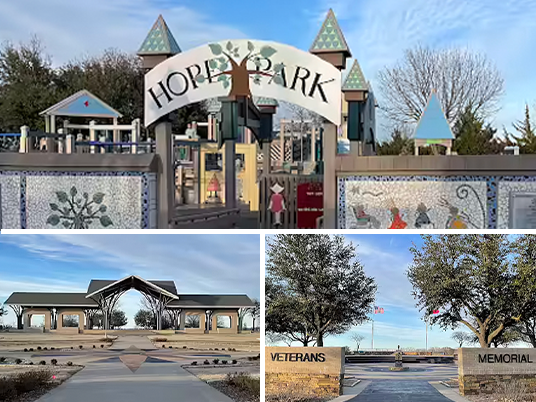 Stops nearby: While you're in the heart of Frisco, take a walking tour of Frisco's Main Street for a coffee, local cuisine, or photo op with a city mural as the backdrop. 
Southwest Frisco - B.F.  Phillips Community Park
3335 Timber Ridge Dr., Frisco, TX 75034
About 3 miles from Frisco's new H-E-B is the B.F. Phillips ranch-themed park, named after the rancher who owned the property that was once world-renowned for its quarter horses. Park highlights include the 18-hole championship style Disc Golf course (BYO discs!), as well as the Ruff Range Dog Park with both a large and small dog off-leash area, pavilions, and dog wash stations.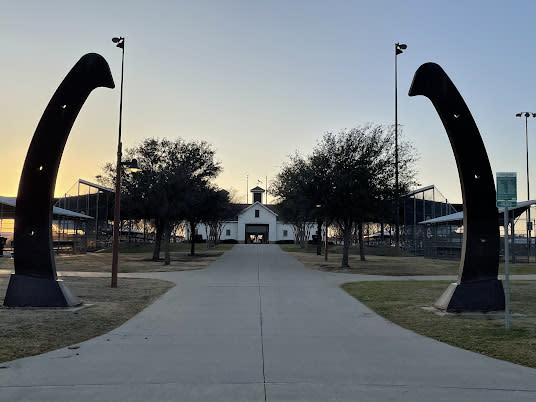 Stops nearby: After a day of exploring, grab a bite to eat from the local and family-owned restaurant, Pizzeria Alba. Enjoy authentic Italian dishes like calzones, rigatoni, and build-your-own pizzas.
Northeast Frisco - Northeast Community Park 
2895 Honey Grove Dr., Frisco, TX 75035
Located at Panther Creek Parkway, between Hillcrest and Coit is where you'll find this 74-acre community park. The park features plenty of open space with athletic fields, a playground and splash pad, walking trails, and a pond. The park is also home to Frisco's first skate park occupying over 75,000 square feet! The skate park is suitable for skateboards, bikes, in-line skates, and scooters and is designed for all levels of riders.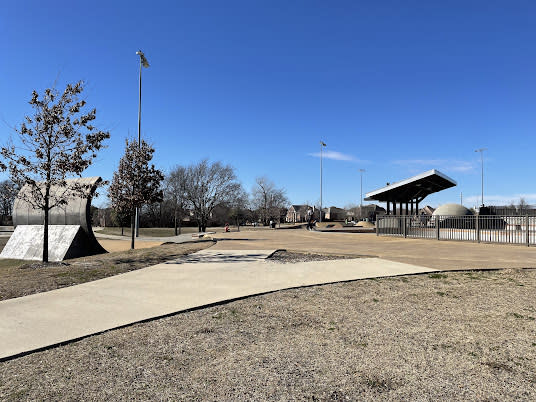 Stops nearby: Continue your outdoor adventure with a visit to Hummingbird Park, located just across the street on Honey Grove Drive. This 4-acre space features a walking trail, nature garden, and a pavilion with space to have lunch at the picnic tables.
Coming soon
Kaleidoscope Park at HALL Park
Set to open in winter 2023, this park in South Frisco is part of Hall Park's master plan and will feature an 18,000-square-foot children's area, a 6,500-square-foot dog park, an event lawn, performance pavilion, and more. 
This 275-acre regional park project will be the first of its kind in Frisco. Currently you can access the Big Bluestem Trail, a 2.2-mile natural, unpaved trailhead that's located at Cotton Gin Road, between Dallas Parkway and Legacy Drive. 
 
Want More of the Great Outdoors? 
Check out some of the best patio dining in Frisco for this spring. Stay up to date with all things Frisco by signing up for our monthly E-Newsletter.