Are you looking for ways to keep the family entertained on a rainy day or ways to stay cool during the hot Texan summer? Head over to Strikz Entertainment on Lebanon Road in Frisco for tons of family fun!
This venue is perfect for all ages. The facility has been recently renovated and is ready for you to enjoy laser tag, bowling, billiards, arcade games, and axe throwing! Strikz Entertainment prides themselves in their renovations to provide you with a new updated space with over 43,000 square feet of fun and games. They offer 32 state-of-the-art bowling lanes and now have augmented reality bowling in their 12 boutique lanes in the private Rose Room. This includes the latest technology and entertainment trends in bowling featuring an interactive scoring experience with the added amusing component of Angry Birds Bowling. Enjoy interactive games and scoring themes projected directly onto the lanes via animated graphics. Our kids really enjoyed this experience!
What's New at Strikz?
Now you can challenge yourself or friends at the new axe-throwing bays in the lounge area, complete with a private bar and billiard tables. Compete for the best score as you hurl axes through the air at wooden targets. Whoever gets closest to the bullseye, wins! The adults found this the most entertaining part of the day.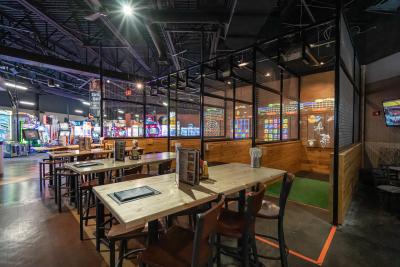 There's a variety of newly renovated video, prize, and virtual reality arcade games to choose from, including Fast & Furious Turbo Motion, Virtual Rabbids, King Kong, and more.
Don't forget to play a round of Laser Tag where you can sneak through a post-apocalyptic downtown scene. Games are 10 minutes long and recommended for ages 5 and older. This is a fun idea for birthday parties and group outings, too!
Food and drink kiosks are located at all bowling lanes for easy, self-service ordering. Most dishes are easily shareable so the whole family can enjoy. We had the Nacho Stack, chicken tenders, pizza, cheeseburger sliders, and BBQ and Buffalo wings, along with the Crispy Chicken sandwich and the Mesa burger. For the adults, there is a full bar menu. We had the Ruby Paloma and Mango Mai Tai. Both the kids and the adults were pleased with the menu choices.

Strikz has an 18-year history in the community as a family-owned and operated business. This is a story of the continuing investment of an entrepreneur who has kept up with significant and rapid growth of Frisco and neighboring corporate competitors. When Strikz opened in 2005, they were one of the only family multi entertainment venues in the area. Today, the community has grown massively, yet Strikz has remained a successful business in the area.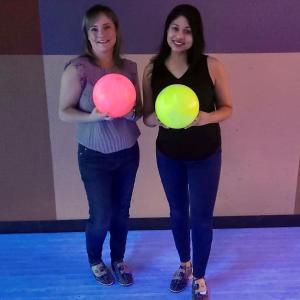 We highly recommend spending some time at Strikz Entertainment letting the kids burn off energy and making some unforgettable memories with the family.
Find Your Play 
Looking for even more fun in Frisco? Check out our Things To Do page for a complete list of ways to play. And for the latest insider tips, be sure to subscribe to our newsletter.