My husband and I have been taking time to explore our new hometown, Frisco. We often take our 100-pound fur baby, Maverick, out with us on our adventures, and this time, it was time to enjoy a pet friendly patio. We LOVE a good patio, so here are a few pet friendly patios to check out in Frisco (Maverick approved).
We stopped by Mash'd on a Friday evening, since we heard their happy hour was worth a sip. Monday through Friday, between 3–6 PM the bar hosts ½ OFF drinks. What a great chance to try some of their creative cocktails?! We got the chips and guacamole at the bar while we waited for a table. It's not on the menu, but I highly recommend trying it. There's bacon and pineapples in it and we absolutely loved the flavors. For dinner, my husband ordered the chicken sandwich. I recommend getting the buffalo sauce instead of the sriracha. I chose the Mahi Tacos, since the fish is fresh and flown in. They were probably some of the best Mahi tacos I have ever had!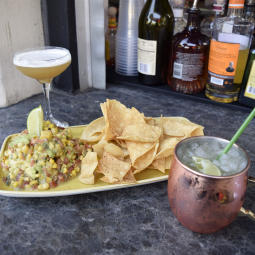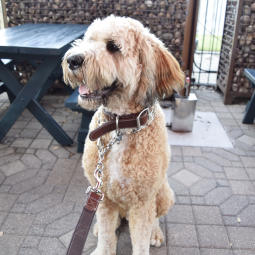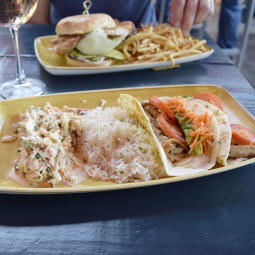 Our next stop was a Saturday lunch out with our big furry guy at the Rail Yard. There are plenty of benches, and it's all outside, making it a great spot. We found a bench under a tall tree and grabbed a drink at the bar, which is actually a covered patio with TVs – my husband loved that. There were food trucks we could choose from for lunch, and a live band was getting ready for a mid-day set. We were told that the food trucks rotated, so the cuisine is constantly changing, making it a spot we'll have to go back to soon.
Sunday brunch after a visit to the dog park or a good walk is pretty common in our household. I made a reservation for the patio at TruFire, and was nervous taking my husband to a brunch spot I hadn't vetted yet (we really don't mess around with brunch). The patio was surprisingly spacious! The wait staff was accommodating, and even asked if they could bring Maverick some eggs (Maverick's favorite Sunday snack). Of course, we grabbed a pitcher of mimosas ($2 each by-the-glass), which came with orange and white peach juice on the side. I tried the breakfast pizza, which was big enough that half went home as leftovers. My husband enjoyed the Eggs in Skilletory and loved the flavors. We enjoyed it so much, we've already been back and brought friends with us since.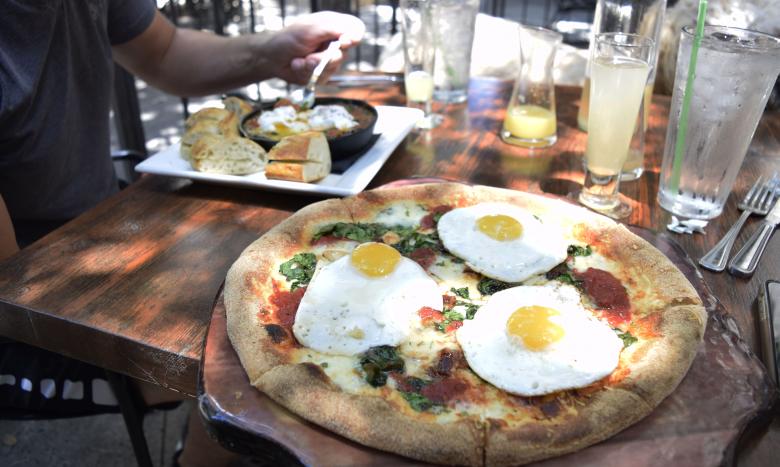 I can't wait to get out and explore more pet friendly spots in Frisco. A few other Frisco restaurants with pet friendly patios to check out include:
Vakeroz Family Restaurant & Cantina
Rotolo's Craft & Crust

For a complete list, head to the Frisco Restaurants page and use the "Filter By" Categories drop-down and select "Pet Friendly" to view restaurants that have Pet Friendly patios in Frisco.