Frisco, Texas, is the home of unforgettable golf experiences, including the brand new PGA Frisco featuring PGA of America's headquarters and the Omni PGA Frisco Resort. This fall, watch the best young golfers from across the country compete in the 2023 13u National Car Rental Jr. League Championship. It takes place at PGA Frisco from October 4-8, 2023 as the PGA Jr. League Season wraps up, with the top 12 teams competing. To learn more about how this tournament works and why Frisco is the perfect place to hold this event, we chatted with Laura Frick, Director of Competitions for PGA of America.
This is the first time the tournament will be held at PGA Frisco, right in PGA of America's backyard. What makes this an exciting place to hold the Jr. League Championship?
We are really excited to showcase PGA Frisco and the new home of the PGA. Not only is the venue an incredible place, but our ability to further connect the story of the PGA of America to our young athletes is important. Maybe they'll see our home and want to learn more about PGA membership or working in golf. They are the future of our sport, and it's an amazing opportunity to connect with them further. The support of the local community has been really great. We're on track for a record number of volunteers at this year's Championship! 
What do you anticipate players will like about the Fields Ranch West course?
I think they'll like the look of the golf course off the tee of Fields Ranch West. There are a lot of ways for us to get creative with yardages and course set-up, and these kids love to step up to the tee and hit bombs — we're going to give them plenty of opportunities to do just that. They'll have to do some thinking around the greens, but I'm excited to see them be fearless off the tee.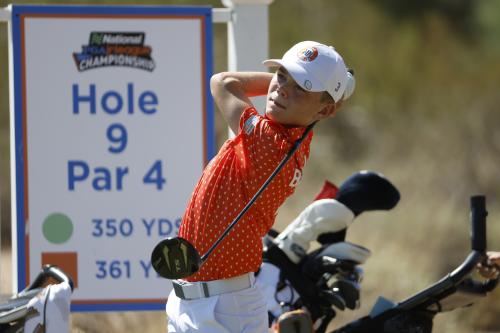 How do junior players qualify for the 13u National Car Rental PGA Jr. League Championship? 
Following recreational play in the spring and summer, hundreds of 13u All-Star teams (boys and girls ages 10-13) are formed in each league to compete in the National Car Rental PGA Jr. League Championship Season. Competing All-Star teams then take one of two pathways in the first stage: winning their Section Qualifiers and Section Championships held by all 41 PGA Sections and/or participating in at least three local All-Star Play days and notching one of the top four spots on the Regional Leaderboard. At the second stage, teams compete in one of 12 Regional Championships held nationwide. Each Regional Champion advances to the National Car Rental PGA Jr. League Championship.
A lot of work goes into getting to the Jr. League Championship. How does the PGA support and help these young players reach this point? 
All PGA Jr. League teams are coached by expert PGA and LPGA Professionals, meaning players learn from the best in the business. The PGA of America provides resources for our Coaches on best preparing them for each level of competition and play. We also provide scholarships for those who need financial assistance to participate in the Championship Season.
Approximately how many junior players are involved in the PGA?
PGA Jr. League has eclipsed its 2022 record of more than 71,000 players participating in the 2023 season.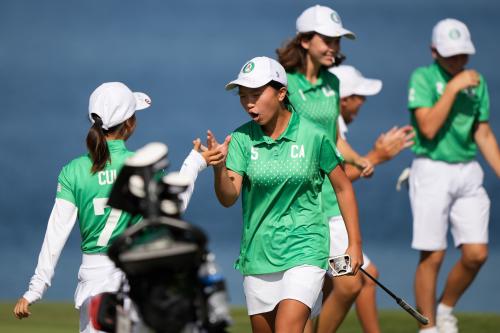 How does the PGA help grow the sport and support junior golfers throughout the year?
PGA Jr. League is the flagship youth pillar program of the PGA of America's 501 (c)(3) foundation, PGA REACH, with efforts focused on making the program accessible to every child, everywhere. Those efforts are achieved through thousands of scholarships provided to players who meet financial need requirements or are from military families, as well as other partnerships and outreach with community organizations like Boys & Girls Clubs of Collin County and Scottish Rite for Children, to name a few.
When it comes to growing the sport with young golfers, what do you do to keep a tournament like this fun and something they want to be part of?
This Championship has been nicknamed "the Happiest Major in Golf," and it's easy to see why. It's a true celebration of what the sport does for people: It brings families and friends together, and it gets everyone outside and having fun. We know there is motivation to be a National Champion, but we also aim to use the event's platform to show just how fun golf can be. 
Especially in this age group, family is a big part of sport. What do you think parents will like about coming to the city of Frisco and PGA Frisco for the weekend?
Our PGA Jr. League families are our biggest support! I think they'll love how family-friendly the city of Frisco is, as well as the PGA Frisco property. There is truly something to do for everyone, whether you play golf or not.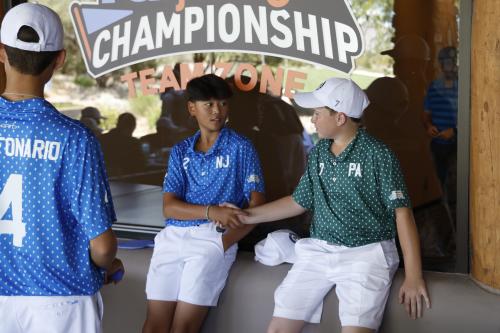 If you're a family visiting Frisco for the first time, where is a place or two you would recommend checking out while here for the weekend?
The majority of our families are into sports, so Frisco is a great place for all sports fans. Checking out The Star District or the National Soccer Hall of Fame would be at the top of my list. For a non-sports activity, I think the National Videogame Museum is pretty cool!
What advice would you give to a young golfer who wants to take their game to the next competitive level?
For golfers ages 13 and under, I urge them to always remember to love the game first. No matter their skill or the level of play they want to get to, if they don't have a love for the sport and are not able to enjoy it, then it's not being played the way it was meant to be. So often we see kids at this age level get burned out from specializing too early and committing too much to the mechanics of the swing. In reality, some of the best athletes in the world played multiple sports as kids and made sure they were always having FUN first!
Thank you Laura, for taking the time to chat with us ahead of this exciting tournament coming to Frisco from October 4-8. 
Get Ready For More Golf
Plan your own golf trip with your golf buddies, or come to Frisco and watch the best young golfers compete in The City That Plays. Here, golf is more than just a game. From comfortable accommodations to the best restaurants, there's so much to see and do on a golf trip in Frisco. To stay up to date on all things Frisco, sign up for our e-newsletter.