Monster Mini Golf, conveniently located on Preston Road near the Sam Rayburn Tollway (121) and Stonebriar Centre mall, has some of the coolest monsters around for year-round fun and freights (not just Halloween).
This glow-in-the dark mini golf course will entertain your entire family, from the youngest to the oldest. The facility is located indoors so it can be enjoyed without worry of the scorching sun or a sporadic downpour. The 18-hole mini golf course has exciting obstacles, and there's always something to see or interact with as the animated monsters come alive at each twist and turn. The course finishes with Glo-zo, a gigantic clown head through which you have to hit a perfect final shot. While you're practicing your putt, there are opportunities to win prizes during the game, like Name that Tune, Guess the Theme Song and Guess the Punchline. Guided games like "closest to the hole" or "hole-in-one" also add to the competition. It's the extra little touches that make your gaming experience enjoyable and will keep you coming back to see what's different and new.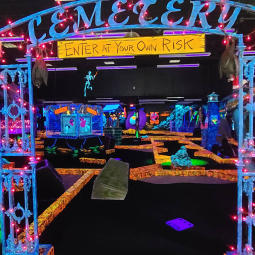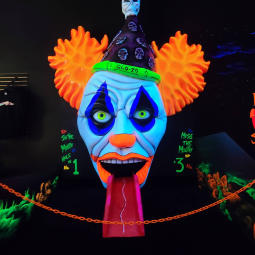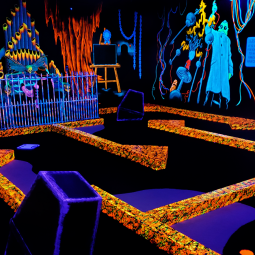 Mini golf isn't the only thing that's offered. Once you've aced your putting skills, head over to the mini bowling lanes to unleash your inner Lebowski. This classic attraction delivers MONSTROUS entertainment for all ages. Forty-foot lanes and lighter bowling balls make it easy enough for the little ones to score high on both the scoreboard and the fun, while avid bowlers will find the lanes responsive and challenging. Special shoes are not required, so simply step up and show your skills.
If that wasn't enough, there's also an arcade, which adds to the family entertainment with new technologies and timeless classics. Enjoy games such as Mario Kart, Monopoly, King of Rings, Ticket Monster and Nerf to load up on prize tickets. The classics like Skee Ball, Glow Air Hockey and Basketball Hoops are fun for any age. When you're done playing, be sure to cash in those tickets for prizes including glow-in-dark gear to make the mini-golfing under the black lights even more of an adventure.
Finally, if you're up for a real challenge, try the Laser Maze. As you enter, you'll see that the room is filled with amazing lighting effects and dynamic laser beams blocking nearly all paths of travel. Zig-zag along to the music as you try to make your way through this immersive obstacle course. The Laser Maze is a timed event, so challenge your family and friends to see who can make it through the fastest and who will make it to the Top 10 of the Monstrous Leader Board.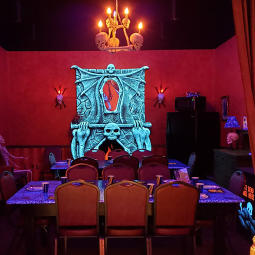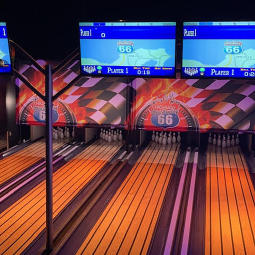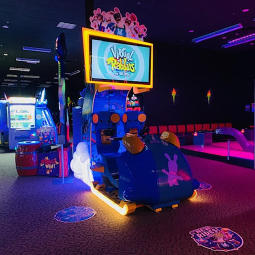 Monster Mini Golf is a great place to celebrate a birthday or host a corporate event. Reserve a private Haunted Mansion room or have a Pop-Up Party right on the golf course. If you're looking for a private party, MMG offers a "fun bubble" where you can rent the facility one hour before opening for unlimited mini golf. MMG provides a physically and mentally stimulating experience for children filled with adventure, games, prizes, smiles and loads of laughs!
Local business owners Brian and Holly Hernandez have designed Frisco's Monster Mini Golf with family, friends and community in mind. They opened their doors in June 2020 during the height of the pandemic and strive to create a quality entertainment experience in a safe and fun environment. One of their goals is to bring people together.
As summer starts and you're looking for things to do to keep yourself and the kiddos entertained this summer, be sure to check out Frisco's Monster Mini Golf. You won't be disappointed in the amount of fun you'll have.
READY FOR MORE FUN?
Check out this list of best sports bars in Frisco, Texas. To keep up to date with the most recent area news, sign up for our newsletter.