The Rail District is the heart and soul of Frisco. Located in Historic Downtown, nestled along Main Street between the Dallas North Tollway and Preston Road, the Rail District consists of many independent and locally-owned restaurants, boutique shops, and unique entertainment opportunities. While there have been some cosmetic changes to the Rail District since the 1950s, the streets are still lined with vintage, historical buildings which house these restaurants and shops, making the Rail District an exceptionally charming and quaint area of Frisco that everyone should explore!
My husband and I recently had the opportunity to plan and participate in what we termed A Progressive Night Out in the Rail District. Along with another couple, we planned an entire evening to be spent exclusively in the Rail District, with as many stops as we could fit in. One of the best parts of planning a night out in the Rail District is that practically everything is walkable. Just park your car for the evening and you're off on your adventure!
To start the night off on the right foot, our first stop was for some caffeinated joy at Summer Moon Wood-Fired Coffee. Summer Moon has some of the best coffee in the city because of two words: Moon Milk. Moon Milk is Summer Moon's proprietary blend of milk and sugar (and perhaps a few other magic ingredients) that transforms all of their coffees from great to incredible. My personal favorite is the Half Moon. But if you're visiting in the fall, be sure to try the seasonal Autumn Moon!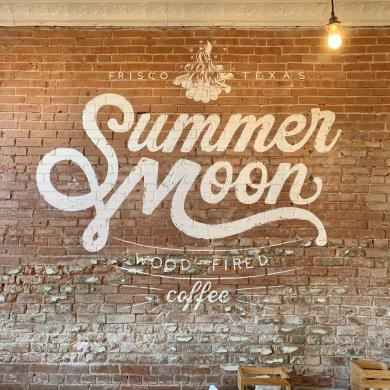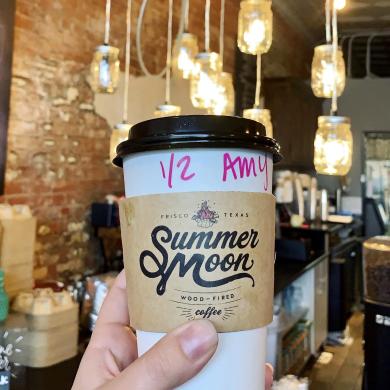 Countdown2Escape
After our coffee fuel up, our group headed next door to try our hand at an escape room. Countdown2Escape is guaranteed to be the cutest, most well-decorated escape room you will ever encounter. The lobby is a perfect place to relax and sip your coffee as you fill out your escape room waivers and watch your quest introduction video. Once we entered our quest room, we had an absolute blast as we all worked together to return the lost jewel of Zanzibar to the museum. Our team eventually "escaped" the room with about 15 minutes of our one-hour time limit left! It was so refreshing to interact and communicate with each other without the distraction of our phones, and to rely only on our own wits and strengths. Without a doubt, we will definitely try to escape from the other rooms offered at Countdown2Escape very soon.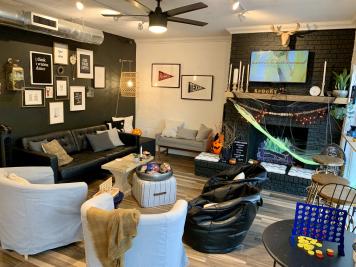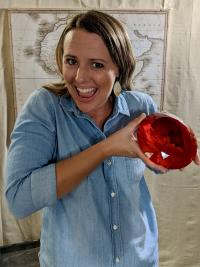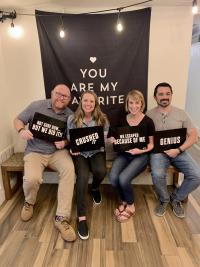 We worked up quite the appetite trying to escape, so our next stop was directly across the street for dinner at The Heritage Table. Located in a 1917 converted Victorian home, this scratch kitchen offers a rare setting to go with its unique (and delicious!) dishes. All of the food served at The Heritage Table is sourced from local North Texas farms and everything from sauces to pastry is made from scratch right in their kitchen. We especially enjoyed the Chef's Ultimate Butcher's Board, and you know I had to order the Friscopolitan. While all the food was delicious, the crowning jewel was definitely the desserts. Fried peach pie à la mode? Sign me up! And the deconstructed chocolate cake was divine- warm, rich, and decadent.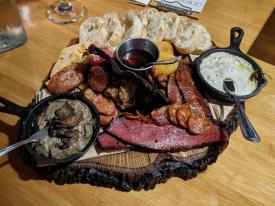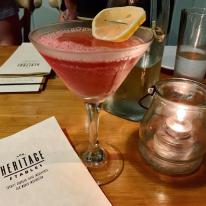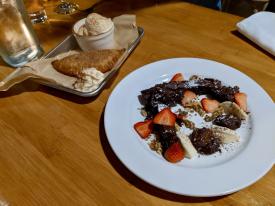 The logical next stop was right next door at eight11 Place, a low-key wine bar and scratch kitchen that offers impressive outdoor seating and live music. While the appetizers and artisan pizzas at eight11 rival the best Frisco has to offer, the thing that really sets it apart and makes it unique is the S'mores Board. What can be better than sitting under the stars around your own personal fire pit, listening to live music, and roasting your own s'mores? Not much. Eight11 is the perfect ending to a night out in the Rail District and one of the reasons I keep going back again and again.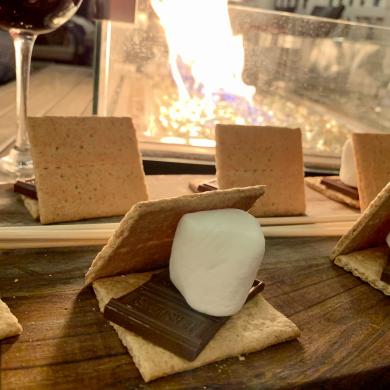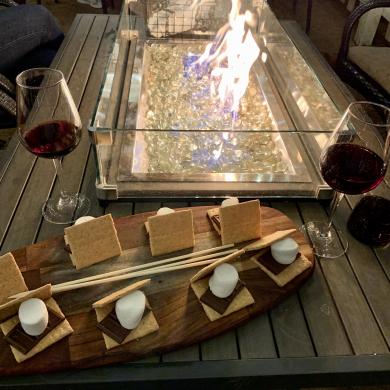 Frisco is lucky to have the Rail District at its heart. If you haven't already, take a day or evening to indulge in all this inviting and charming area has to offer. There are many more adventures waiting than just the ones mentioned here and they're all well worth your time and consideration.
Discover more of what The Rail District has to offer here.
Header 📷: @pslaughter34