February 1 is National Girls and Women in Sports Day (NGWSD). This is a day to celebrate the achievements of girls and women in sports by acknowledging the power sports has on unlocking limitless potential.
With multiple sports teams and organizations in Frisco, we see firsthand the confidence, strength, and character gained through sports. And how these traits translate to strong leadership in sports and life.
Below are few examples of the many women in sports who help make Sports City USA special.
Gina Miller
Vice President of Media & Communications,​ FC Dallas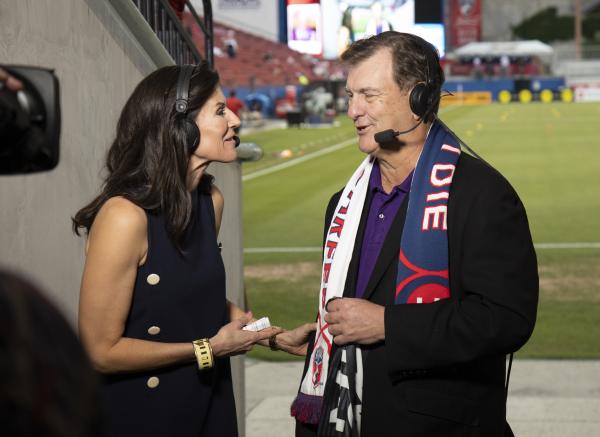 Where did you find your love of sports? Growing up in Dallas, it was inevitable because sports are woven into the fabric of all our communities. Every Sunday I spent watching the Cowboys game. I went to a small private school in Dallas where I played everything: volleyball, basketball, track, softball. I fell in love with practicing, competing, and learning how to practice properly, manage my time, all the great habits participating in sports helps you develop. I sensed I wasn't quite talented enough to play anything professionally but I did figure out a way to work in an area I love: talking about sports. I would record myself talking about Cowboys and Mavericks games on an old-fashioned tape recorder. That's what hooked me.
How does your position impact the team/organization? We touch every area of FC Dallas, Toyota Stadium, and the National Soccer Hall of Fame. My team oversees the storytelling aspect of our properties. We work with each department to determine the best way to tell its story whether it's on our owned platforms, through earned media, or through broadcast content.
Why is this day important? I am old enough to remember when there weren't too many women in sports. I was the first and only female sportscaster in many TV markets. I even remember a producer saying to me he can't envision seeing two women on the air "talking sports". That seems shocking now but it wasn't that long ago. This day is important because it underscores the need for inclusion in the sports industry. It highlights how far we have come and that we need to continue to include diverse perspectives in our industry.
How do you want to influence young women looking for a career in the sports industry? I was someone who entered the sports media with zero connections. None of my relatives had a connection to the sports or media industries. My family members encouraged me to consider another career….one that would have made me miserable! Through perseverance, networking, and pure hustle I was able to land a foot in the door as an intern with the Houston Rockets in 1994 which I was able to parlay into a lifelong career. I want young women, and anyone interested in a sports industry career, to understand that you can progress and succeed in this business. It will be hard (you will work nights, weekends, and holidays for the rest of your life if you work in sports) and it will take work but, truly, if I can do it…anyone can.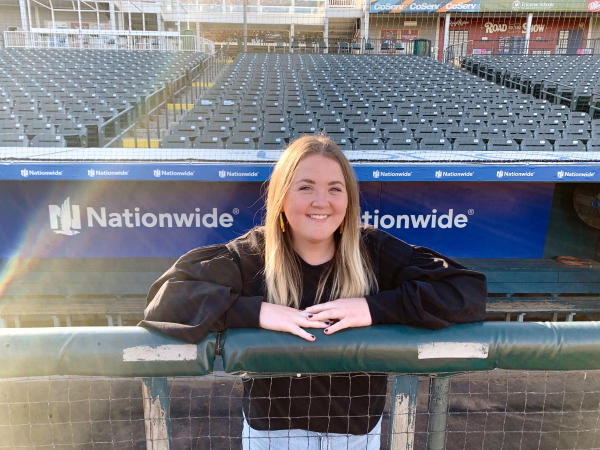 Where did you find your love of sports? I grew up in a sport-obsessed family and spent every weekend in the summer playing softball right until college. Now that I get to make a career in sports, I see every day how sports have a unique impact on all of us. 
How does your position impact the team/organization? As the Director of Marketing, my position oversees the marketing, game entertainment, communications, content, social media, and broadcasting while working hand-in-hand with sponsorships and ticket sales to promote our organization. 
Why is this day important? I've been so lucky to be surrounded by wonderful leaders in my career thus far and the women in that group have been incredibly influential. There's plenty of room at the table for all of us, and I think a day like Nation Girls and Women in Sports Day highlights that. 
How do you want to influence young women looking for a career in the sports industry? I hope I can lead by example and show there's value in working hard, being kind, and having a good attitude always— nothing is beneath you! Oh, and remember to have fun.
Lauren Laake
Community Relations Lead, PGA of America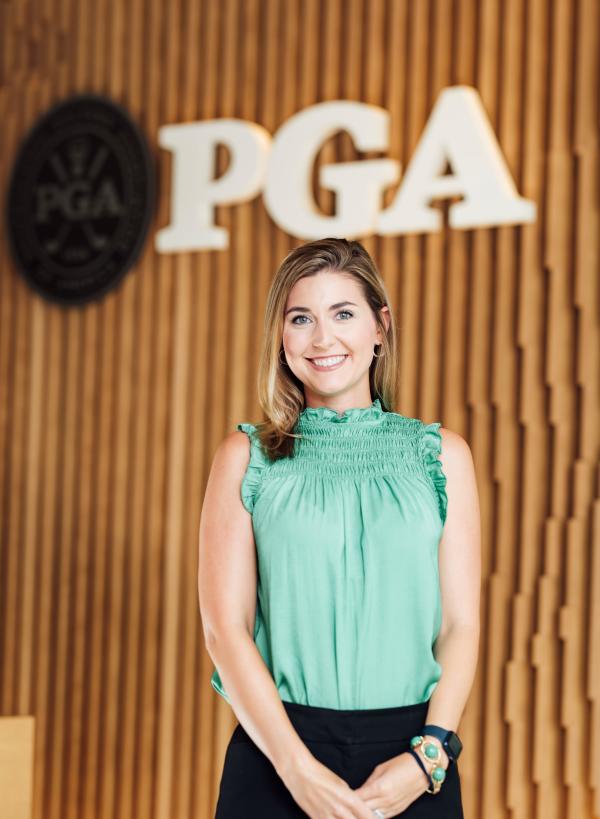 Where did you find your love of sports? Growing up, I played tennis and lacrosse. Playing sports allowed me to challenge myself, set goals, and continue to push myself to improve. I was never the best on the team by any means, however, I always enjoyed the camaraderie and relationships built by playing together. To this day, I have some of the best memories growing up from playing sports. However, it wasn't until I started working at the PGA of America over 3 1/2 years ago, did I truly see the impact that sports can have on individuals, businesses, and communities. 
How does your position impact the team/organization? My position as Community Relations Lead plays an important role in fostering positive relationships locally and promoting the PGA of America's mission of growing the game and serving our members. On a day-to-day basis, I work to build strong relationships with our community and business and partners, build brand awareness, and encourage participation not only in the game of golf but the business of golf as well. I also oversee our PGA Cares Employee Volunteer Program, encouraging our employees to get involved in the community where we live, work, and play. It is incredibly important to us that we give back as a team and individually in positive and meaningful ways.
Why is this day important? National Girls and Women in Sports Day is important for women who work in the sports industry because it serves as a recognition of our contributions and achievements in a field that is traditionally male-dominated. The day provides an opportunity for female athletes, coaches, executives, and other professionals to be celebrated and acknowledged for their hard work and dedication. This day also serves as a call to action to continue pushing for progress and change. The day inspires us to work towards creating a more equitable and inclusive industry, and to advocate for policies and initiatives that support the advancement of women in sports. More importantly, it also serves as a way to inspire and encourage young girls and women to pursue careers in the sports industry, showing them that it is possible for them to have a seat at the table and to rise and succeed.
How do you want to influence young women looking for a career in the sports industry? As someone who never picked up a golf club prior to joining the PGA of America team (and is still learning the game), I want to show young women that it is possible to succeed in this industry. You don't have to have the background in order to work here, but you do have to be curious, open minded, coachable, and willing to learn. I want to be a positive role model for young women and to be available as a resource and mentor. More importantly I want to show them that there are a variety of different opportunities across the $86 billion industry to pursue. With over 2 million jobs, there are truly opportunities for everyone.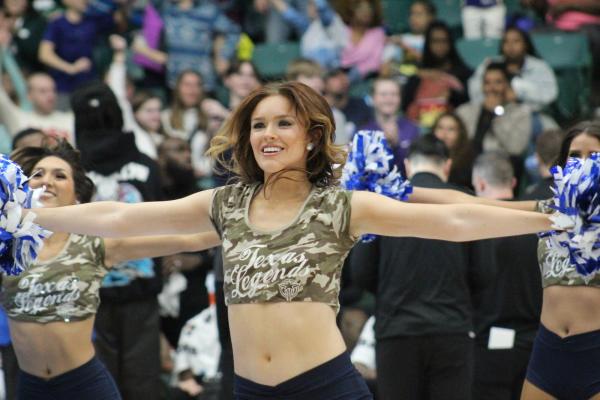 Where did you find your love of sports? I first fell in love with sports watching the Olympics when I was young. I was amazed at what the human body could do and how the athletes were all different sizes and shapes. Now, I will watch literally any sport but my current favorites are hockey, motorsports, and Texas Legends basketball! I really believe there is a sport for everyone, even if we don't all make it to the elite level.
How does your position impact the team/organization? As a member of the Texas Legends Dancers, my most important job on game day is to make sure the fans are having fun. While we work very hard to make sure our on-court performances are energetic and entertaining, most of our time is spent cheering for the team, taking photos, giving away prizes with our in-game hosts, and helping fans feel integrated in every aspect of the game day experience. The Legends are all about serving our community, and we are ambassadors for the organization to our fans. 
Why is this day important? National Girls and Women in Sports Day is an important day for everyone to celebrate how far we have come and look to the future of all women in sports, not just players. Title IX was passed to help equalize the playing field for girls to play school sports but in many ways, we are still brining awareness to the power and progression women already bring to the sports industry. Many women and girls have a passion for sport and are beginning to see how they can combine their talents and passions to take their work to the next level. 
How do you want to influence young women looking for a career in the sports industry? I want to influence young women and empower them to find their dream job in the sports industry. Opportunity is everywhere, especially in North Texas. Imagine yourself in your dream job. What skills and qualities do you have? What habits do you have that helped you reach this goal? Start with those habits and goals today! Whether it be dance, marketing, broadcasting, or (of course) competing, you can already begin training and gaining experience for that job. 
Yoshiko Kirstein
Chief of Staff, Starlight Fusion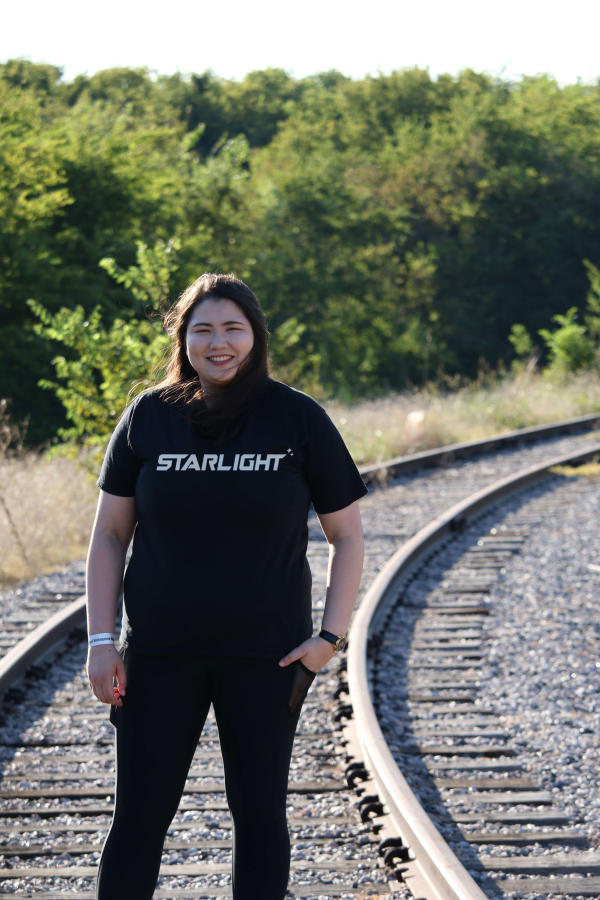 Where did you find your love of sports? My childhood experiences in Japan instilled in me a lifelong love and appreciation for sports, esports, and the benefits they bring to one's life. Where I'm from in Japan, we believe an active lifestyle is fundamental for a healthy and balanced mindset. We were taught to also find sources of stress relief which led to the introduction of esports into my life as a way to connect with others with the same interests. Alongside various sports such as basketball, soccer, and swimming, I also enjoyed playing Pokémon games and Halo when I was growing up which helped to balance my athletic pursuits and further solidified my love for esports. I found that the discipline, teamwork, and a sense of accomplishment that came with both sports and esports were a source of joy and motivation for me. 
How does your position impact the team/organization? As the Chief of Staff for Starlight Fusion, I serve as the organizer, sounding board, and support system for my team. I work closely with the production and operational teams to ensure that all ideas are properly evaluated and communicated effectively. My responsibilities include coordinating facility build-outs and events, representing our company in the local communities, and keeping the team on schedule. I also play a key role in maintaining relationships and ensuring that tasks are completed in a timely and organized manner. In short, I act as a bridge between the different aspects of the business to ensure that everything runs smoothly and efficiently.
Why is this day important? This is such an important day because it provides an opportunity to acknowledge and celebrate the achievements and contributions of women in sports and esports. Women are important in organizations because they bring a unique perspective and balance to the team and having a diverse representation in sports helps to promote inclusivity and break down gender stereotypes. It also shows those who may be looking into the industry that we are all here to support one another and help each other out.
How do you want to influence young women looking for a career in the sports industry? I believe many women love esports and gaming but have not been encouraged to pursue this field due to intimidation. I want to be a role model and help more women enter the emerging technology sector and contribute to its growth. There are many talented women who can thrive in this field, but they need support from other like-minded women to do so. The gaming industry can be toxic, and it's important for women to have a support system in place to help them navigate it. I hope to be someone that shows visibility in this industry and the positives of working in sports and esports. As long as you have the right mindset and treat those around you with respect and care, you will receive the support you need to succeed.
Want More Sports?
Click here for everything you need to know about sports in Frisco. Check out our events page so you don't miss a single game. Keep up to date with the most recent news by signing up for our newsletter.