TrainTopia is the culmination of one man's lifetime travel experiences and love of trains. The exhibit is a gift of Jane Sanders and her daughters and is made possible by Amanda and Brint Ryan. Over $1 million and 20,000 man-hours went into creating this extraordinary tour of the American Southwest, woven together by seven operating rail lines. It's a journey that will capture your imagination. With approximately ¼ mile of G-scale track, this exhibit is sure to please families of all ages. Here are six great reasons to check out TrainTopia. 
Scenic Highlights 
Modeled in "G" Gauge, or 1:24 Scale, this 2,500 sq. ft. layout features scenic highlights and populated areas in Arizona, Colorado, New Mexico, and Texas. Soaring Rocky Mountains, logging camps, and once-popular tourist destinations are carefully crafted in miniature. As one progresses around the exhibit, these scenic wonders give way to oil fields of West Texas, the spectacular Palo Duro Canyon with its dramatic hues and colors, and the famous Palo Duro Drive-In with its operating movie screen and 1950s cars. This visual journey culminates in a 1960s downtown Dallas complete with an animated Main Street, punctuated by a bustling union station.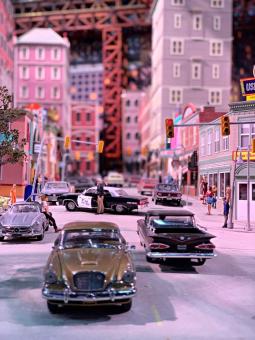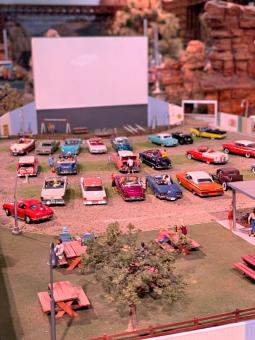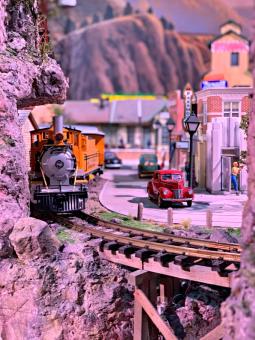 Staff 
Visitors are greeted by Cheri Neil, who was a fixture at Collectible Trains & Toys in Dallas for thirty years. She and her husband Pat operated the store which specialized in new and used Lionel electric trains, along with other makes and scales. To the many visitors that frequented their store for nearly a generation, the excitement of encountering and collecting electric trains was unforgettable. Now, a new generation of visitors will be greeted by Cheri's warm personality and infectious smile at TrainTopia. 
Scavenger Hunt 
Visitors of all ages will enjoy the scavenger hunt that reveals many subtle and not-so-subtle features of TrainTopia. Search for major spots like the Dallas Union Terminal or tiny details like the DeLorean or a silver garbage can.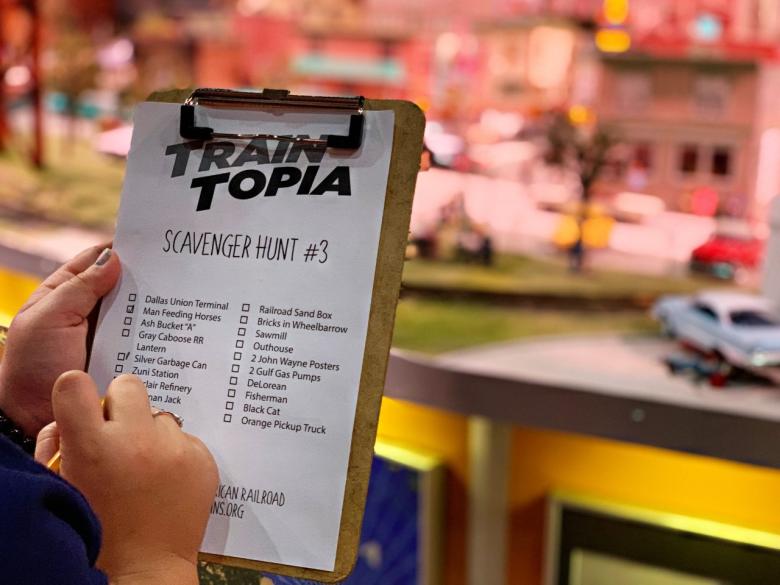 Dramatic Lighting 
Dramatic lighting transitions from day to night, including spectacular sunrises and sunsets. The theatrical lighting accentuates colors on the many geographical details of hand-crafted scenery, as well as the panoramic mural backdrop. The many lighted features on the layout turn on during dusk and nighttime, giving the layout a completely different look and feel. Don't miss the feature movie playing at the drive-in and the animated signs in the cities and towns.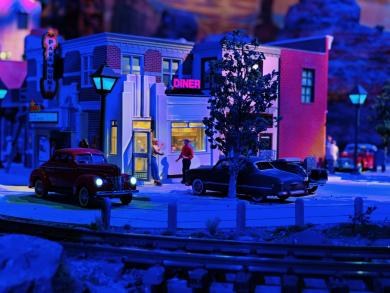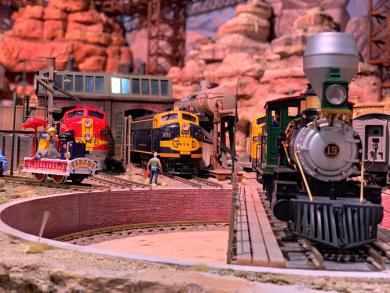 Holiday Transformations
While TrainTopia is a year-round indoor destination, it doesn't always look the same with each visit. During the Halloween season, its décor consists of ghosts and goblins and a haunted house. Be sure to look for the "Munster Koach" parked in front of the Haunted House during this season. The handcrafted car is a replica of the original designed by George Barris for the 1960s television sitcom. Then, during the Thanksgiving and Christmas season, the layout is transformed into an enchanting and entertaining experience for holiday visitors. 
Location
TrainTopia is a year-round indoor destination presented by the Museum of the American Railroad. It's a permanent exhibit at the Frisco Discovery Center, which is also home to Black Box Theater, Frisco Art Gallery, Sci-Tech Discovery Center, and National Videogame Museum. With a Frisco Museum Pass, you could spend an entire day at Frisco Discovery Center.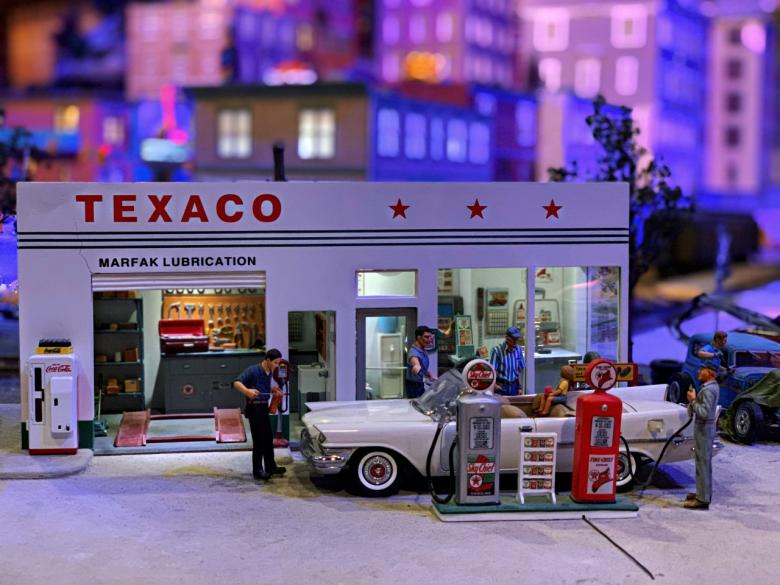 More Fun Ideas While in Frisco
Ready to explore more? Check out this A-to-Z Guide for Things to Do in Frisco or 5 Fun Facts I Learned at the National Videogame Museum. And if you always want to stay in the know for all things Frisco, sign up for our e-newsletter.