One thing we love about Frisco is the beautiful year-round weather. Of course, this is Texas, which means, in the summer, it can get quite warm. But luckily for you, Frisco is the perfect place to beat the heat and cool down on a summer day. With the summer season underway, there's no better time to share all our tips and tricks for refreshing fun.
Take a Dip in a Pool
Many of our hotels around Frisco feature pools. If you're visiting from out of town, the summer is an excellent time to pack your bathing suit and book a hotel where you can both splash and stay. The Hyatt Regency Frisco features the Steel Horse Cabana — a perfect spot to relax poolside with cool drinks (and even order lunch if you're hungry). 
For a hotel pool experience that's literally elevated, you'll love Omni Frisco Hotel, part of The Star, which is also the Dallas Cowboys World Headquarters. The infinity pool, called The Edge, is located on the fourth floor of the hotel and features a spectacular view of the Cowboys' practice facility. Enjoy the temperature-controlled pool with a day pass, or rent a semi-private poolside shaded cabana for the ultimate Frisco pool experience.
Stay cool at The Westin Stonebriar Golf Resort & Spa, the perfect retreat with a lagoon-style pool. This winding pool features poolside cabanas, providing shade from the sun so you can read, sip on a beverage, or do whatever helps you unwind. There's a splash pad, perfect for kids, a hot tub for relaxing, and a waterslide for exhilarating fun. 
And yes, you can even watch live sports while floating in a pool. The Lazy River at Riders Field includes a 400-foot long pool overlooking the baseball diamond where the Frisco RoughRiders — Double-A affiliate of the Texas Rangers — play all their home games. A day at the ballpark and an afternoon in the pool — it doesn't get much cooler than that for a sports fan.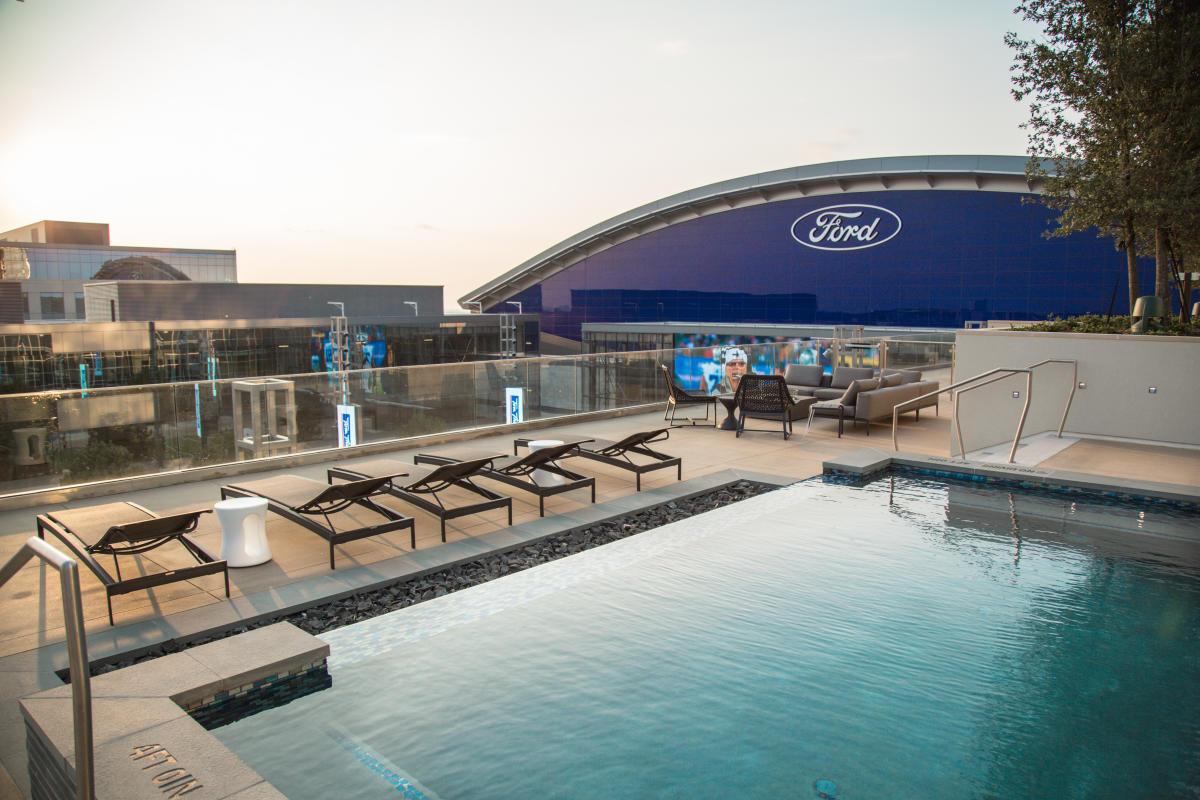 Play at the Water Park 
For a full day of wet and wild fun, visit the Frisco Water Park at the Frisco Athletic Center. First, take The Preston Plunge, a 45-foot slide with four entry tubes, perfect for a race to the bottom with friends and family. Then, keep the cool competitive vibes going and claim The Fort, a multi-level pool playground with more than 85 spray features and a giant bucket that tips over and dumps refreshing water. 
For something a little more relaxing, float down the lazy river or hang out in The Lagoon. Day and summer splash passes are available for non-members. If fun in the sun isn't your thing, the Indoor Aquatic Center features pools for lap swimmers, a play pool for smaller children, and the Big Blue free-standing indoor water slide.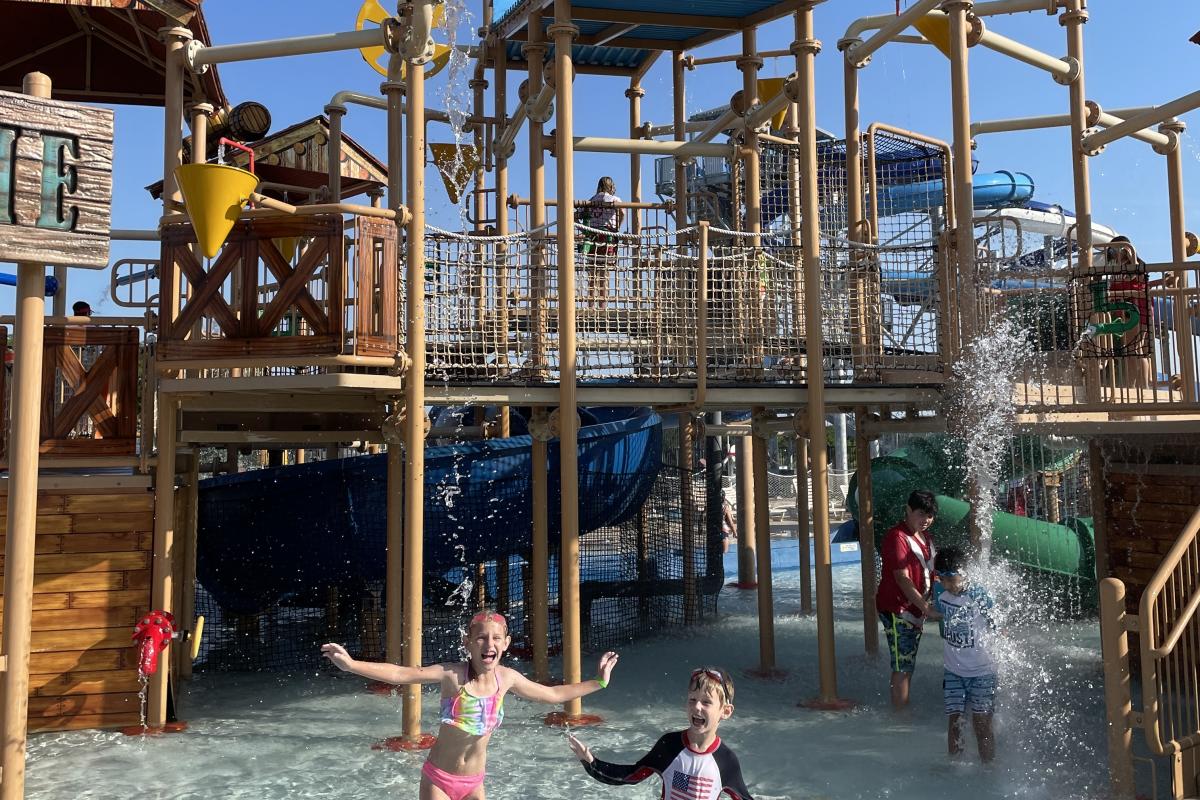 Take the Kids to a Spray Park
No matter what you have planned for your day of family fun in Frisco, it's reassuring to know a handful of splash pads are ready to offer cool relief outdoors. All three Frisco Spray Parks are open from 8 a.m. until 8 p.m., May 15 through September 30. Cool down at these locations:
Frisco Commons Park - Along with the spray park, find wooden playgrounds, a paved concrete trail, and interpretive trails.
J.R. Newman Park - A neighborhood park with a farming and barn theme, a nod to the past and the Newman Family that owned the property.
Shepherd's Glen Park - Another neighborhood park featuring a walking trail, playground, practice field, and pavilion.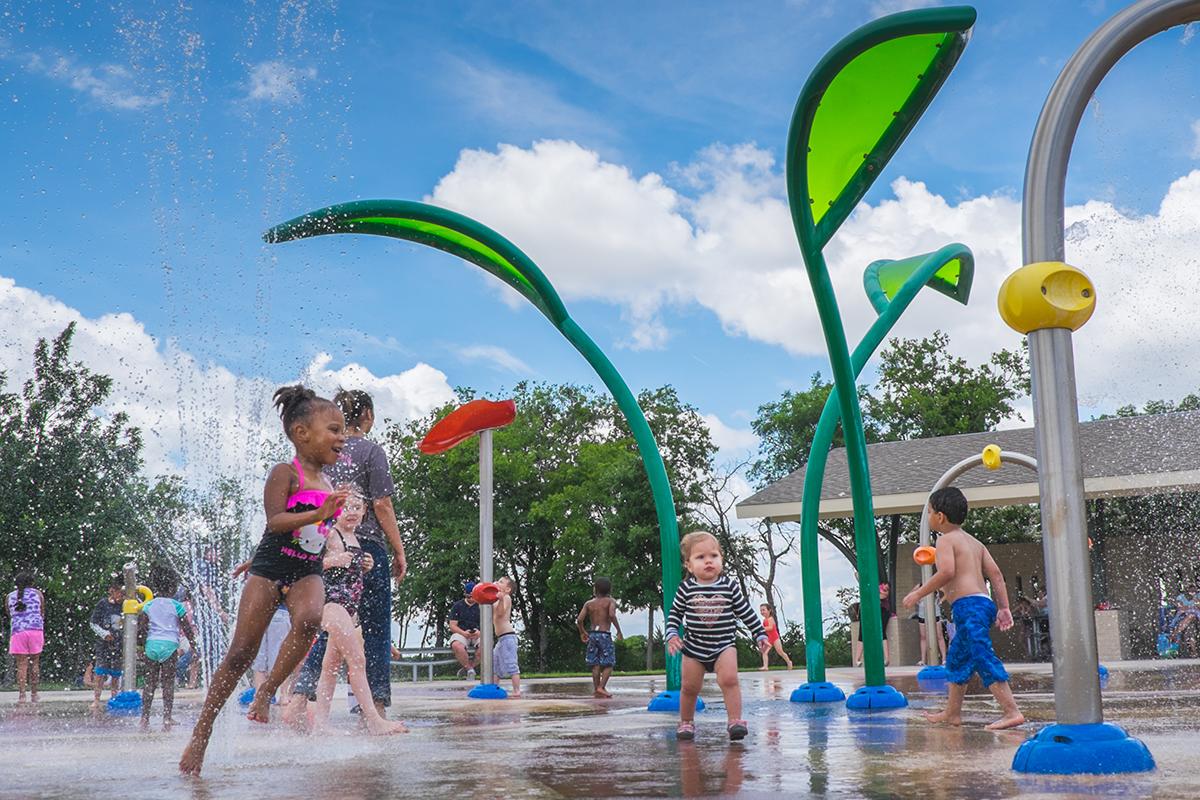 We All Scream for Ice Cream
Staying cool in a pool, water park, or spray park should do the trick for finding relief from the heat. But there's nothing quite like sitting down with an ice cream cone in hand. It's a dessert loved by all ages, and you deserve to treat yourself on a nice summer's day. Frisco is full of great spots to get ice cream, frozen yogurt, and snow cones. 
You can't go wrong with Andy's Frozen Custard, serving custard made of fresh ingredients in three locations across Frisco. It's pretty clear what treats you get from Frisco Snow Cone Lady, a hot place with locals for staying cool in the summer.
Stop by Annie's Sweets & Treats for frozen yogurt, smoothies with real fruit, bubble tea, coffee, and more. There's a refreshing treat for all cravings here. For a taste of Texas, try Cow Tipping Creamery located at The Star. This company started as a family-run ice cream truck and continues to serve delicious soft-serve ice cream in Frisco and other areas in the DFW Metroplex. Try a classic soft serve cup or cone, or if you're feeling adventurous, order a Stacker — think of a sundae, but with house-made toppings layered with your choice of soft serve.
Suppose you want to wait until after lunch or dinner to eat dessert. In that case, Frisco has more than 400 restaurants where not only can you experience delicious cuisine, but you don't have to cook in the heat. From simple to sophisticated, try Texas BBQ and more while dining and staying cool in an air-conditioned restaurant or patio.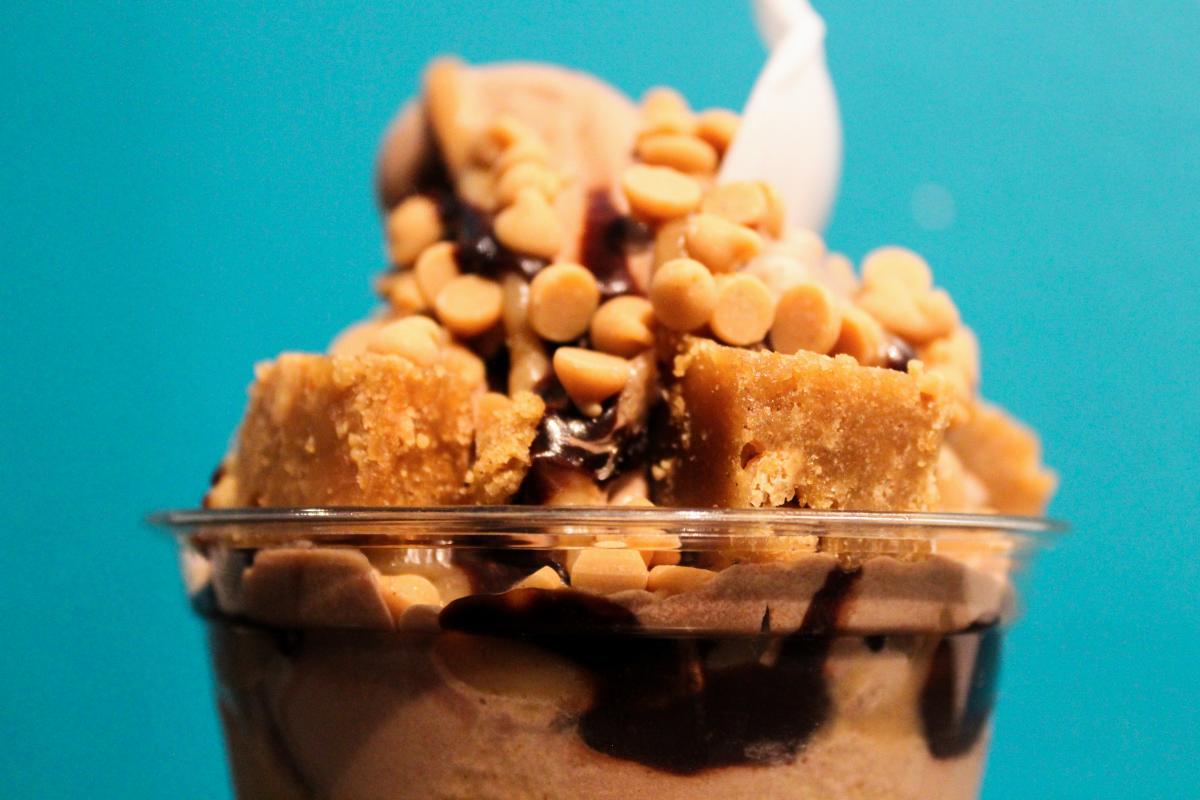 Plan Your Cool Frisco Getaway
Not only is a vacation to Frisco a cool idea, it's a great place to visit if you want to have fun in the sun and stay cool at the same time. Ready to beat the heat? Stay in the know on all things Frisco, sign up for our e-newsletter and plan your visit today.