Seeking Frisco artists to help design the newest Frisco heart
(Frisco, Texas) Sept. 27, 2023 – Visit Frisco launches The Heart Project, a creative contest highlighting the beloved iHeartFrisco heart installations that dot the city from City Hall to The Rail District, and beyond. The iHeartFrisco campaign was created in 2017 to tell the story of the people who make Frisco the great destination it is for visitors as well as those who live, work, and play in Frisco. Local artists are invited to let their creativity shine by submitting their own designs for a new heart installation.
This heart will be installed at the Frisco Discovery Center, adjacent to the Frisco Public Library. The theme of this heart design is art and discovery, meant to showcase Frisco's artistic personality and the inspiration within the Frisco Discovery Center through art, science, history, and imagination.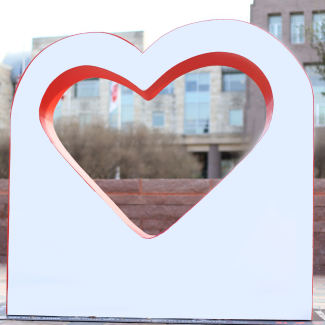 "The iHeartFrisco hearts are popular photo opportunities at local landmarks like Frisco Square, Riders Field, The Rail District, Ruff Range Dog Park, and more," says Cori Powers, Director of Marketing & Communications for Visit Frisco. "The new heart design will showcase a local artist's perspective of Frisco's art and innovation to residents and visitors."
Participants can learn more about the contest rules, download the design specifications, and enter the contest online at visitfrisco.com/heart-contest.
The heart design contest is open September 27 through October 18, 2023 at 5 p.m.
# # #
 
About Visit Frisco
Founded in 2003, Visit Frisco has grown in tandem with the extensive growth of leisure travel, sports, and meeting facilities within the city. It's the organization's mission to generate a positive awareness of Frisco as a premiere destination for meetings, sporting events, conventions, trade shows, leisure travel, and to positively impact the economic base of the City of Frisco. Official accreditation recognizing excellence and achievement was awarded in 2009 by the industry organization Destination's International.
Contact:
Cori Powers
cori@visitfrisco.com
M: 469-604-4547