There are endless options on where to have your group's meeting, event, or conference. And, as planners sort through the data and sites to find that ultimate winner, we thought we'd give you a quick list on why Frisco is a winner. It's not only the prime location or the globally known brands who call Frisco home or the unique options at your service. It's the integration of many things that gives Frisco it's draw beyond the boardroom. Here's a quick summary on the five things to know about Frisco, Texas.  
Location, location, location
Frisco's central location in the U.S. is within a 25-minute drive of Dallas-Fort Worth International Airport and Dallas Love Field Airport. With two nearby airports, Frisco is easy to get to, and its compact size allows groups to move around with ease. 
Not on board to travel by plane? Drive to Frisco in 12 hours or less from at least 12 major U.S. cities! It's no coincidence that Frisco is home to some recognizable brands in sports, like the Dallas Cowboys, but also the new home of PGA of America. Location and convenience combined with the amenities, things to do, and services is why Frisco's draw goes beyond the boardroom.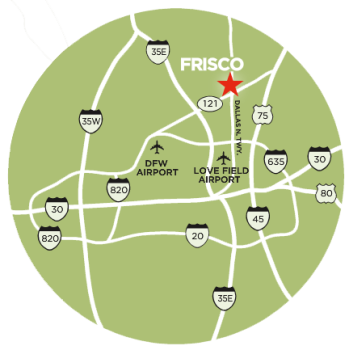 Hotels & meeting spaces
From award-winning, select-service properties to a resort-style AAA Four Diamond hotel, the lodging options in Frisco are many - 26 to be exact, with 4,263 hotel rooms across the city. Consider tapping into the amenities and spaces at the Hyatt Regency Frisco, The Westin Stonebriar Golf Resort & Spa, Embassy Suites & Conference Center, Omni Frisco Hotel at The Star, or the new Omni PGA Frisco Resort. Maybe your meeting is on the smaller size, either by attendance, budget, or both. With more than 417,000 square feet of meeting space, Frisco has the right fit for your group.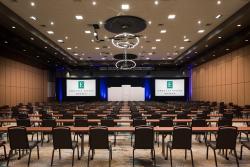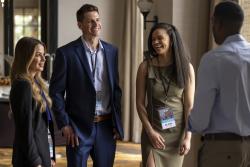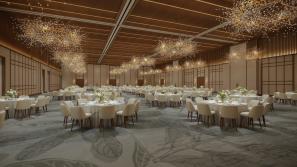 Food & fun
Culinary diversity is one of Frisco's strong suits, with everything from Texas-style barbecue to Brazilian steakhouses and food from around the world. Frisco features several professional sports organizations, a growing museum district, and 9 million square feet of retail and dining. Attendees can spend an afternoon shopping local in the historic Rail District, playing the video games of the decades past at the National Videogame Museum, or taking a VIP tour of the Dallas Cowboys' training facility and headquarters. The Star is a 91-acre walkable entertainment district featuring hotels, attractions, restaurants, and boutiques.
One of Frisco's newer developments, PGA Frisco encompasses food, meetings, and fun all in one place. The 2,500-acre project includes two championship golf courses, a 500-room resort and meeting space, as well as an entertainment district.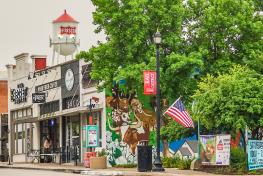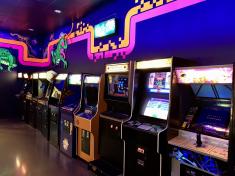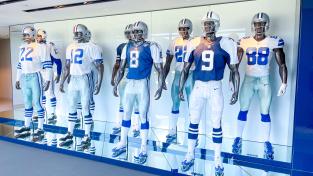 Growing arts & culture scene
Frisco's cultural spaces provide opportunities for organizers to host off-site events in unique settings, such as the Texas Sculpture Garden, National Soccer Hall of Fame, Riders Field, Toyota Stadium, Ford Center, and Tostitos Championship Plaza at The Star, or the new, state-of-the-art library.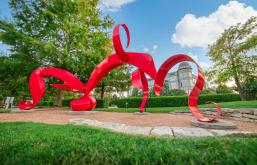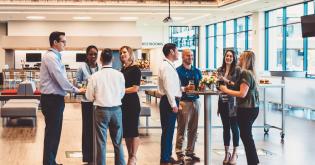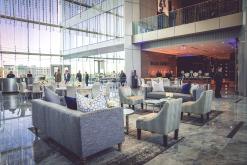 Services & deals
When it comes to exceptional meetings, we're on the ball with our destination services. With unlimited opportunities to work, play, and stay, we anticipate your needs as you plan and execute successful events. Our lineup of services includes hotel convention and banquet services, community outreach, name badge design, off-site venues, welcome bags, team-building sessions, registration assistance, our Show Your Badge program, and much more. Part of what makes our team special is our dedication to you, our client. You are our priority. We're a flexible team, ready to step up to the plate and proudly deliver what you need on the front end or back end of your trip.
Ready to talk about the right balance of work and play for your meeting? Reach out to Christina Decker, Director of Sales, to find out if Frisco, Texas is your winner.
We know, sometimes you can't take advantage of all that a city has to offer while you're knee-deep in valuable education and networking. When that's the case, think about adding a day or two to your trip and bring the family to plan a memorable play-cation for everyone to enjoy.